Hola a todos, siempre tenemos momentos en que para cocinar aprovechamos la ocasión como en este caso, que al estar utilizando dicha cocina aproveche la misma y de esa manera prepare en bandejas una con chorizo y la otra con carne de cerdo, luego a dichas bandejas las coloque sobre el hierro que se encuentra arriba de dicha cocina, al ser un hierro de un gran grosor, de casi dos centímetro de espesor, cuando este se calienta, emerge una gran temperatura, por ende las dos bandejas cocinaran muy bien los chorizos y la carne.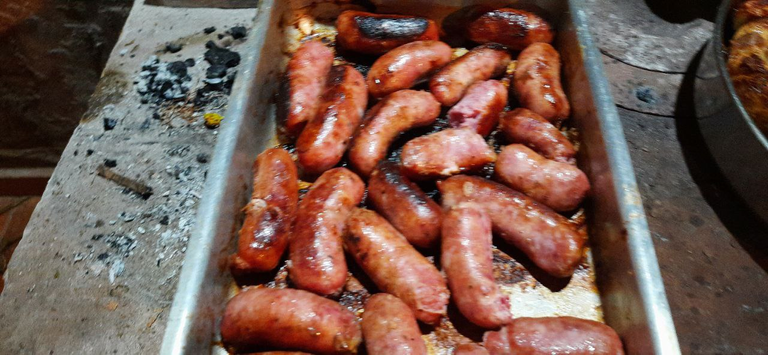 Si observamos bien esta foto se puede ver que la temperatura de dicho hierro como les dije es bastante, tanto así que casi se quemo la carne de cerdo, bueno estos son mis experimentos en la cocina.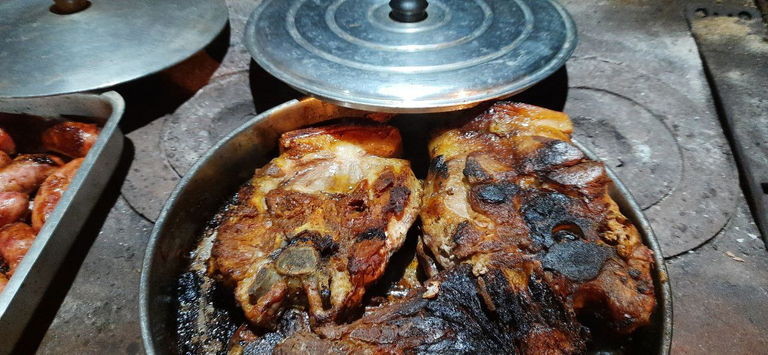 Por suerte se me ocurrió, colocar sobre la carne antes mencionada una tapa, esto hizo que la misma saliera bien jugosa como a mi me gusta.
MUCHAS GRACIAS POR LEERME Y SEGUIRME.
TRANSLATED INTO ENGLISH
Hello to all, we always have moments in which to cook we take advantage of the occasion as in this case, that to be using this kitchen take advantage of the same one and in that way prepare in trays one with sausage and the other with pork, then to these trays place them on the iron that is above of this kitchen, being an iron of a great thickness, of almost two centimeters of thickness, when this is heated, it emerges a great temperature, therefore the two trays will cook very well the sausages and the meat.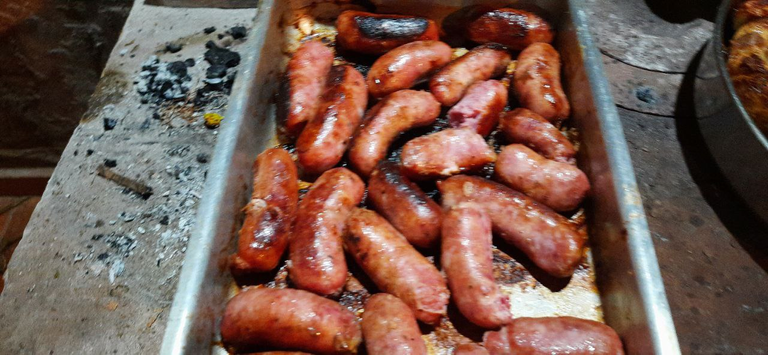 If we observe well this photo you can see that the temperature of the iron as I said is quite high, so much so that almost burned the pork, well these are my experiments in the kitchen.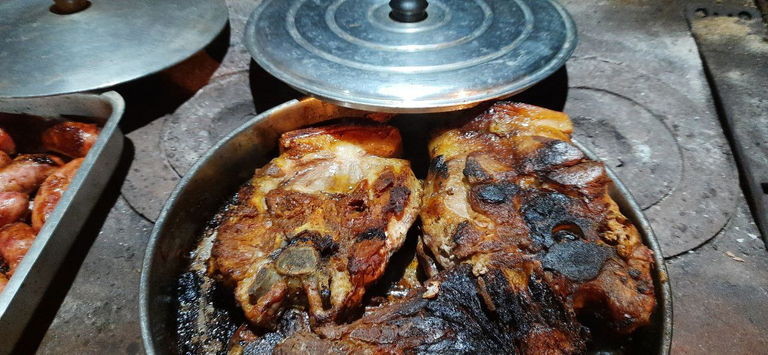 Luckily it occurred to me to place a lid on top of the meat mentioned above, this made the meat come out juicy as I like it.
THANK YOU VERY MUCH FOR READING AND FOLLOWING ME.