Hola a todos, espero se encuentren todos muy bien, lo digo sabiendo que este invierno se hace notar, por el hecho de que a veces como esto últimos días, el frio fue muy severo, por el hecho de la temperatura bajo mucho, bueno amigos sabemos que estamos en los últimos tiempos, bíblicamente lo digo, pero sabiendo todo eso, lo que nos queda es seguir para adelante, no dando el brazo a torcer, es un dicho, quiero decir que a no dejarnos vencer, lo digo a nivel general, por lo tanto en ese sentido no existe nada mejor, que degustar una comida como lo es esta muy saludable por supuesto, la cual consiste en, arroz hervido, zapallito tronco, cebolla, zanahoria, tomate, huevo, duro, arveja, también un poco de chaucha, una ves que hervimos el arroz, lo colamos, y en una olla agregamos un poco de aceite, luego la cebolla, el ajo, lo condimentamos, luego vamos agregando las demás verduras, como el zapallito, la zanahoria, la arveja, la chaucha, el huevo y por ultimo el arroz, el cual ya esta hervido.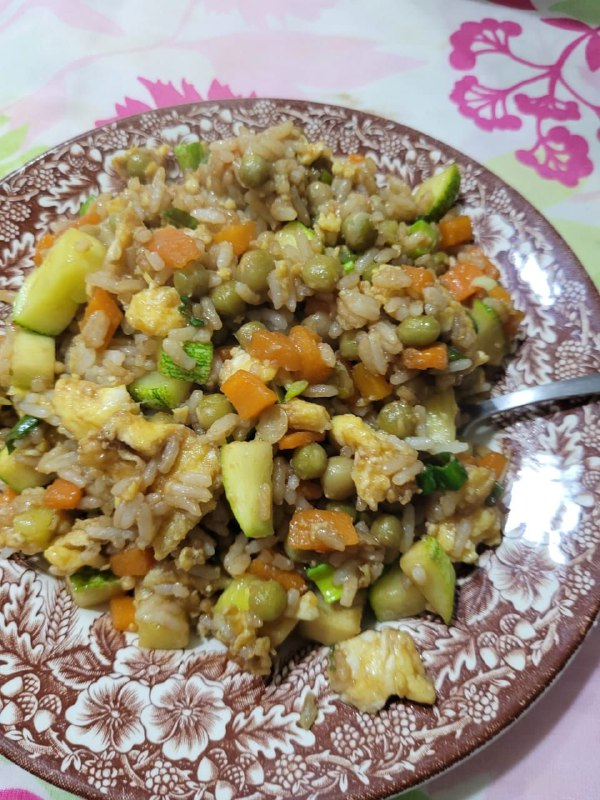 De esa manera lo revolvemos un poco, tapamos la olla, para que se cocine mas rápido, luego de un tiempo, destapamos dicha olla y si la zanahoria esta blanda, quiere decir que nuestra comida ya esta lista para ser degustada, la cual nos servimos en un plato, así como se ve en la foto.
MUCHAS GRACIAS POR LEERME Y SEGUIRME.
TRADUCIDO AL INGLES
Hello everyone, I hope you are all very well, I say this knowing that this winter is noticeable, by the fact that sometimes like this last few days, the cold was very severe, by the fact that the temperature dropped a lot, well friends we know that we are in the end times, biblically I say, but knowing all that, what we have left is to go ahead, not giving the arm to twist, is a saying, I mean not to be defeated, I say this in general, therefore in that sense there is nothing better, I mean not to let ourselves be defeated, I say at a general level, so in that sense there is nothing better than tasting a meal like this very healthy of course, which consists of boiled rice, zucchini, onion, carrot, tomato, egg, hard boiled, peas, also a bit of string beans, once we boil the rice, we strain it, and in a pot we add a little oil, then the onion, the garlic, we season it, then we add the other vegetables, like the pumpkin, the carrot, the pea, the string beans, the egg and finally the rice, which is already boiled.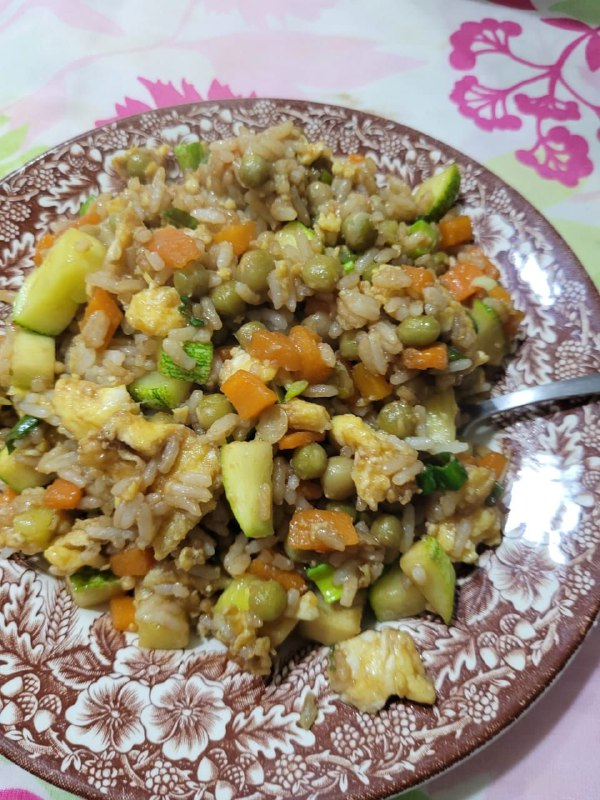 In this way we stir it a little, cover the pot, so that it cooks faster, after a while, we uncover the pot and if the carrot is soft, it means that our food is ready to be tasted, which we serve on a plate, as seen in the photo.
THANK YOU VERY MUCH FOR READING AND FOLLOWING ME.