Hola a todos revolviendo un poco el álbum de los recuerdos, me encontré con esta foto, la cual me trae hermosos recuerdos, el de mi mascota de ese tiempo una gata siamés llamada-LIRA- la cual solamente le faltaba hablar, me expreso de esa manera porque como ven en la foto en un momento del almuerzo la misma no tenia inconveniente en compartir la comida, la cual en esos momentos se traba de una sabrosa costilla de ternera al horno y también como se puede ver, lengua a la vinagreta.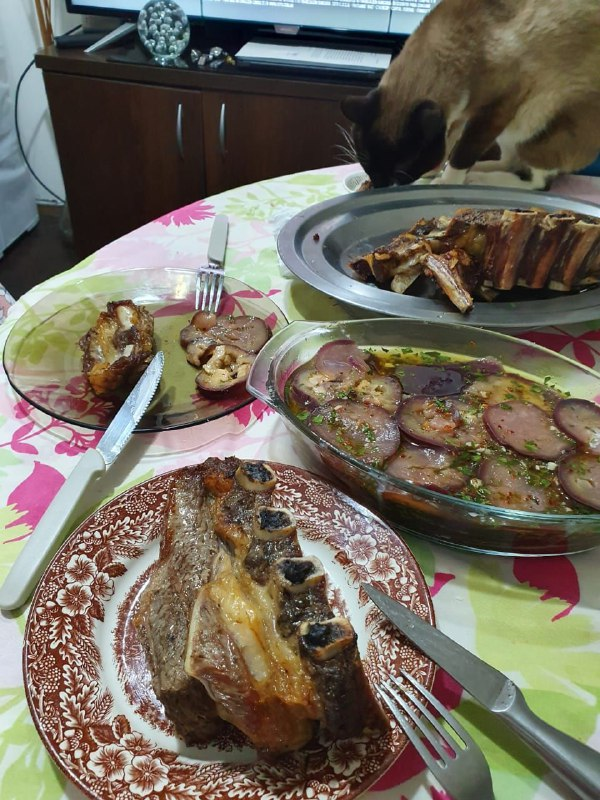 A veces renegamos de los animales, en este caso de las mascotas mas bellas que existen como lo son los gatos y también los perros, en lo personal me agradan todos los animales, mas halla de que son seres cuadrúpedos, la verdad son muy inteligentes, como siempre lo digo, son seres vivos, tienen vida, y si nosotros como seres supuestamente inteligentes, no lo sabemos apreciar, como por ejemplo varias veces he observado a orillas de las rutas animales atados, abandonados, desnutridos, al que hace este tipo de cosas pienso que no es un ser humano si no un despiadado, sin sentimientos por los demás, por eso amigos las mascotas son un muy buena compañía, siempre y cuando la podemos mantener y cuidarlas.
Desde ya si fue de sus agrados esta manera de pensamiento, sobre las mascotas, espero de sus comentarios.
MUCHAS GRACIAS POR SEGUIRME Y LEERME, QUE PASEN UN EXCELENTE DIA.
TRANSLATED TO ENGLISH
Hello everyone, stirring the album of memories a little, I found this photo, which brings me beautiful memories, that of my pet from that time a Siamese cat called -LIRA- which only needed to speak, I express myself of that Because as you can see in the photo at lunchtime, she had no problem sharing the food, which in those moments was tied to a tasty baked rib of veal and also, as you can see, tongue in the vinaigrette.
! [image.png] (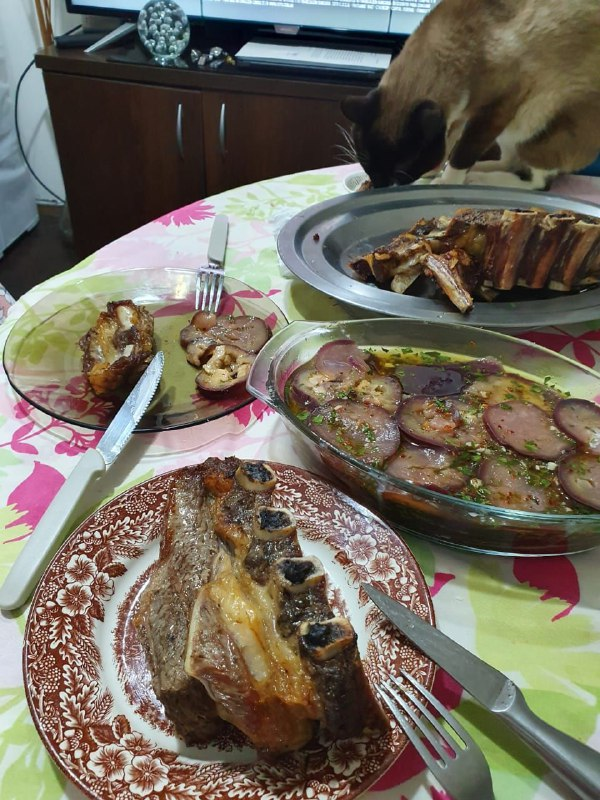 )
Sometimes we deny animals, in this case the most beautiful pets that exist such as cats and also dogs, personally I like all animals, but find that they are quadruped beings, the truth is they are very intelligent, As I always say, they are living beings, they have life, and if we as supposedly intelligent beings, we do not know how to appreciate it, as for example I have observed several times on the banks of the roads tied, abandoned, malnourished animals, who do this type of things I think is not a human being if not a ruthless, without feelings for others, so friends, pets are a very good company, as long as we can maintain and take care of them.
Of course, if you liked this way of thinking about pets, I await your comments.
THANK YOU VERY MUCH FOR FOLLOWING AND READING ME, HAVE AN EXCELLENT DAY.