As part of the library spice mix program I am spearheading, I included a recipe for Jamaican jerk seasoning. Today, I finally had opportunity to try it out for myself as quality control. Unfortunately, I failed to make note of my source (or sources) for this blend, but here is what I made.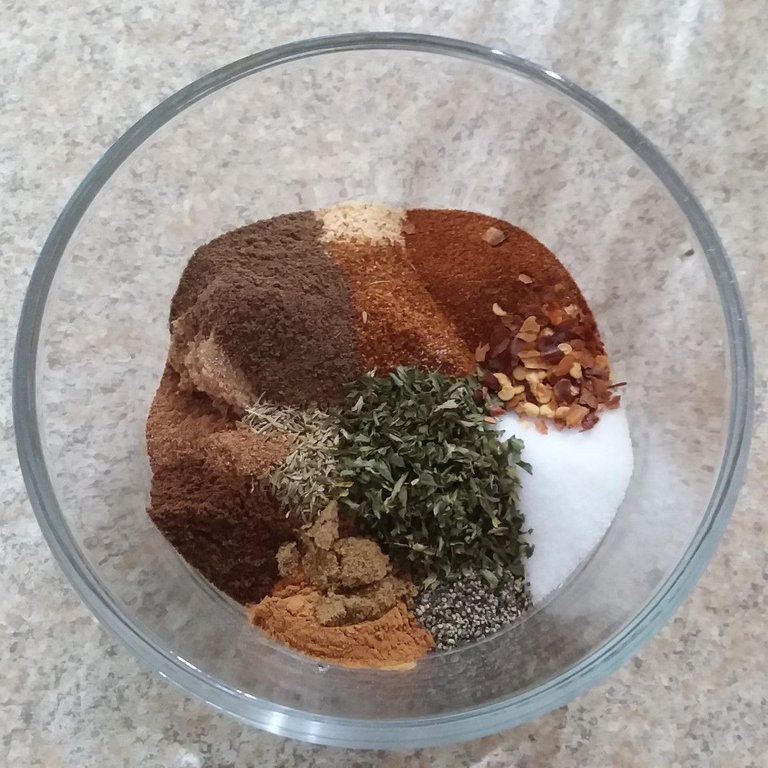 Jamaican jerk recipe
1 Tablespoon garlic powder
1 Tablespoon onion powder
2 teaspoons cayenne pepper
2 teaspoons salt
2 teaspoons black pepper
2 teaspoons brown sugar
1 teaspoon ground thyme
1 teaspoon ground allspice
1 teaspoon dried parsley
1 teaspoon paprika
1/2 teaspoon pepper flakes
1/2 teaspoon ground cinnamon
1/2 teaspoon ground nutmeg
1/2 teaspoon ground clove
1/4 teaspoon ground cumin
---
Alternate jerk recipe
Take one well-adjusted individual. Add full internet access. Marinate until profanity-laced tirades replace all capacity for civil conversation.
---
Seasoned baked chicken thighs
My method was simple. I bought chicken thighs. I put them on a stoneware baking pan, and liberally seasoned the tops of the pieces with my mix. Use more or less to taste. I baked the meat for 40 minutes at 400°F (approx. 200°C) and it was cooked to above recommended minimum safe temperatures after the time had elapsed. Note to self: perhaps check at 30 & 35 minutes next time?
Final thoughts
I learned from the Cajun mix to plan an alternative in case the spices were overpowering for my less-adventurous parents for whom I am trying to cook dinners on Sundays. I therefore bought a package of pre-seasoned thighs prepared with "barbecue seasoning." Fortunately, this jerk blend was much milder than that other mix in the end, and did not meet with any objections.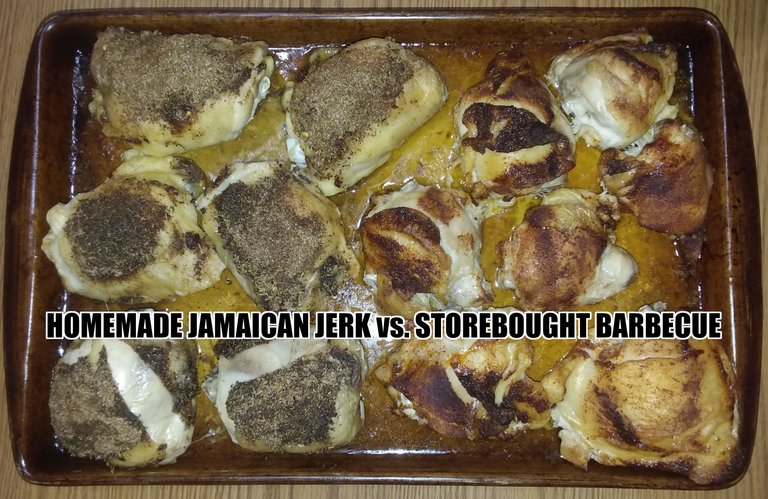 This particular recipe has a lot of ingredients, and while I did enjoy the flavor, perhaps it went overboard trying to be too much. I'm also not sure I like including brown sugar for a mix I will be storing. Long term, the moisture there will make a mess of my leftover spices. Other jerk recipes I found also suggest making a marinade using the spices, vinegar, soy sauce, and citrus juice. Maybe I'll have to give that a try with some pork chops next week...
I think I have stated before that my exploration of ethnic cuisine is from a position of relative isolation from those cultures. I have never lived in a state that did not border Canada, and I haven't traveled very far south within the US, either. If anyone can suggest a more authentic recipe and would care to chime in, I would appreciate it.
---

If you're not on Hive yet, I invite you to join through PeakD. If you use my referral link, I'll even delegate some Hive Power to help you get started.