!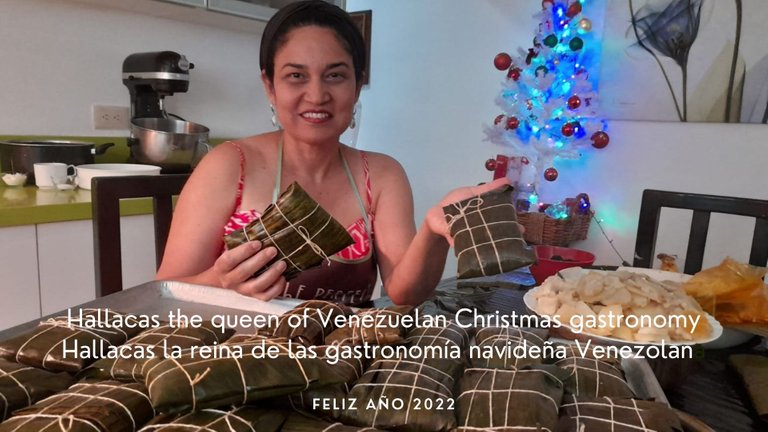 Starting 2022 with the reheated hallaca recipe /Comenzando el 2022 con el recalentado de hallaca receta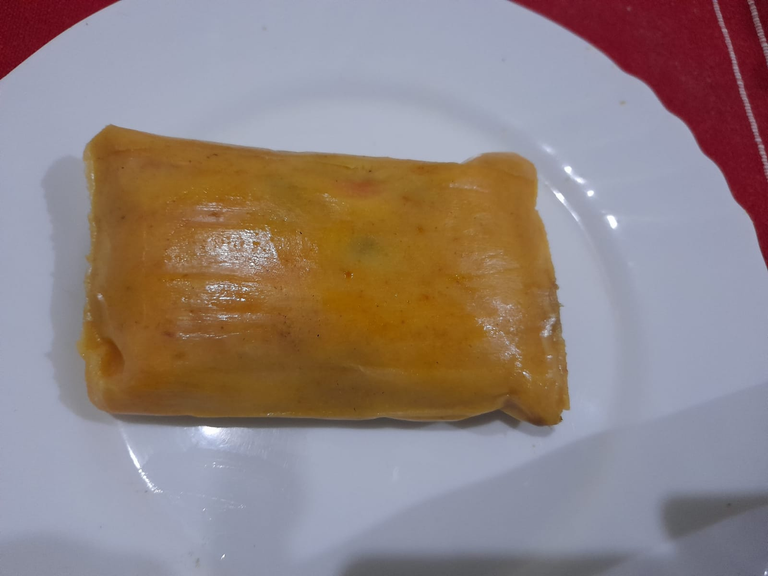 Hello my dear friends of Hive and you of the good food, with every year I usually do the traditional hallacas learned with my dear mother and sister that we used to do at Christmas time.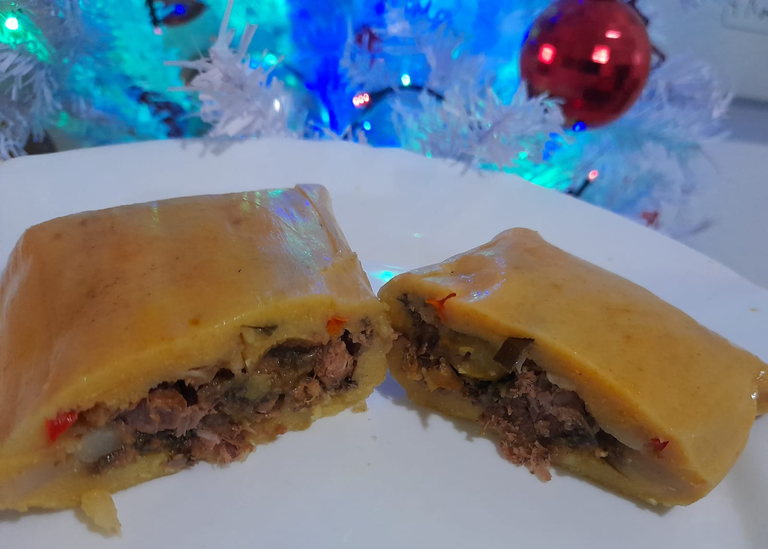 This is one of the dishes that can not be missed in December, it is tradition that the recipe passes from generation to generation in each family, if you still do not know how to prepare it yet, do not worry here I leave my recipe to delight your family for the next few years with the queen of Christmas cuisine.
Ingredients:
Recipe for approximately 60 hallacas.
11/2 beef (Aguayo)
1 1/2 pork pulp
1 bunch of garlic
1 head of garlic
2 bunches of cilantro
1 celery note Spain'
1 liter of red wine
1 tablespoon pepper
1/2 liter of water
6 tablespoons approximately of papelón
150 grams of caper
200 grams of stuffed olives
2 peppers 1 red and 1 green
6 sweet peppers
4 tablespoons bread flour
onoto
salt to taste
2 cups chicken broth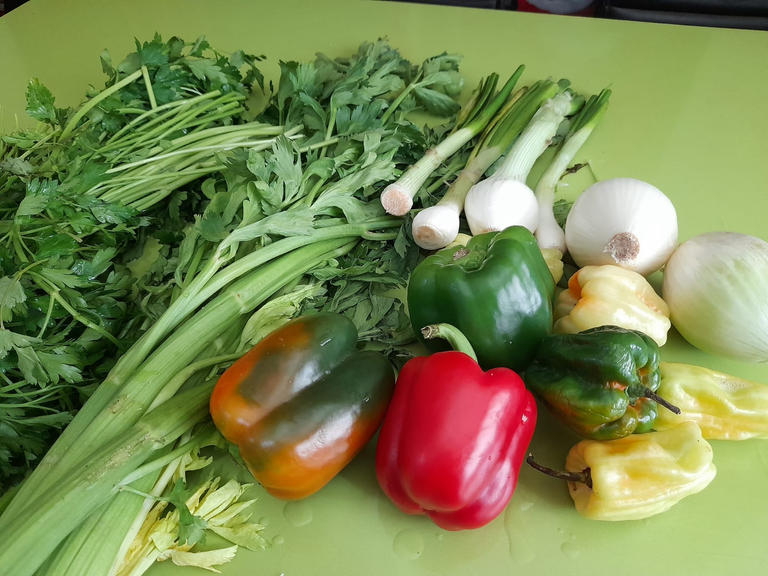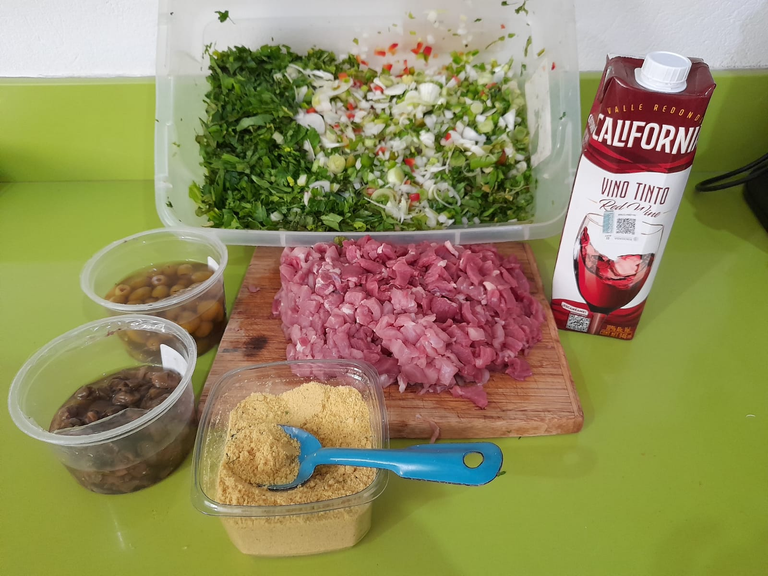 Mass:
3 packet yellow bread flour
2 tablespoons onoto diluted in oil
water is necessary to hydrate and knead the flour.
1 cup chicken broth
Salt to taste
Leaves:
Approximately 25 packs (each pack brings 3 banana leaves)
1 roll of pabilo
Paraphernalia:
1 bottle of 500 gr of olives
1/4 kilo of raisins
2 paprikas 1 red another orange
10 boiled eggs
1 kilo of potatoes (6 units)
1 thinly sliced onion
For the stew:
the main thing is to cut the beef and pork pulp into small pieces, for this you can boil these pieces in broth for 15 minutes, wait for them to cool and cut them.
Remember that they should be in small pieces.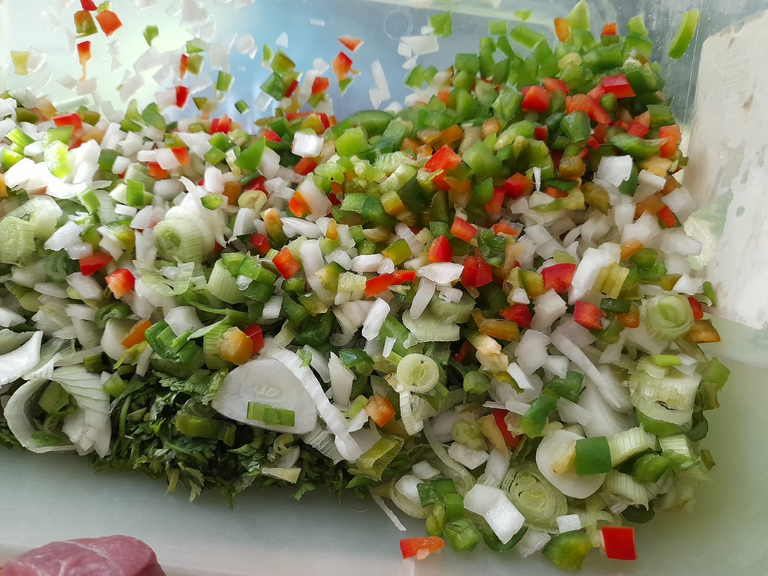 In a high and wide pot place the meat and add all the corresponding ingredients for the stew.
All the dressings must be chopped in small previously, the bread flour and must be reserved for the end since this must be diluted in water at room temperature incorporated until the end of the stew in order to give it a creamier and thicker appearance.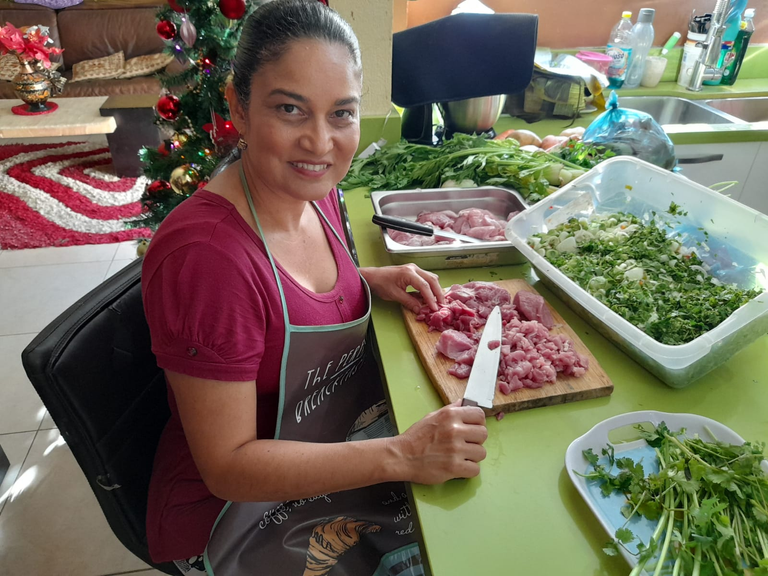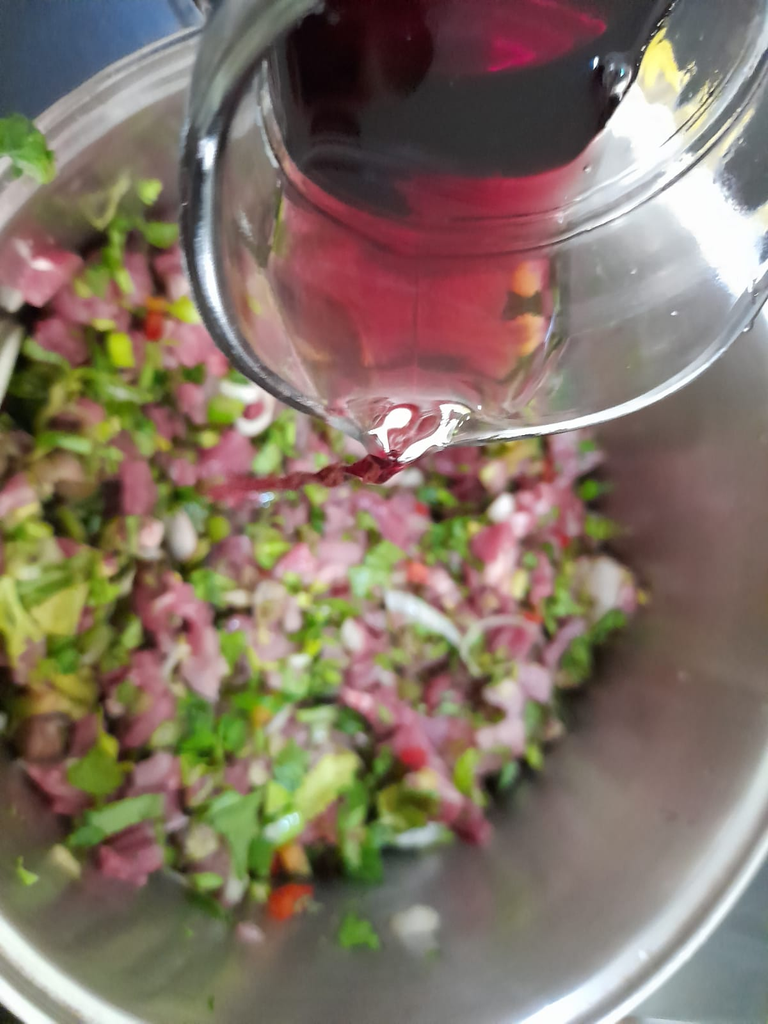 This stew should be prepared one day in advance.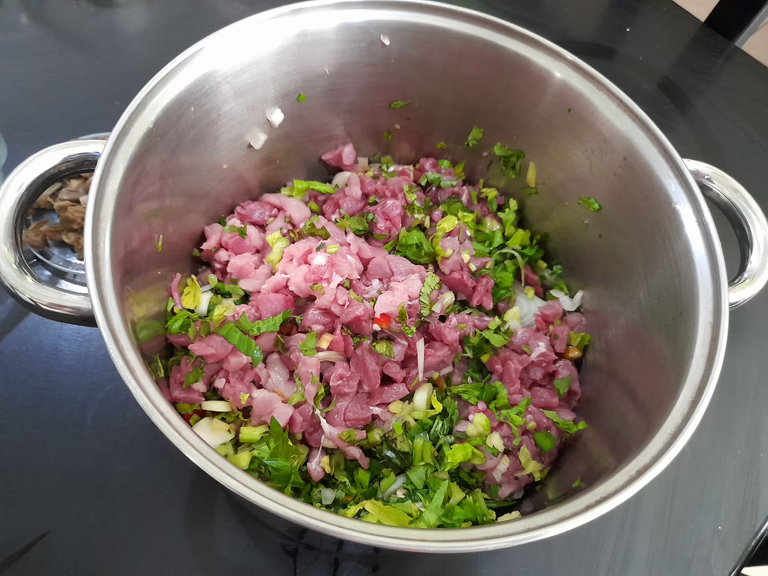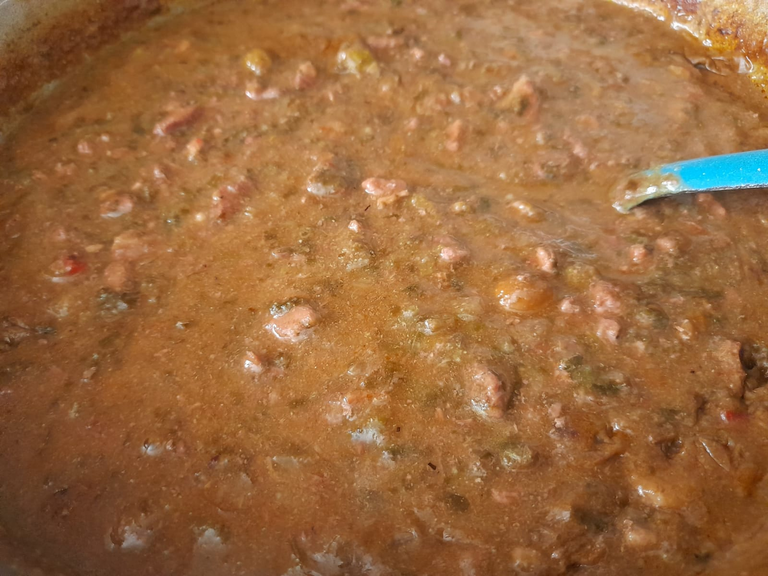 On the day of the preparation of the hallacas put to sancochar the potatoes preferably with their shell and eggs.
Let cool and cut into thin slices and set aside.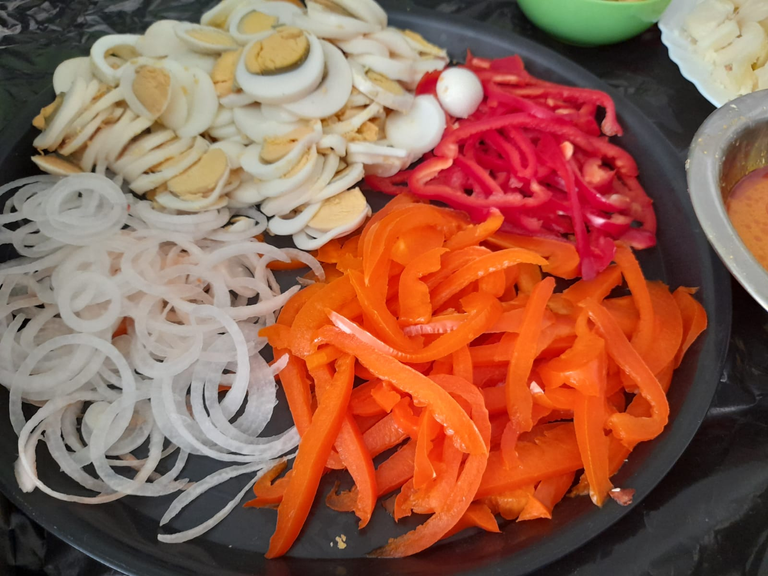 Cut the paprikas and onion into thin strips
Hallaca leaves:***
Wash and dry the leaves of hallacas very well.
Cut approximately 50 cm long by 30cms high.
and cut a little larger the leaves that will wrap it to close them.
For the dough in a large and large container add half a liter of water approximately and put the oil with the onoto to give more color to the dough. add the broth and salt to taste.
Add the bread flour little by little and integrate and knead as it is added.
Knead very well taking care that there are no groups or balls of dough left.
Make balls the size of the palm of the hand and reserve.
Note: approximately 24 balls come out of each packet of bread flour.
Armed with hallacas:***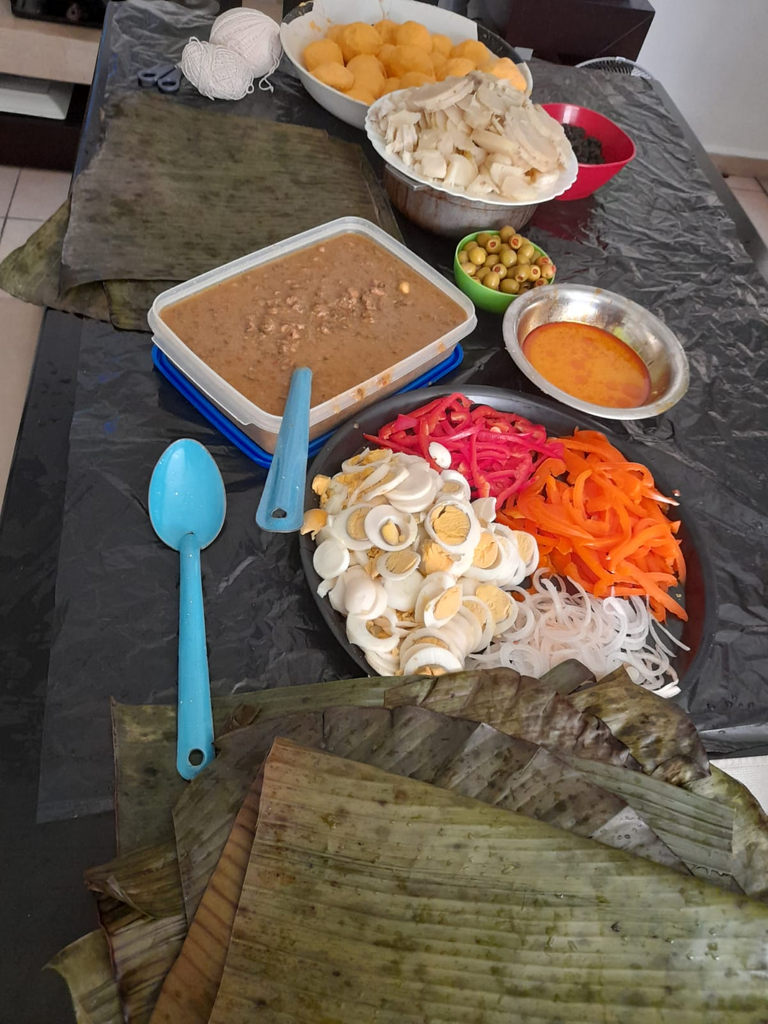 Prepare in a container a little water and oil with onoto.
I was lucky d that a friend gave me onoto since here where I live it costs a lot to find it in this presentation. What is done to extract the color of the onoto is to place on the stove a pan with oil and add the onoto spends that it is very hot. Strain and use in the hallacas.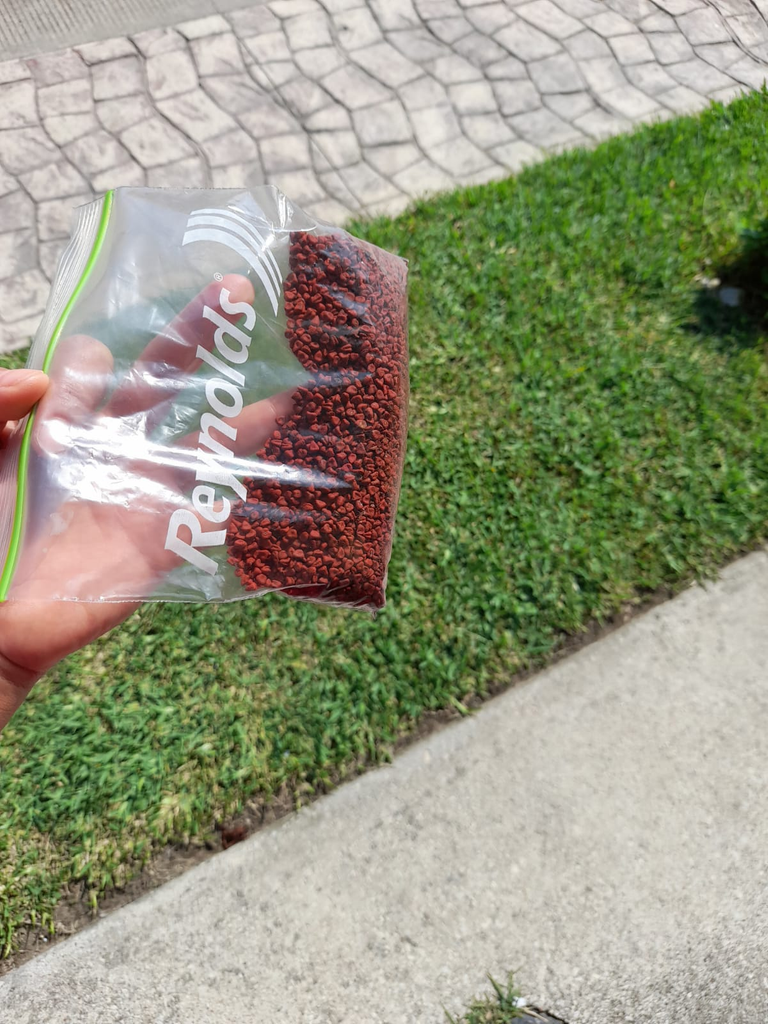 Arrange the leaves where the hallacas will spread with moistened hands the water and oil spread in the center of each of the leaves, take one of the balls of dough and flatten it with the help of a plastic bag and hands in order to extend it.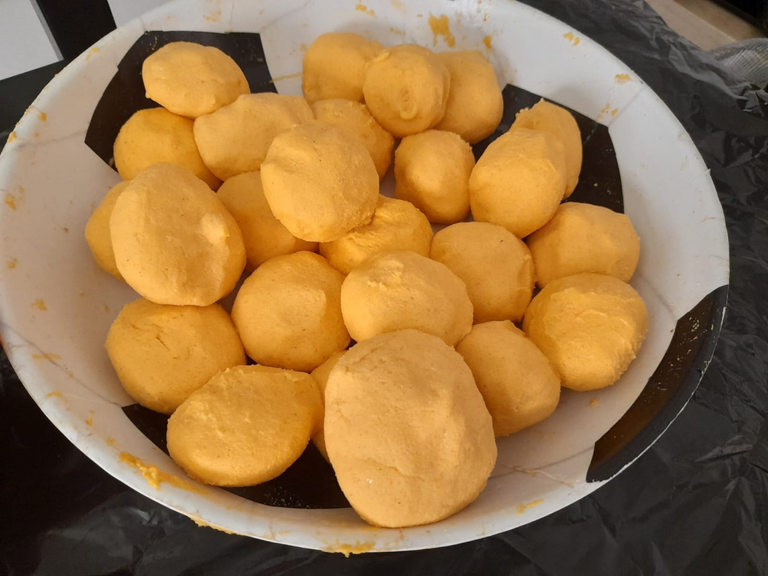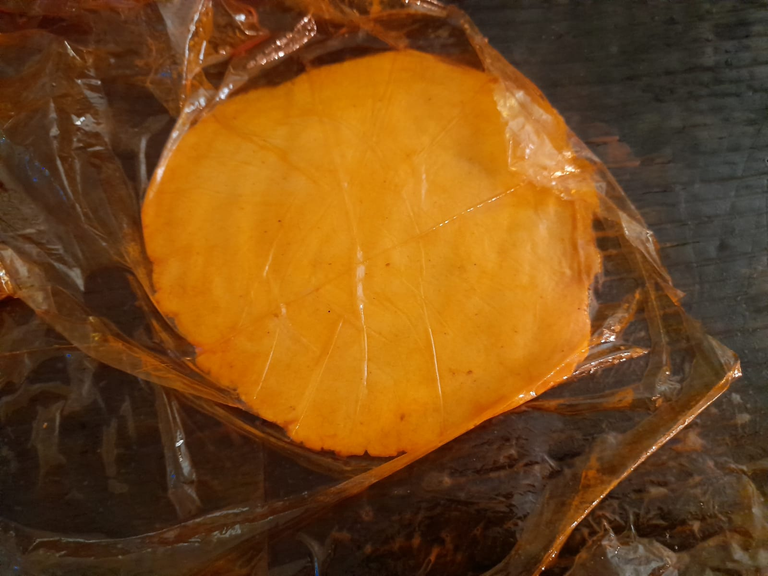 Place in the center a little of the stew and place in the center on top of the ornaments (paprika, egg, potatoes, onion, olive, onion and raisin)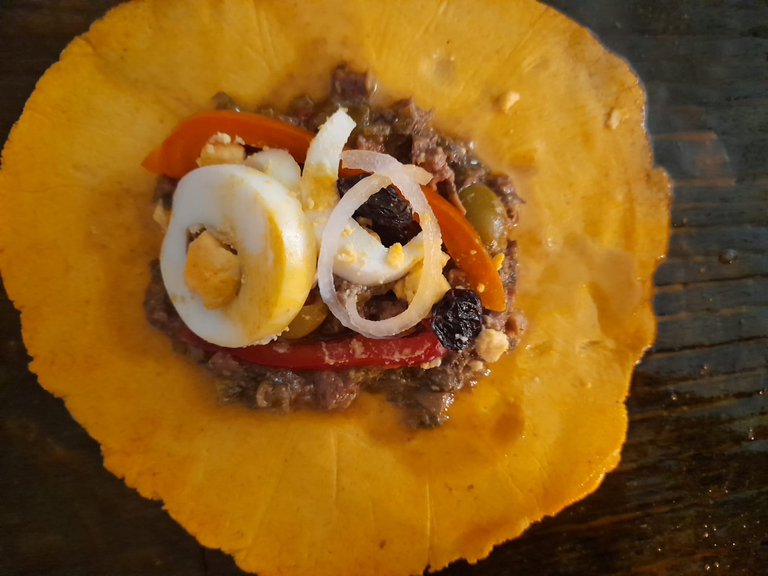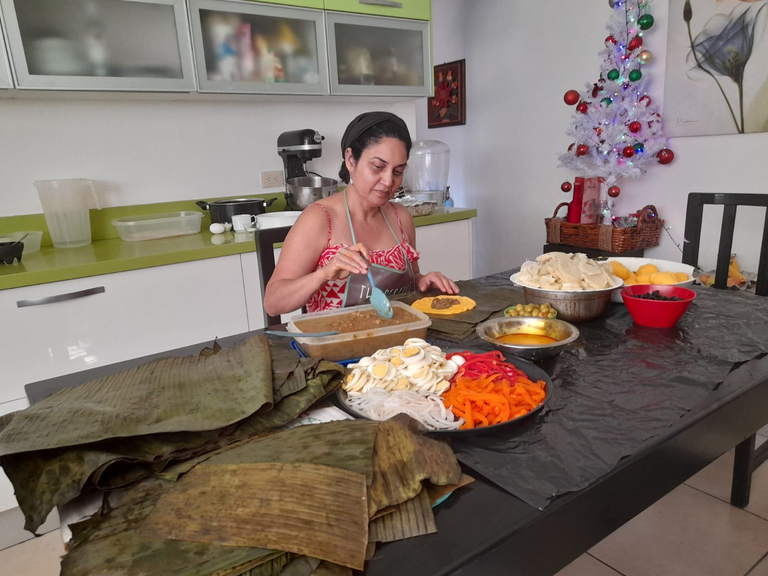 Fold the leaf along itself and peel off the dough, then one of the tips towards the center and then the other to the center, wrap it with the smallest leaf place it in bias and then pass a belt with the strips of the leaves, tie with the blades giving it 3 turns and tighten it a little so that it is well tied.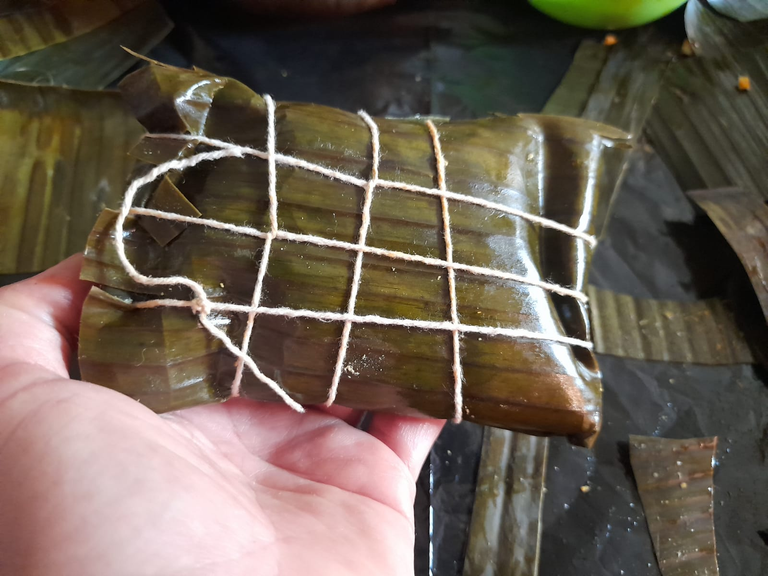 In a large container place enough water with a little salt when it is boiling place you hallacas, if you need more water incorporate hot to cover all the hallacas.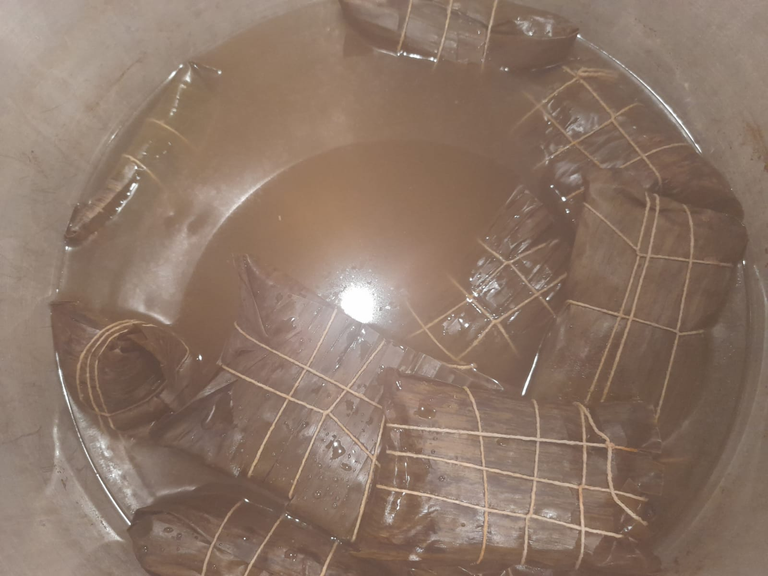 Cook for 30 to 45 minutes and remove them, drain them and let them cool before taking them to the refrigerator.
I show you how the hallaca is ready to eat, its flavor is delicious and it is soft and pleasant to the palate.
Today January 1 is ideal for breakfast, lunch or dinner since it is also usually consumed the day after receiving the new year to what we call the reheated.
I hope and you dare to do it and share your experience or comment on how you thought. I wish you all a happy new year and thank you for visiting my blog today enjoying the rehoused at home
Dear reader thank you for reading this post which is 100% original, the writing, content and photos are my authorship, which were taken with the camera of the Samsung A21s Smartphone.
Translation done with DeepL and perform the Text Separators in canva.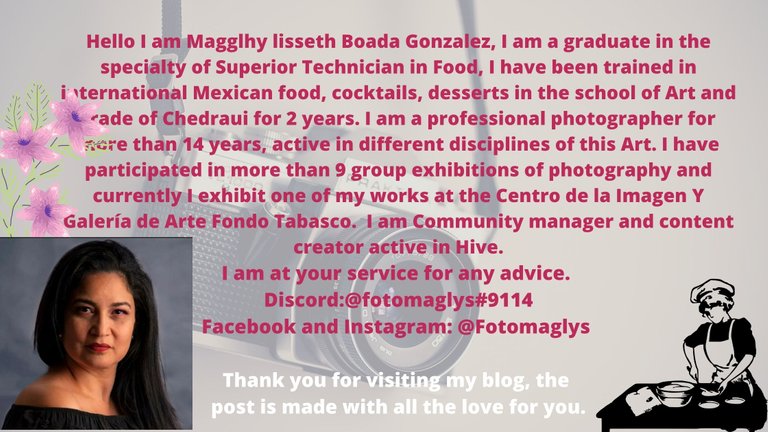 Hola mis apreciados amigos de Hive y de la buena comida, con todos los años acostumbro hacer las tradicionales hallacas aprendidas con mi querida madre y hermana que solíamos hacer en épocas navideñas.

Este es uno de los platos que no puede faltar en diciembre, es tradición que la receta pase de generación en generación en cada familia, si ustedes aun no saben prepararla todavía, no se preocupe aca le dejo mi receta para que deleite para los próximos años a su familia con la reina de la gastronomía navideña.

Ingredientes:

Receta para 60 hallacas aproximadamente.

Ingredientes para el guiso

11/2 de carne de res (Aguayo)
1 1/2 de pulpa de puerco
1 manojo de ajoporro
1 cabeza de ajo
2 manojos de cilantro
1 anoto de apio España'
1 litro de vino tinto
1 cucharada de pimienta
1/2 litro de agua
6 cucharadas aproximadas de papelón
150 grs de alcaparra
200 grs de aceitunas rellenas
2 pimientos 1 rojo y 1 verde
6 ajís dulces
4 cucharadas de harina pan
onoto
sal al gusto
2 tazas de caldo de pollo

Masa:
2 1/2 paquete de harina pan amarilla
2 cucharadas de onoto diluido en aceite
agua la necesaria para hacer hidratar y amasar la harina.
1 tazas de caldo de pollo
Sal al gusto

Hojas:
25 paquetes aproximadamente ( cada paquete trae 3 hojas de plátanos)
1 rollo de pabilo

Adornos:
1 frasco de 500 gr de aceitunas
1/4 de kilo de pasas
2 pimentones 1 rojo otro naranja
10 huevos sancochados
1 kilo de papas ( 6 unidades)
1 cebolla en rodajas finas

Para el guiso:
Lo principal es cortar en trocitos chicos la carne de res y la pulpa de cerdo, para ello puedes poner a hervir en caldo estas piezas por 15 minutos, esperara que se enfríen y cortarlas.
Recuerda que deben ser en trozos pequeños.

En una olla alta y amplia colocar la carne y agregarle todos los ingredientes correspondientes para el guiso.

Se deben picar todos los aliños en chiquito previamente, la harina pan Se debe reservar para el final ya que esta se deberá diluir en agua a temperatura ambiente incorporar hasta el final del guiso a fin de darle un aspecto mas cremoso y espesito.

Este guiso se deberá preparar con un día de anticipación.

El día de la preparación de las hallacas poner a sancochar las papas de preferencia con su cascará y los huevos.

Dejar enfriar y cortar en rebanadas delgadas y reservar.

Cortar en finas tiras los pimentones y la cebolla

Hojas de hallaca:
Lavar y secar muy bien las hojas de hallacas.

Cortar aproximadamente 50 cms de largo por 30cms de alto.
y cortar un poco mas grande las hojas que la envolverán para cerrarlas.

Para la masa en un envase grande y amplio agregar medio litro de agua aproximadamente y ponerle el aceite con el onoto para darle mas color a la masa. agregarle el caldo y sal al gusto.

Agregar la harina pan poco a poco e ir integrando y amasando en la medida que se agrega.

Amasar muy bien teniendo cuidado de que no queden grupos o pelotas de masa.

Hacer bolitas del tamaño de la palma de la mano y reserva.

Nota: de cada paquete ha harina pan salen aproximadamente 24 bolitas.

Armado delas hallacas:

Preparar en un envase un poco de agua y aceite con onoto .

Tuve la suerte d que una amiga me regalo onoto ya que aca en donde vivo cuesta mucho encontrarlo en esta presentación .Lo que se hace para extraer el color del onoto es colocar en la estufa un sartén con aceite y agregar el onoto gasta que este bien caliente. Colar y usa en las hallacas.

Acomodar las hojas donde se extenderán las hallacas con las manos humedecidas el agua y aceite extender en el centro de cada una de las hojas, tomar una de las bolas de masa y aplanarla con ayuda de una bolsita plástica y las manos a fin de extenderla.

Colocar en el centro un poco del guiso y colocarle en el centro encima los adornos(pimentón, huevo , papas, cebolla, aceituna, cebolla y pasita)

Doble a lo largo la hoja sobre si misma y despegue la masa, luego una de las puntas hacia el centro y después la otra al centro, envuélvala con la hoja mas pequeña, colóquela en sesgo y luego pásele un cinturón con las tiras de las hojas, amarre con el pabilo dándole 3 vueltas ya apretarla un poco a fin de que quede bien amarrada.

En un recipiente grande colocar suficiente agua con un poco de sal cuando este hirviendo colocar has hallacas, si hace falta mas agua incorporar caliente hasta cubrir todas las hallacas.

Cocinar por 30 a 45 minutos y retirarlas escúrralas y dejarlas enfriar antes de llevarlas al refrigerador.

Te muestro como queda la hallaca ya lista para comer, su sabor es delicioso y es suave y agradable al paladar.

Hoy 1 de enero es ideal para desayunar, almorzar o cenar ya que también se suele consumir el día después de recibir el año nuevo a lo que le llamamos el recalentado.

Espero y te animes hacerla y me compartas tu experiencia o comentario de como te ha parecido.

Les deseo a todos un feliz año y gracias por visitar mi blog el cual es 100% original, la redacción, contenido y fotos son de mi autoría, las cuales fueron tomadas con la cámara del Smartphone Samsung A21s.Traducción realizada con DeepL y realice los Separadores de texto en canva.