Cuando de pizza se habla que mejor que elaborarla uno mismo, porque de esa manera sabemos lo que consumimos, me refiero a la calidad de la mercadería, por ejemplo lo que utilizamos en este caso, mas cuando le ponemos para su preparación mucho amor y perseverancia, como siempre pongo de manifiesto, sus ingredientes son los siguientes, harina, levadura, agua tibia, sal, todo eso para la masa, para lo cual colocamos la harina en un volts y agregamos la levadura disuelta en agua tibia, sal a gusto y luego para mi gusto le voy vertiendo un poco de soda, comenzando a amasar todo hasta que dicha masa tome consistencia, luego tomo porciones pequeñas las cuales calculo que seria una prepiza, luego tapo con una tela liviana y dejo descansar la misma por unos minutos, después las voy estirando con el palo de amasar dándole forma, cuando la tengo estirada, como se ve en la foto, la coloco en la olla essem, tapo la misma hasta que tenga un poco de piso, luego le agrego lo de arriba, que seria salsa, queso y otros ingredientes a gusto.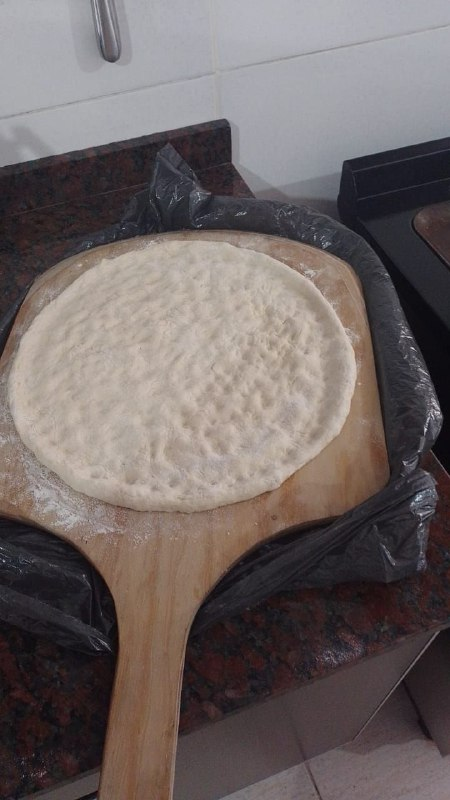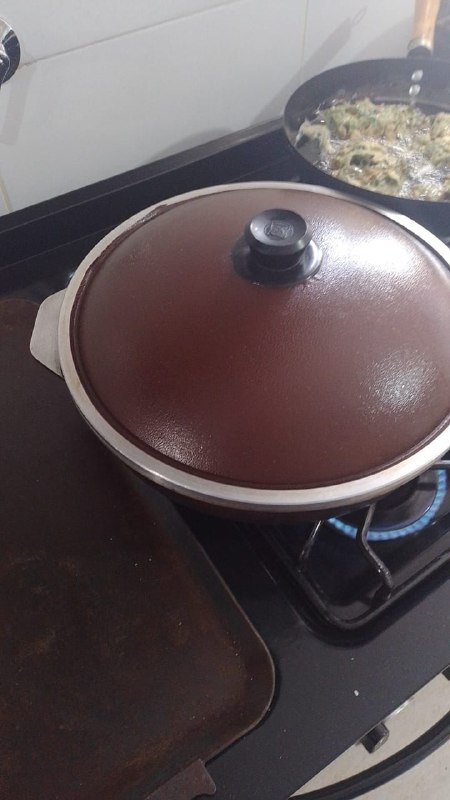 Detalle la masa cuando se encuentra dentro de la olla esta sobre una pequeña parrilla, eso hace que no se pegue la misma, luego se le va agregando los aderezos, como la salsa de tomate, el queso fresco, por ultimo las aceitunas. para tener en cuenta el fuego de la hornalla, donde se coloca dicha olla, tiene que estar bajo, para calentar muy lentamente la olla y luego la prepiza que se encuentra adentro de la misma.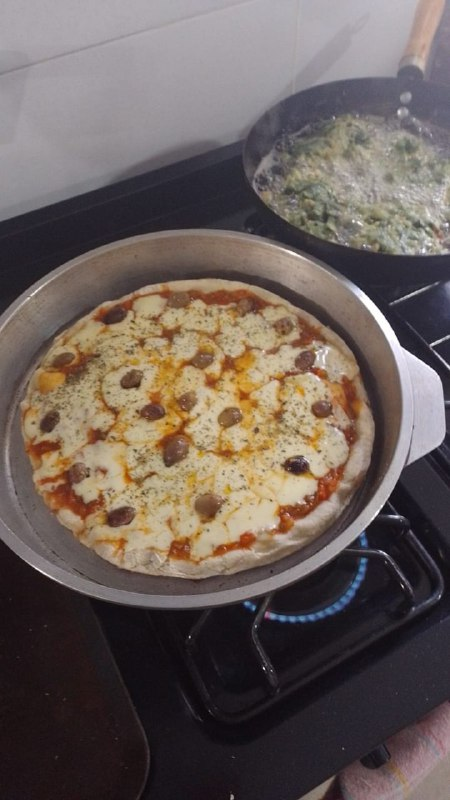 Amigos lo mas importante de todo esto es que en esta olla podemos cocinar, la variedad de pizas que deseamos, por el hecho que si lo hacemos como dije con amor y perseverancia y teniendo en cuenta el tema del fuego, sale perfectamente bien dicha piza.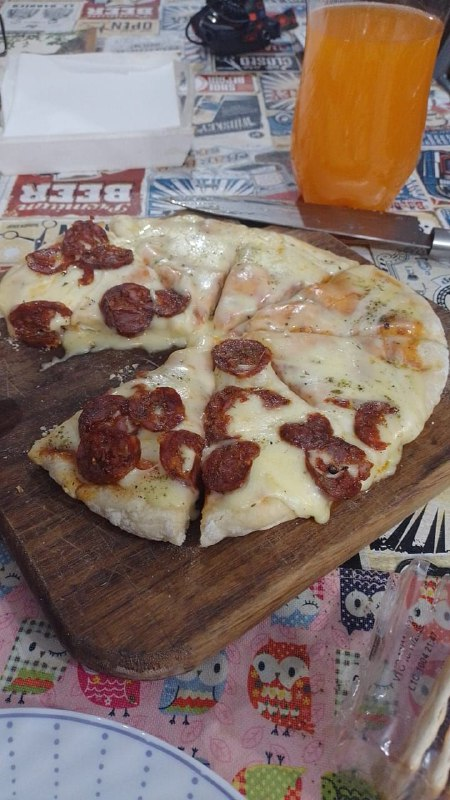 Como esta por ejemplo que arriba del queso le agregue salamín picado fino cortado en rodajas y la otra mitad de la piza, arriba del queso le agregue huevo frito o sea se le agrega el huevo propiamente dicho arriba del queso y este se cocina junto al mismo, quiero decir que cuando dicho queso esta derretido, el huevó esta cocinado.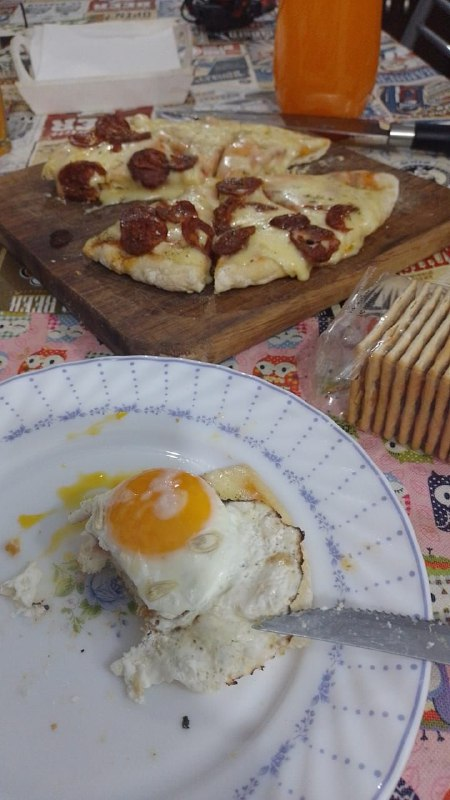 Por supuesto esta en cada uno de los comensales el de degustar dicha piza con el huevo, yo en este caso lo quite de arriba de mi porción y lo deguste aparte de la piza, para mi gusto es mas sabroso de esa manera, mas cuando le agrego un poco de picante, queda muy exquisito y la verdad que no queda nada en el plato jaajajaj.
MUCHAS GRACIAS POR SEGUIRME Y LEERME, QUE TENGAN BUEN COMIENZO DE FIN DE SEMANA.
TRADUCIDO AL INGLES.
When talking about pizza, what better than to make it yourself, because that way we know what we consume, I mean the quality of the merchandise, for example what we use in this case, but when we put a lot of love and perseverance for its preparation, as I always show, its ingredients are the following, flour, yeast, warm water, salt, all that for the dough, for which we place the flour in a volts and add the yeast dissolved in warm water, salt to taste and then for my taste I am pouring a little soda, starting to knead everything until the dough takes consistency, then I take small portions which I calculate that it would be a prepiza, then cover with a light cloth and let it rest for a few minutes, then I stretch them with the rolling pin giving it shape, when I have it stretched, as seen in the photo, I put it in the essem pan, I cover it until it has a little floor, then I add the top, which would be sauce, cheese and other ingredients to taste.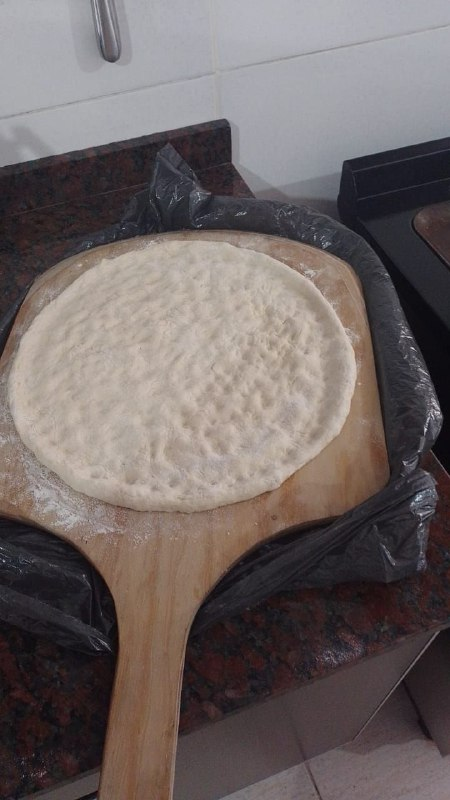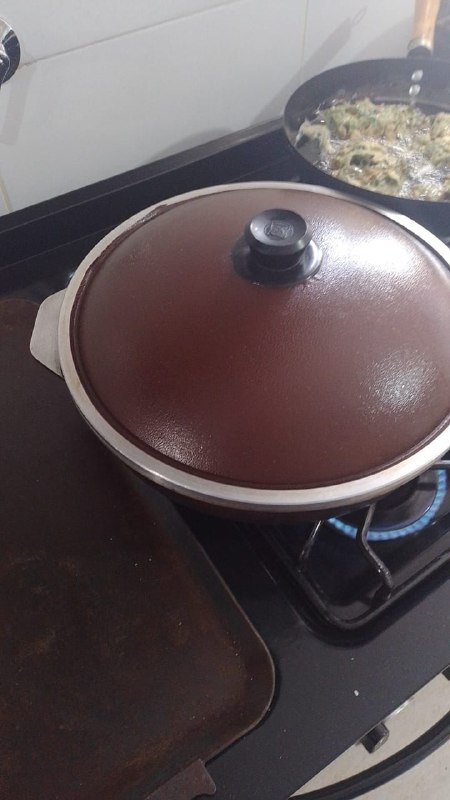 Detail the dough when it is inside the pot is on a small grill, that makes it does not stick the same, then you are adding the toppings, such as tomato sauce, fresh cheese, and finally the olives. to take into account the fire of the stove, where the pot is placed, it must be low, to heat very slowly the pot and then the preparation that is inside the same.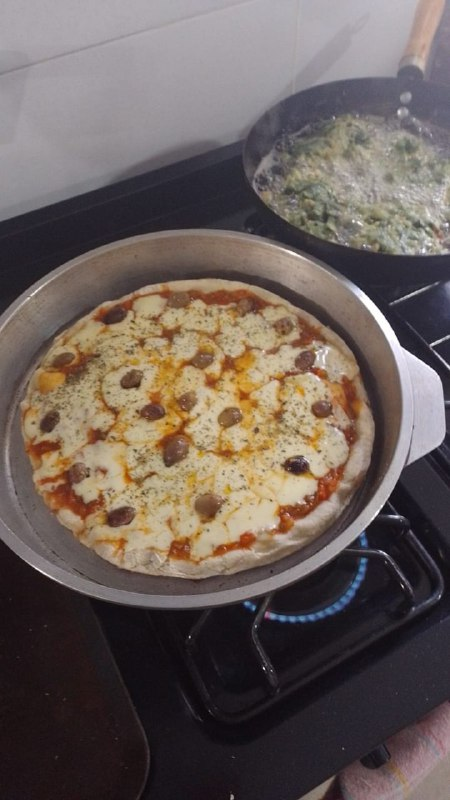 Friends the most important thing of all this is that in this pot we can cook, the variety of pizas that we want, for the fact that if we do it as I said with love and perseverance and taking into account the subject of fire, it comes out perfectly well this piza.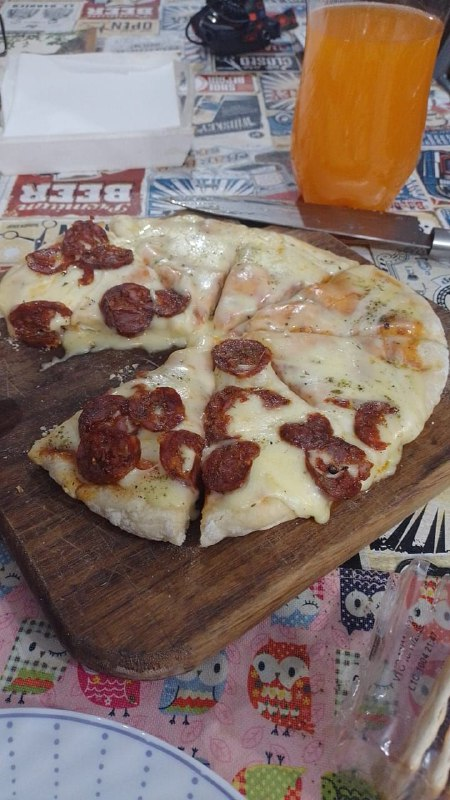 For example, on top of the cheese I added finely chopped salami cut in slices and the other half of the piza, on top of the cheese I added fried egg, that is, the egg itself is added on top of the cheese and it is cooked together with the cheese, I mean that when the cheese is melted, the egg is cooked.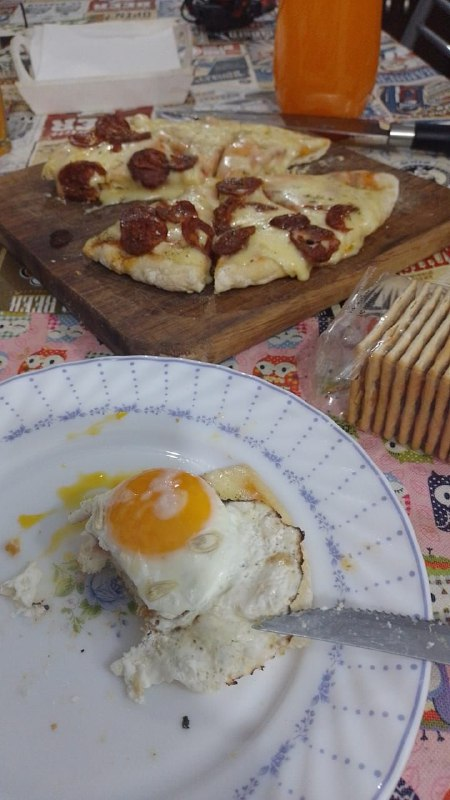 Of course it is up to each of the diners to taste the piza with the egg, in this case I removed it from the top of my portion and taste it apart from the piza, for my taste it is tastier that way, but when I add a little spicy, it is very delicious and the truth is that there is nothing left on the plate hahahahahah.
THANK YOU VERY MUCH FOR FOLLOWING ME AND READING ME, HAVE A GOOD BEGINNING OF THE WEEKEND.