Para preparar este guisado de garbanzo, lo primero es dejarlo en remojo dentro de una olla de un día, al siguiente día lo ponemos a hervir, porque es la única manera que tenemos para ablandarlo.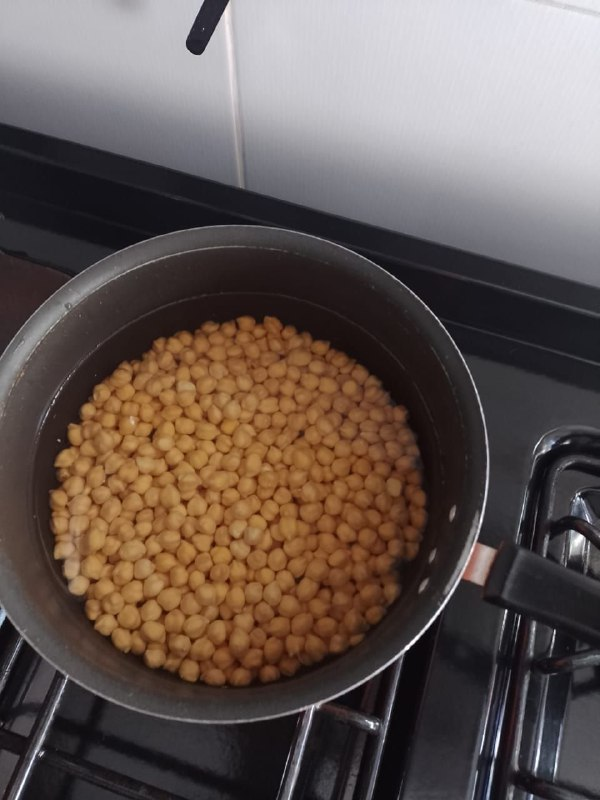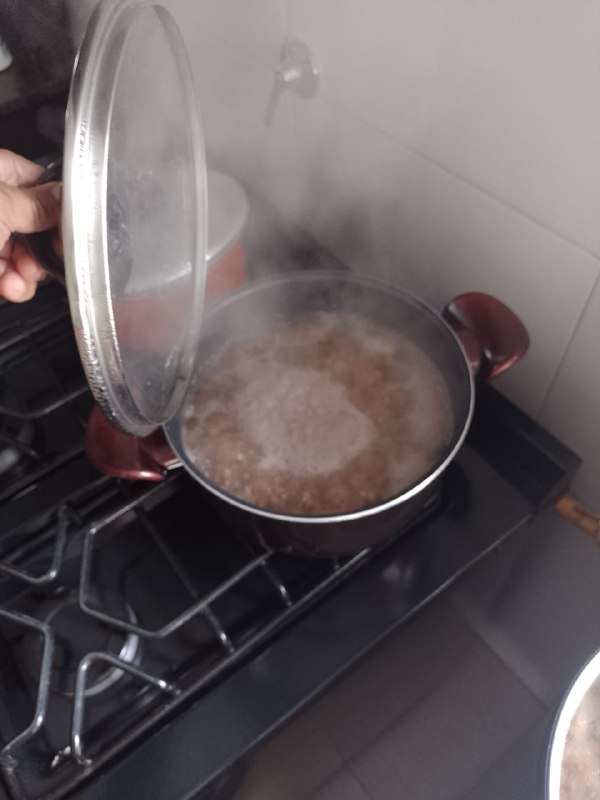 cuando comienza a hervir, le agregamos lo que vemos en esta foto, que es lo siguiente, zanahoria, los cuales ya los tenia todo cortado y preparado, cuando todo esto hierve, tapo dicha olla para que se cocine mas rápido.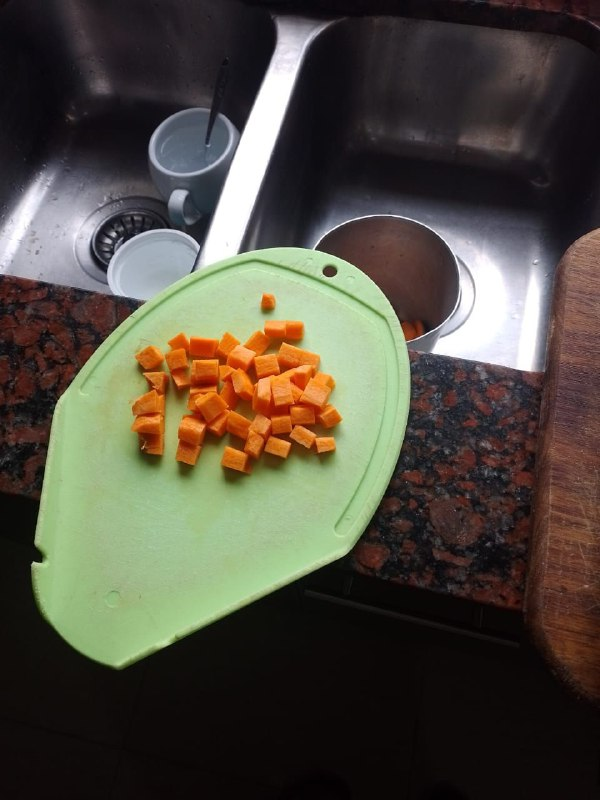 Para que dicho garbanzo, lo ideal es agregar por ejemplo el chorizo colorado, como el que se ve en esta foto, por supuesto que se tiene que cortarlo en rodajas no muy finas, para que se puede sentir su sabor.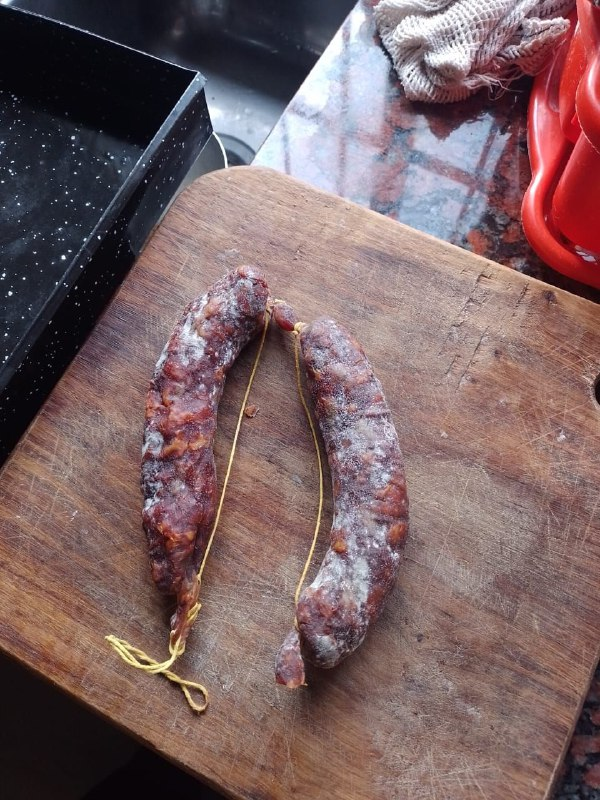 Otra de las cosas que se tiene que tener en cuenta para dicho guisado es el chorizo casero, pero cocinado como se ve en la foto, lo colocamos en la sarten con un poco de aceite, luego le agregamos cebolla cortada bien fina, morrón, ajo, pimienta y el chorizo, cuando esta, lo dejamos que se enfrié un poco luego lo cortamos en rodaja.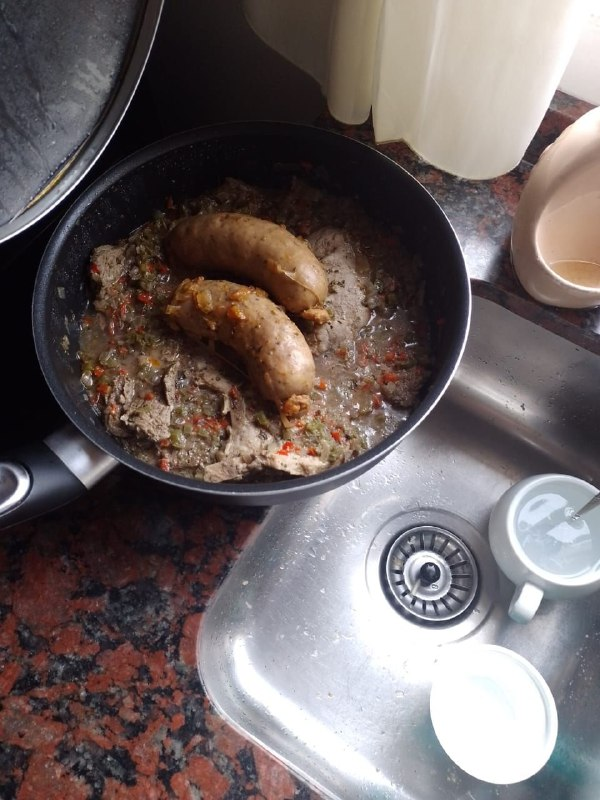 También hacemos lo mismo con dos churrascos, los cuales luego de freírlos bien los cortamos en porciones bien pequeñas, cundo tenemos todo cortado o sea el salame colorado, el chorizo y la carne, todo preparado dentro de una fuente, listo para agregarlo a la olla.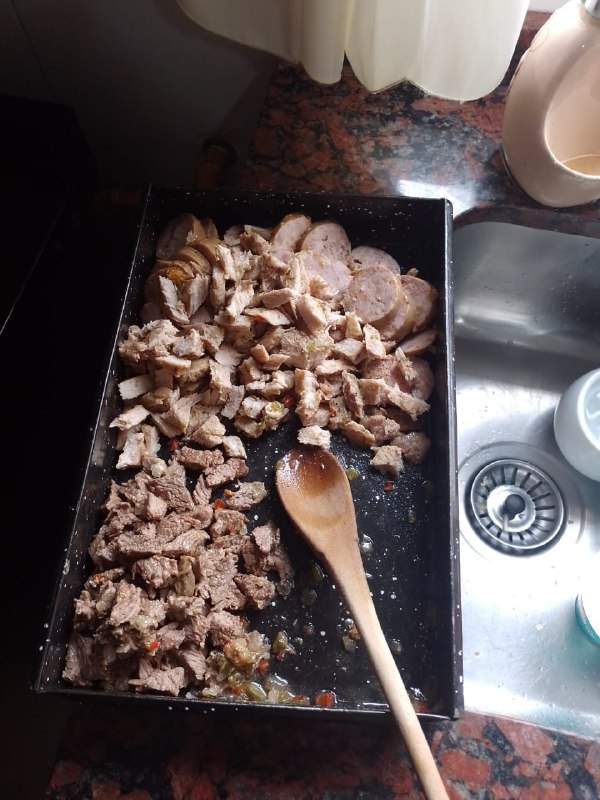 le agregamos a la olla, también un poco mas de agua y queda como se ve en la foto, luego de revolver un poco, tapamos nuevamente dicha olla para que se termine de cocinar.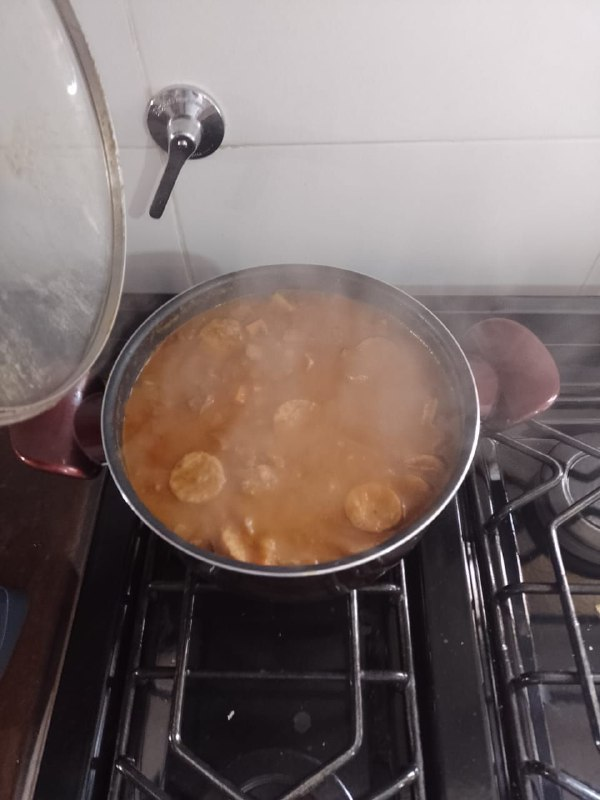 El siguiente paso es cuando ya esta todo cocinado, dejamos un poco mas la tapa, para que se asiente bien todo, luego destapamos y comenzamos a servir, quedando listo para ser degustado.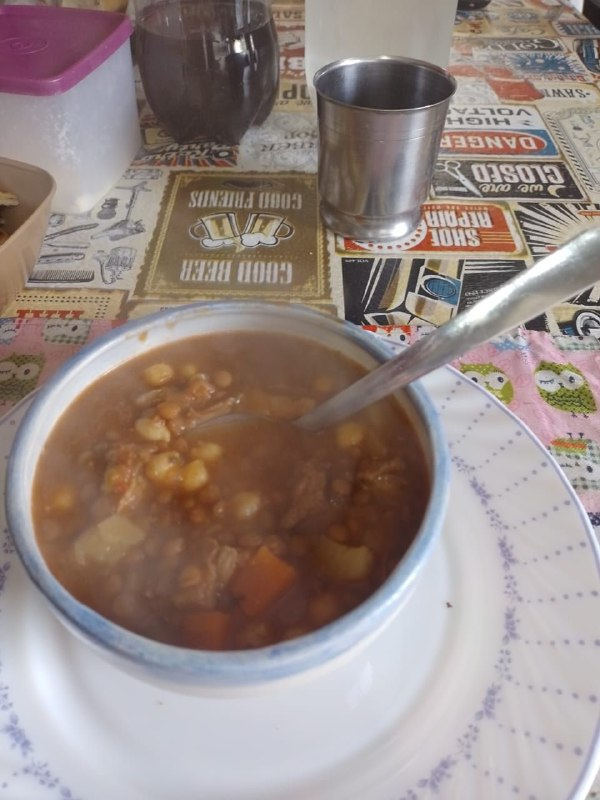 La verdad amigos que se ve excelente como salió ahora tenemos que probarlo para darle el puntaje final, pero como siempre digo yo, si todo lo que asemos, lo asemos con mucho amor y perseverancia sale muy bien, como en este caso dicho guisado.
MUCHAS GRACIAS POR SEGUIRME Y LEERME, QUE PASEN UN EXCELENTE DIA EN FAMILIA.
TRANSLATED INTO ENGLISH.
To prepare this chickpea stew, the first thing to do is to let it soak in a pot for a day, the next day we put it to boil, because it is the only way we have to soften it.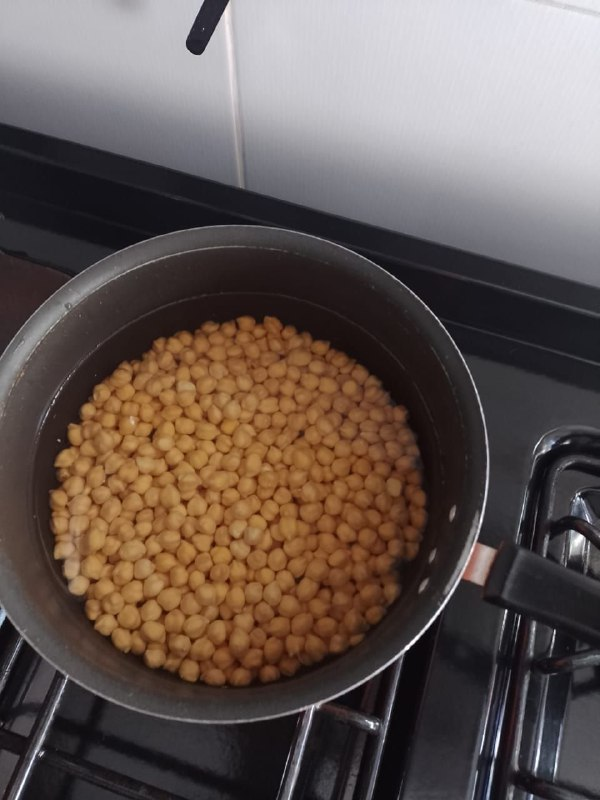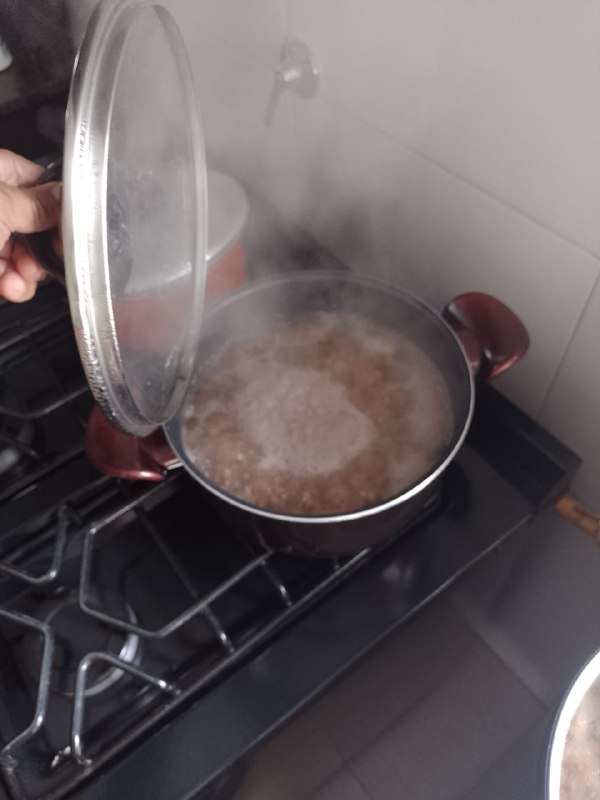 when it begins to boil, we add what we see in this photo, which is the following, carrot, which already had them all cut and prepared, when all this boils, I cover the pot so that it cooks faster.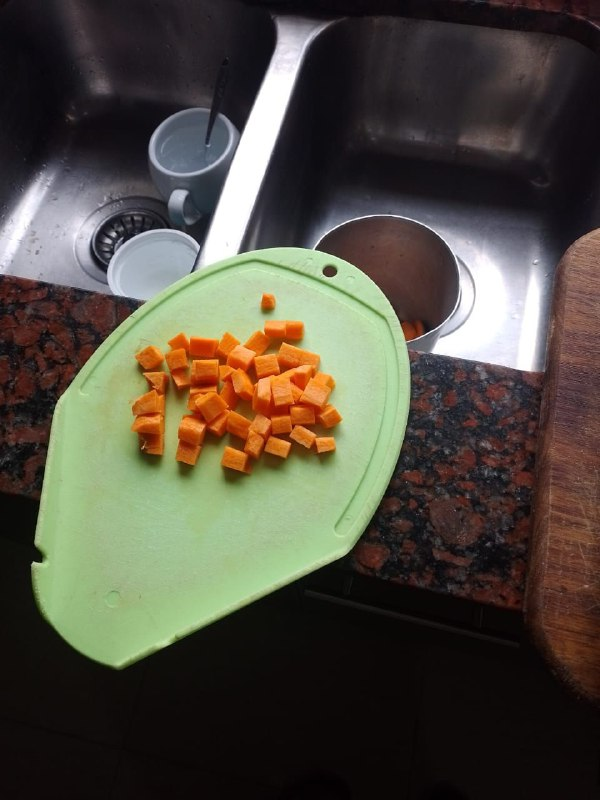 For the chickpeas, the ideal is to add for example the red chorizo, like the one you see in this picture, of course you have to cut it in not very thin slices, so you can feel its flavor.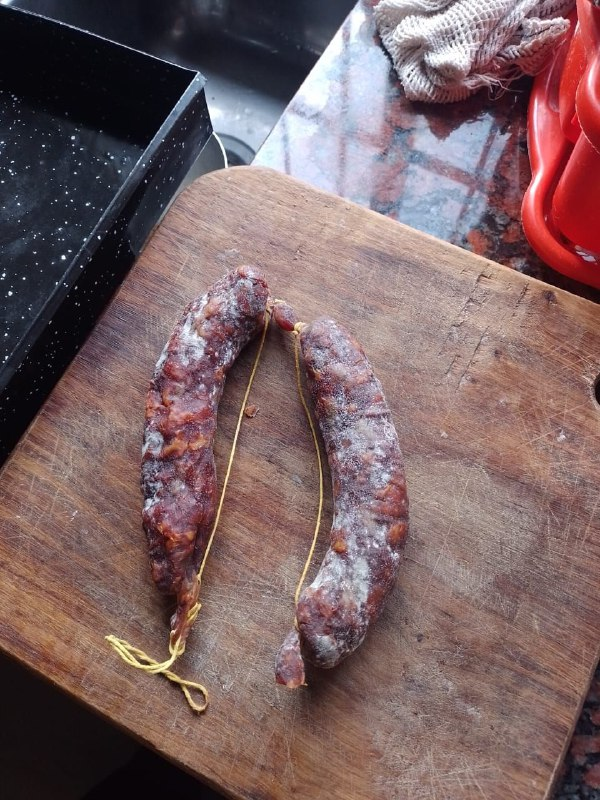 Another thing that you have to take into account for this stew is the homemade chorizo, but cooked as shown in the photo, we put it in the pan with a little oil, then add finely chopped onion, bell bell pepper, garlic, pepper and chorizo, when it is, we let it cool a little then cut it into slices.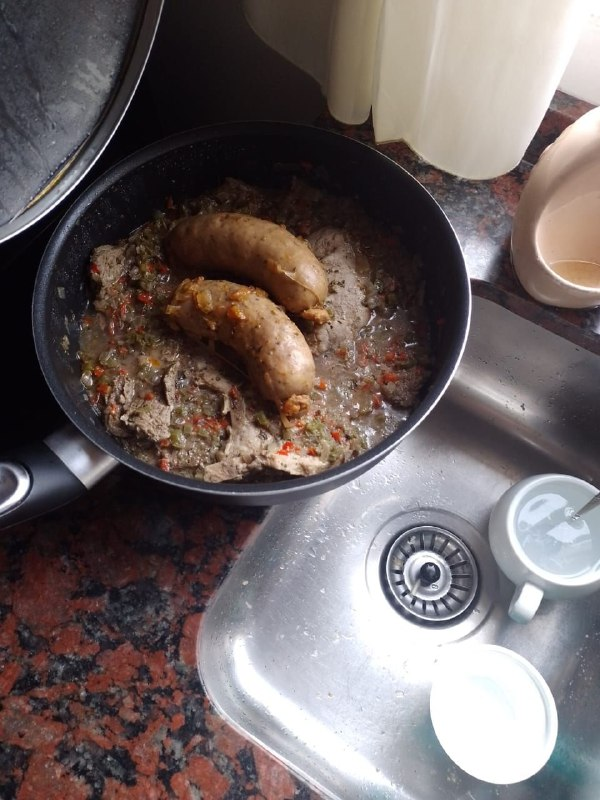 We also do the same with two churrascos, which after frying them well, we cut them in very small portions, when we have everything cut, that is to say the red salami, the chorizo and the meat, all prepared inside a dish, ready to add it to the pot.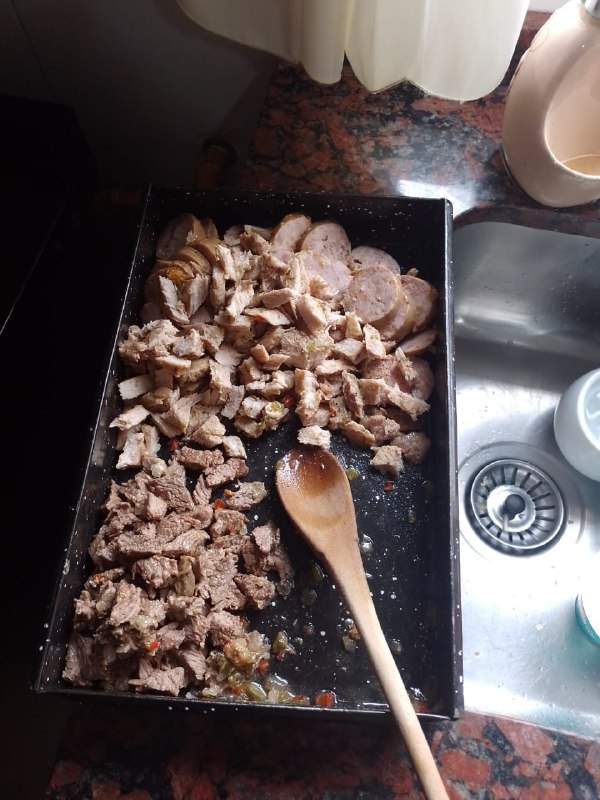 We add to the pot, also a little more water and it is as shown in the picture, after stirring a little, we cover the pot again to finish cooking.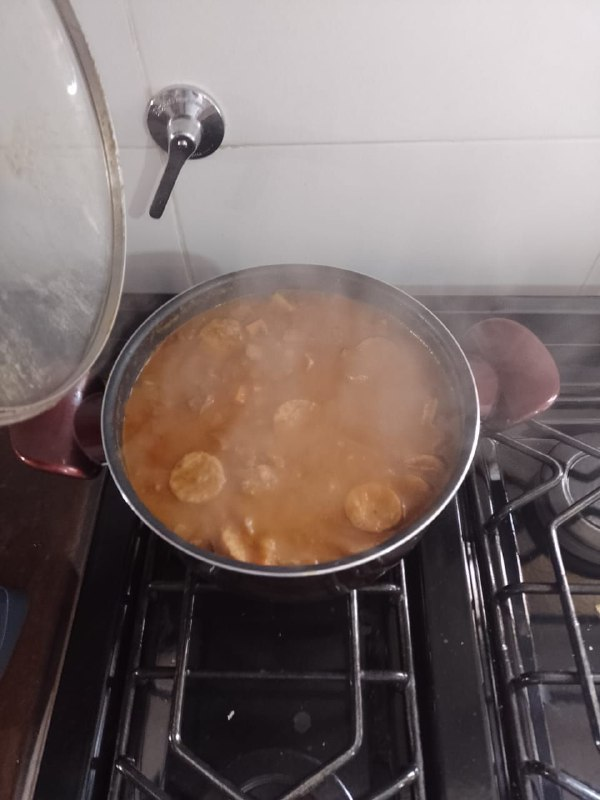 The next step is when everything is cooked, we leave a little more the lid, so that everything settles well, then we uncover and begin to serve, being ready to be tasted.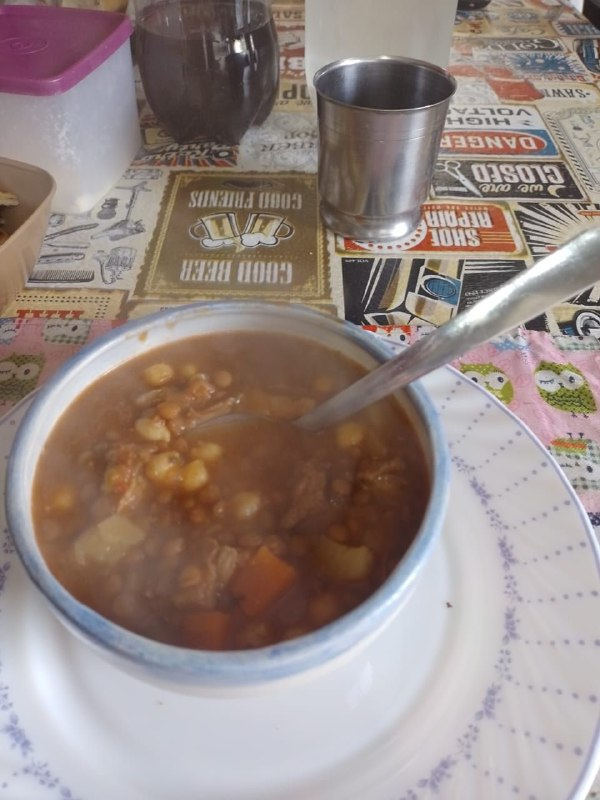 The truth my friends is that it looks excellent as it came out, now we have to try it to give it the final score, but as I always say, if everything we roast, we roast it with love and perseverance, it comes out very well, as in this case the stew.
THANK YOU VERY MUCH FOR FOLLOWING ME AND READING ME, HAVE A GREAT DAY WITH YOUR FAMILY.