Hola a todos, esta ves llego el domingo para compartir en familia, entonces el almuerzo fue diferente, se rompió el esquema y la tradición de siempre los domingos asado, es así que extraje del frízer una bolsita de raba que tenia guardada, para que la misma se descongele, una ves que la misma se descongelo, la enjuague bien, luego la deje reposar en leche por tres horas, llegando el mediodía o sea la hora del almuerzo, se procedió a preparar las mismas, siendo sus ingredientes lo siguiente:
Rabas propiamente dicha
Huevo
Sal
Orégano
Pimienta a gusto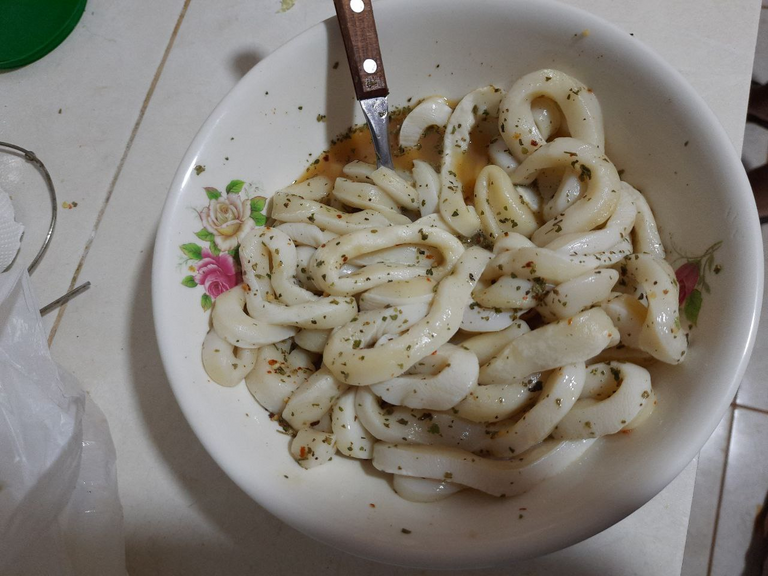 Una ves que mesclamos todo eso en un volts, retiramos las rabas de la leche y las colocamos con la mescla, revolvemos bien y dejamos un pequeño periodo de tiempo, para que la raba absorba dicha mescla, sabemos amigos que la raba es un pes de mar o sea se llama calamar, el cual una ves limpio se lo corta en juliana como vemos en la foto, pero esto no termina acá, porque con los tentáculos, podemos elaborar varias comidas, mi preferida es calamar en su tinta, la tinta del mismo, hervida con arroz y los tentáculos, la verdad sale muy sabroso, bueno es otra receta.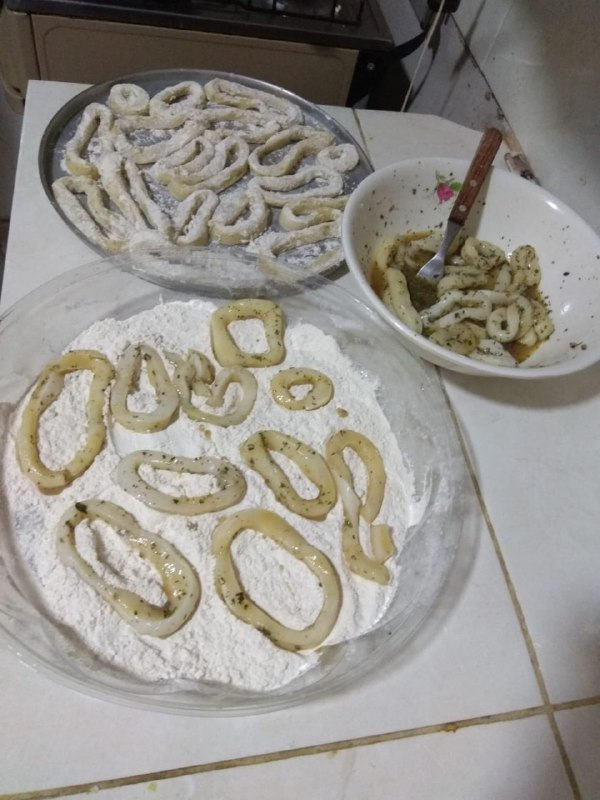 Luego de pasar bien por el huevo, lo quitamos de ahí y lo pasamos por la harina, como se ve en la foto, en lo posible dos veces, para que de esa manera se pegue bien la harina sobre las rodajas, de calamar o sea las rabas.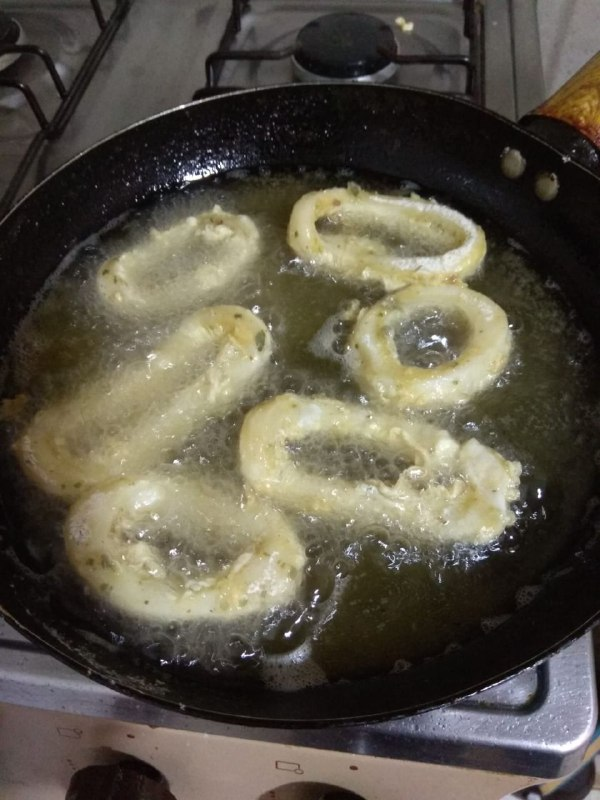 Cuando notamos que quedaron dichas rodajas bien sequita con la harina, las vamos acomodando en una sarten la cual se encuentra en la cocina con aceite, bien caliente, tratemos de colocarlas separadas para que no se peguen, cuando notamos que están doradas las damos vuelta, hasta que notamos que están bien cocinadas o sea fritas, con una espumadera las vamos retirando del aceite, las colocamos en un plato, sobre estas le ponemos arriba de las mismas un poco de perejil bien picado, como se ve en la foto, quedando dichas rabas terminadas y listas para degustarlas.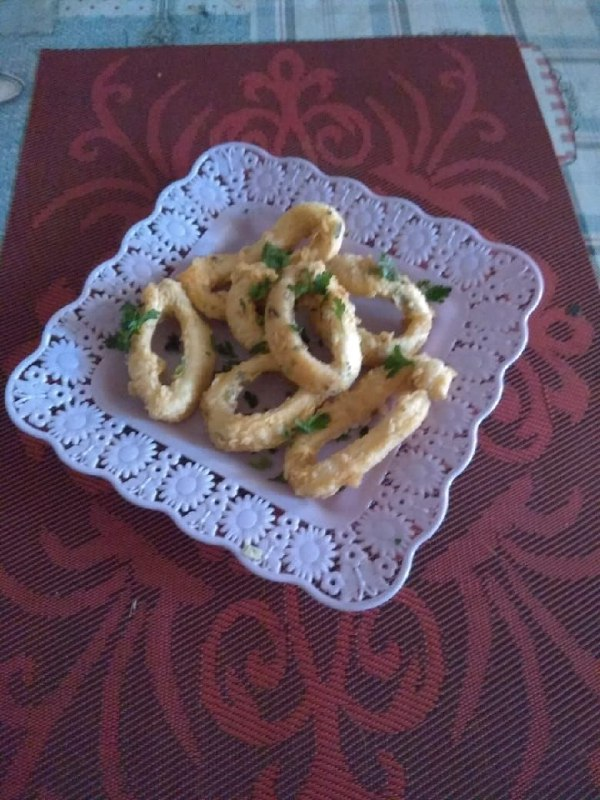 Como lograron observar amigos en este post, la manera de cocinar unas sabrosas rabas, no es ningún misterio, además es fácil y salen muy exquisitas, las cuales las podemos acompañar con papas fritas, arroz, fideos, ensaladas, etc.
De tal manera si todo esto fue de sus agrados, no duden de enviar sus apreciados comentarios, amigos, tenemos que sacar lo bueno de esto, al compartir un domingo en familia disfrutando de unas sabrosas rabas.
MUCHAS GRACIAS POR SEGUIRME Y LEERME, QUE TENGAN UN BENDECIDO DOMINGO.
TRANSLATED IN ENGLISH
Hello everyone, this time I arrived on Sunday to share with the family, so lunch was different, the scheme was broken and the tradition of always on Sunday roast, that is how I took out of the refrigerator a bag of raba that I had saved, so that it It is defrosted, once it is defrosted, rinse it well, then let it rest in milk for three hours, arriving at noon or lunch time, we proceeded to prepare them, being the following ingredients:
Rabas proper
Egg
Salt
Oregano
Pepper to taste
! [image.png] (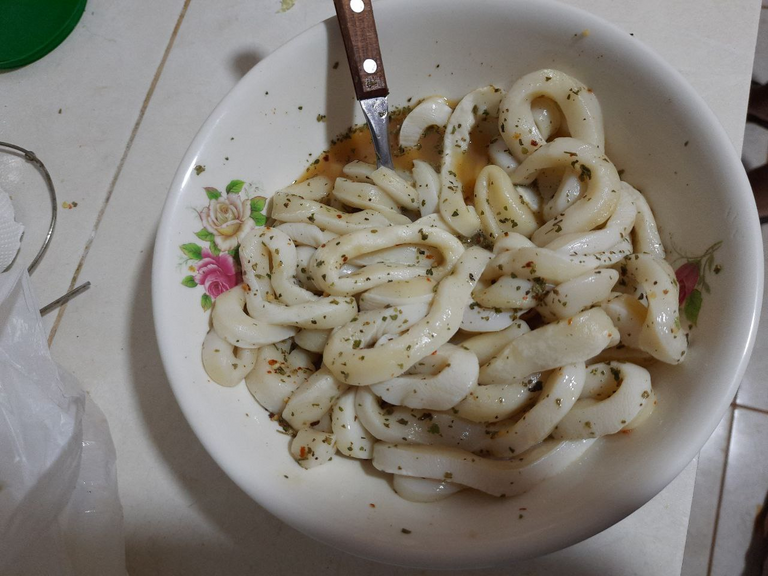 )
Once we mix all that in one volt, we remove the raba from the milk and place them with the mixture, stir well and leave a small period of time, for the raba to absorb said mixture, we know friends that raba is a pes of Sea, that is, it is called squid, which once clean is cut into julienne strips as we see in the photo, but this does not end here, because with the tentacles, we can prepare various meals, my favorite is squid in its ink, the ink of the same, boiled with rice and tentacles, the truth is very tasty, well it is another recipe.
! [image.png] (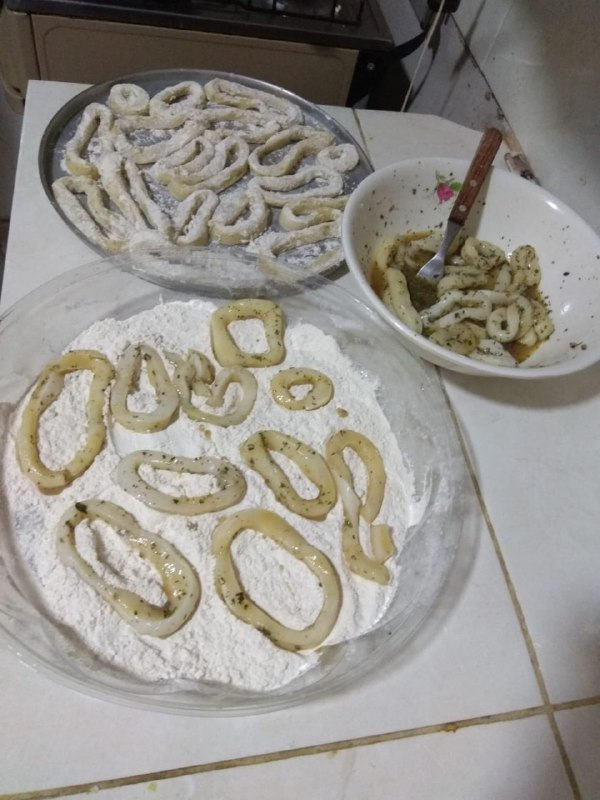 )
After going through the egg well, we remove it from there and pass it through the flour, as seen in the photo, if possible twice, so that the flour sticks well on the slices, squid or squid. the squids.
! [image.png] (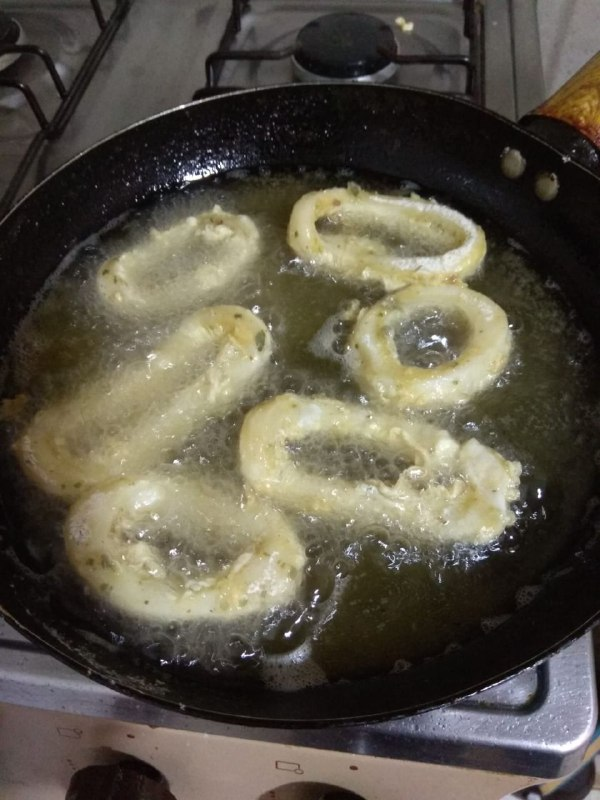 )
When we notice that these slices were well dry with the flour, we are arranging them in a pan which is in the kitchen with oil, very hot, we try to place them separately so that they do not stick, when we notice that they are golden we turn them over, until we notice that they are well cooked or fried, with a slotted spoon we are removing them from the oil, we place them on a plate, on these we put a little chopped parsley on top, as seen in the photo, leaving said squid finished and ready to taste.
! [image.png] (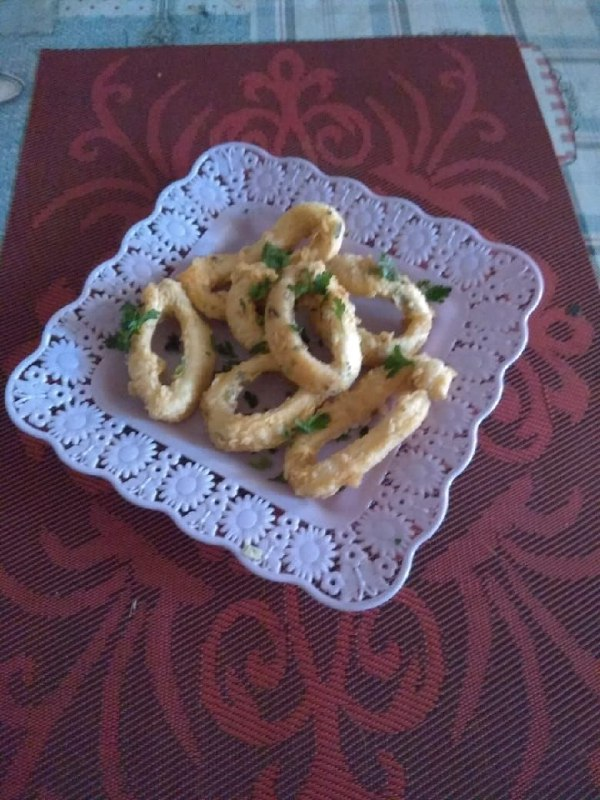 )
As friends observed in this post, the way to cook tasty squid is no mystery, it is also easy and they come out very exquisite, which we can accompany with French fries, rice, noodles, salads, etc.
In such a way if all this was to your liking, do not hesitate to send your appreciated comments, friends, we have to get the good out of this, by sharing a Sunday with the family enjoying some tasty squids.
THANK YOU VERY MUCH FOR FOLLOWING AND READING ME, HAVE A BLESSED SUNDAY.