Hola a todos, el sábado es el comienzo de fin de semana, en lo personal es un día en el cual el almuerzo es indefinido, lo digo así porque para mi es un permitido, no es que el redimen es a rajatabla, pero si a conciencia, pero una pasta como esta de ves en cuando es esencial por los carbohidratos, que tan bien nos hace al ser humano, el fideo en este caso no es casero, es comprado, la verdad excelente, para esta rica comida contamos con los siguientes ingredientes:
Fideos tallarines
Tomate-sin piel-
Zanahoria
Sal
Ajo
Cebolla de verdeo
Cebolla morada
Carne de red-picaña-
Papa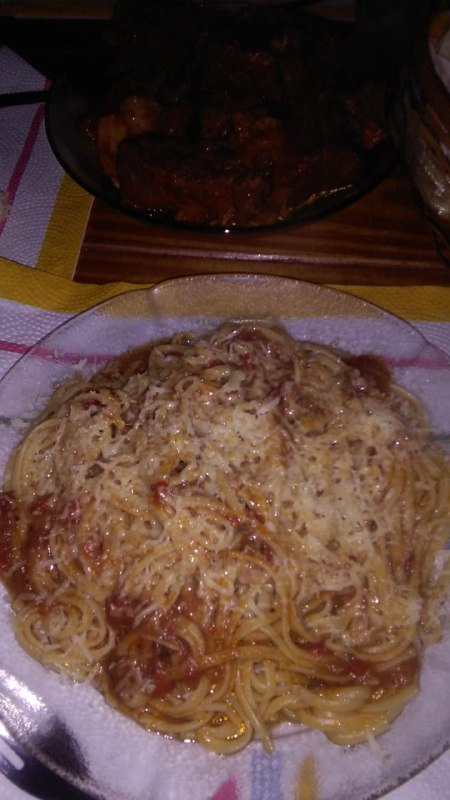 La manera en que se preparo es la siguiente:
El fideo, colocamos una olla sobre el fuego de la cocina con agua, cuando esta comienza a hervir, le agregamos un poco de aceite, revolvemos y luego le agregamos el fideo, revolvemos un poco y dejamos para que se cocine, nos damos cuenta cuando esta porque forma espuma y se eleva a la parte de arriba del agua, lo quitamos del fuego y lo colamos, luego lo dejamos en una fuente.
El estofado, el cual pelamos y cortamos la cebolla en juliana bien fina, colocamos la olla sobre el fuego de la cocina, le agregamos un poco de aceite, la cebolla, la revolvemos, para que quede bien esparcida, le agregamos el ajo, la sal, la cebolla de verdeo, la carne de red cortada en trozos no muy pequeños, tapamos la olla, luego de media hora revolvemos para que se vaya cocinando bien, luego de esto le agregamos agua caliente, la zanahoria, el tomate al cual le quitamos la piel, los condimentos varios, vamos revolviendo de manera que quede dicho estofado bien cocinado, el mismo tiene que quedar como una salsa espesa, para darle mejor sabor le agregamos unas hojas de laurel, cuando esta cocinado, dejamos la olla tapada, para que de esa manera se asiente bien todo.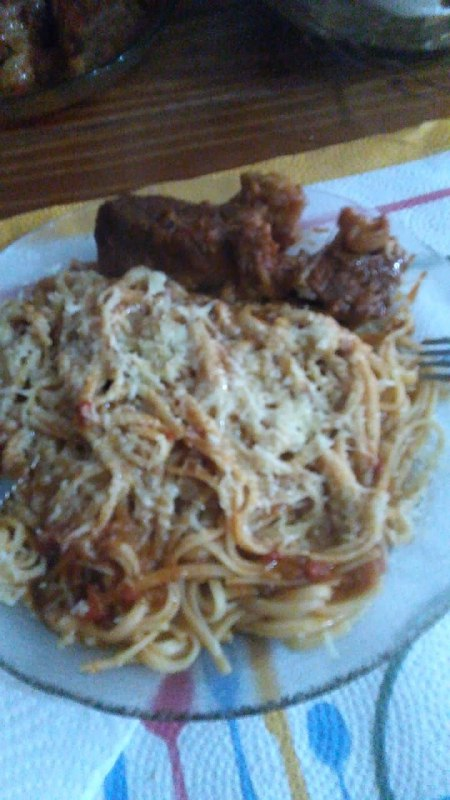 Cuando lo servimos, el queso rallado no tiene que faltar, como lo pueden ver en las fotos, así de esta manera degustamos esta sabrosa pasta con la familia.
Así que de haberles gustado lo explayado como comida y como una manera mas de cocinar esta pasta, no dejen de enviar sus comentarios referente al mismo.
MUCHAS GRACIAS POR SEGUIRME Y LEERME, QUE TENGAN UN EXCELENTE SABADO.
TRANSLATED TO ENGLISH.
Hello everyone, Saturday is the beginning of the weekend, personally it is a day in which lunch is indefinite, I say it like this because for me it is allowed, it is not that the redemption is strictly, but yes to conscience, but a pasta like this from time to time is essential because of carbohydrates, which does so well to human beings, the noodle in this case is not homemade, it is bought, the truth is excellent, for this delicious meal we have the following ingredients:
Noodle noodles
Tomato-without skin-
Carrot
Salt
Garlic
Green onion
Purple Onion
Red meat-picaña-
Dad
! [image.png] (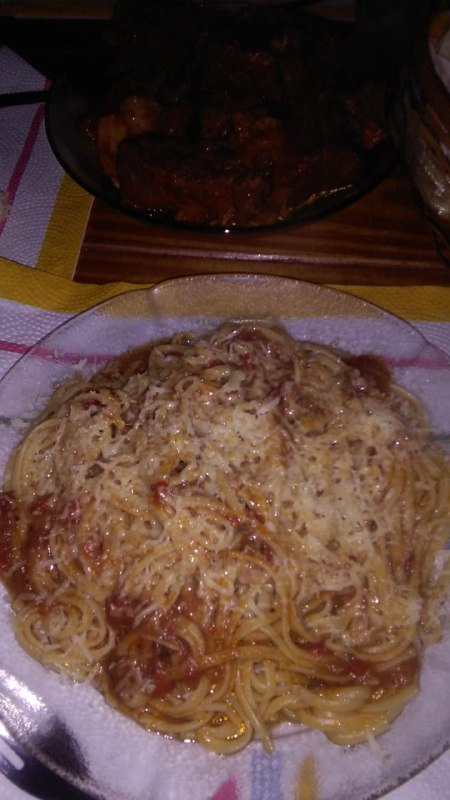 )
The way it was prepared is as follows:
The noodle, we place a pot on the kitchen fire with water, when it begins to boil, we add a little oil, stir and then add the noodle, stir a little and leave it to cook, we realize when This because it foams and rises to the top of the water, we remove it from the heat and strain it, then we leave it in a source.
The stew, which we peel and cut the onion into fine julienne strips, we place the pot over the kitchen fire, we add a little oil, the onion, we stir it, so that it is well spread, we add the garlic, the salt, green onion, red meat cut into not very small pieces, cover the pot, after half an hour we stir so that it cooks well, after this we add hot water, carrot, tomato to which We remove the skin, the various seasonings, we are stirring so that the stew is well cooked, it has to be like a thick sauce, to give it a better flavor we add some bay leaves, when it is cooked, we leave the pot covered, to that that way everything settles well.
! [image.png] (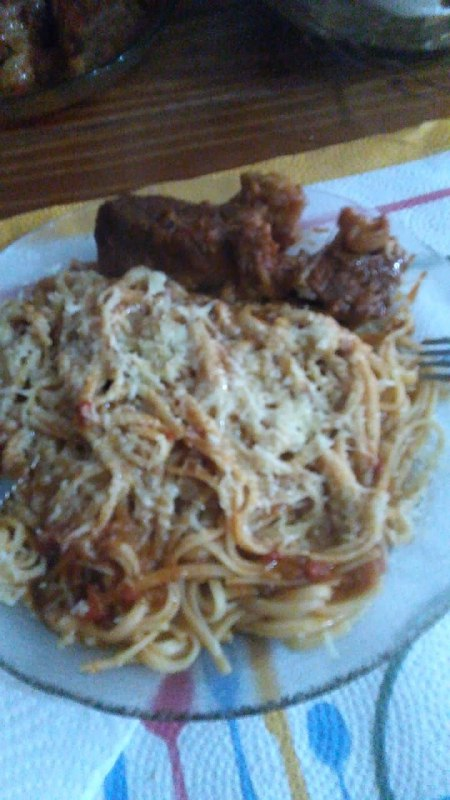 )
When we serve it, the grated cheese does not have to be missing, as you can see in the photos, so in this way we can taste this tasty pasta with the family.
So if you have liked it as food and as another way to cook this pasta, do not stop sending your comments regarding it.
THANK YOU VERY MUCH FOR FOLLOWING AND READING ME, HAVE AN EXCELLENT SATURDAY.