Bendecido sábado a todos los componentes de esta hermosa y agradable comunidad de hive, muy agradecido a nuestro DIOS, por un fin de semana mas, que nos regala en el cual seguimos subsistiendo, mirando siempre para adelante, con el único propósito de seguir caminando por la senda de nuestro DIOS, teniendo en cuenta que las pruebas y las luchas son muchas, pero sabemos que para el nada es imposible, por mas que caminemos por un lugar lleno de piedras y rocas, el siempre nos da un zapato nuevo, lo mismo que para elaborar una comida, la idea nos la da el, nosotros ejecutamos, como el de preparar una sabrosa tarta de acelga, con semillas de lino y queso.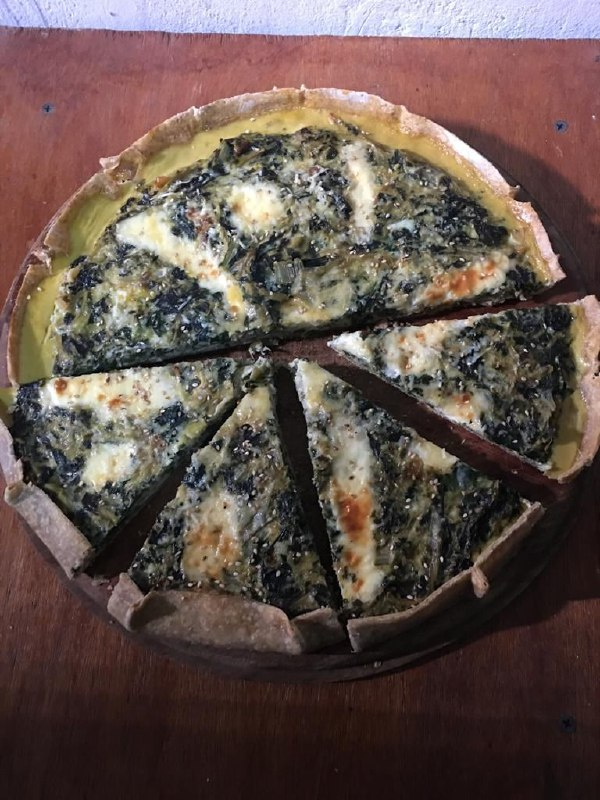 La misma esta compuesta por los siguiente, bueno la tapa la compramos, que también es con semillas, referente a la acelga que utilizamos son dos paquetes de hojas grandes, las que lavamos muy bien, luego colocamos una olla con agua en la hornalla de la cocina, agregamos dichas hojas, hasta que se hierve bien, luego sacamos de la olla, cuando se enfría escurrir bien, luego tomamos cebolla, morrón y ajo, los rehogamos, le agregamos sal a gusto y condimentos varios, luego mesclar las hojas bien picadas, con dichos ingredientes, se agrega huevos, a gusto la cantidad, pimienta, para mis gusto le agregue un poco de harina de arroz, queso rallado, luego mesclamos todo, luego vertemos todo esto sobre la masa, la que se encuentra en el molde, previo pasar un poco de aceite a la misma y con una cuchara emparejamos bien todo, luego sobre esto le agregamos queso fresco y semillas varias.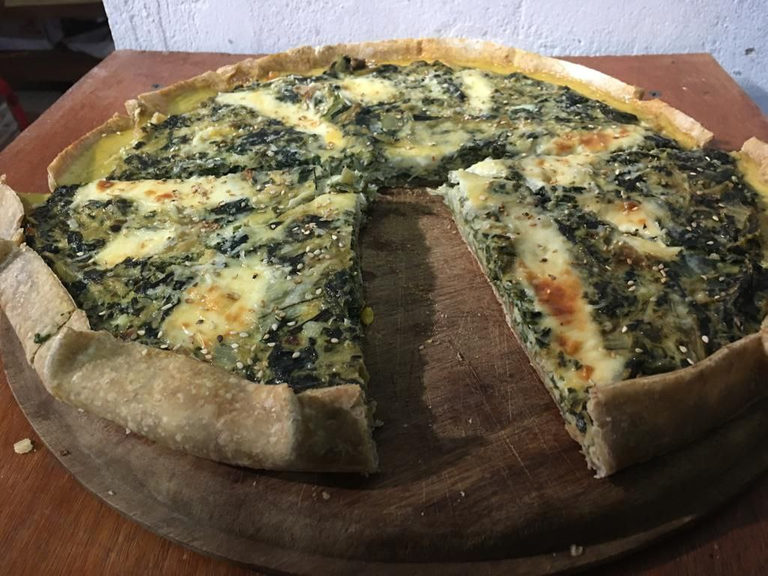 Teniendo todo esto en el molde propiamente dicho, prendemos el horno, donde colocamos el mismo, a una temperatura adecuada, debemos tener en cuenta que debemos observar el mismo, porque cuando este dorado la parte de arriba, quitamos del horno y la dejamos que se enfrié, luego la cortamos en porciones y la llevamos a la mesa.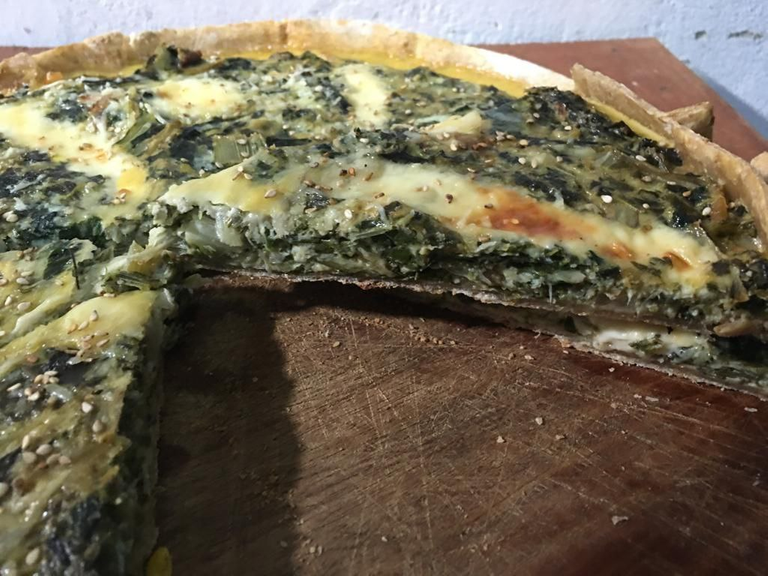 De esa manera queridos amigos comenzamos a degustar junto a la familia, un almuerzo sano y con muchas propiedades.
MUCHAS GRACIAS POR SEGUIRME Y LEERME, QUE PASEN UN EXCELENTE COMIENZO DE FIN DE SEMANA EN FAMILIA.
TRANSLATED INTO ENGLISH.
Blessed Saturday to all the components of this beautiful and pleasant community of hive, very grateful to our GOD, for one more weekend, which gives us in which we continue to subsist, always looking ahead, with the sole purpose of continuing to walk the path of our GOD, taking into account that the trials and struggles are many, but we know that for him nothing is impossible, even if we walk through a place full of stones and rocks, he always gives us a new shoe, the same as to prepare a meal, he gives us the idea, we execute it, like preparing a tasty chard pie with flax seeds and cheese.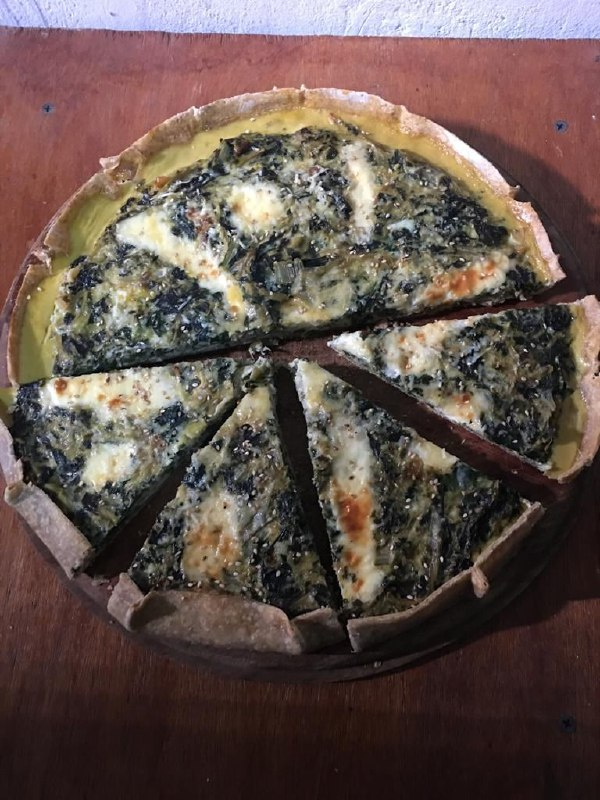 The same is composed of the following, well the lid we buy it, which is also with seeds, concerning the chard we use are two packages of large leaves, which we washed very well, then we put a pot with water on the stove of the kitchen, add these leaves, until it boils well, then remove from the pot, when it cools drain well, then we take onion, bell bell pepper and garlic, we sauté them, add salt to taste and various seasonings, then mix the finely chopped leaves, with these ingredients, add eggs, to taste the amount, pepper, for my taste I added a little rice flour, grated cheese, then mix everything, then pour all this on the dough, which is in the mold, after passing a little oil to it and with a spoon we even everything well, then on this we add fresh cheese and various seeds.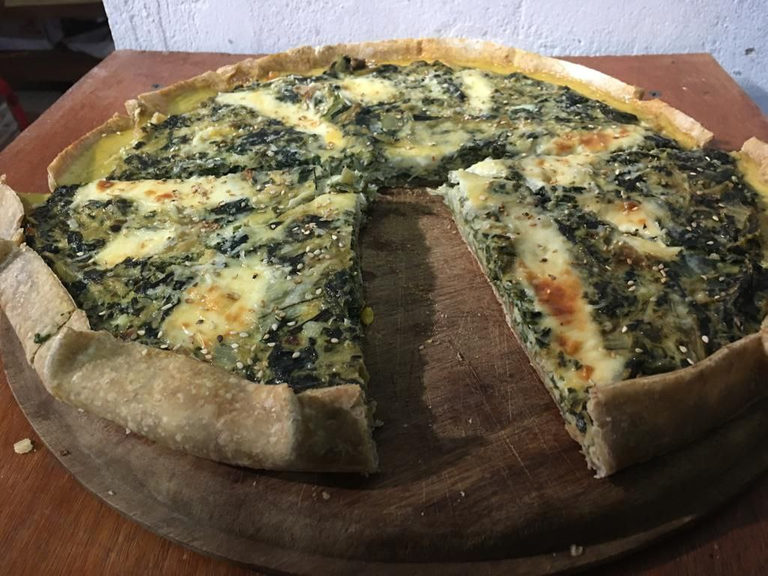 Having all this in the mold itself, we turn on the oven, where we place the same, at an appropriate temperature, we must bear in mind that we must observe the same, because when the top is golden brown, remove from the oven and let it cool, then cut it into portions and take it to the table.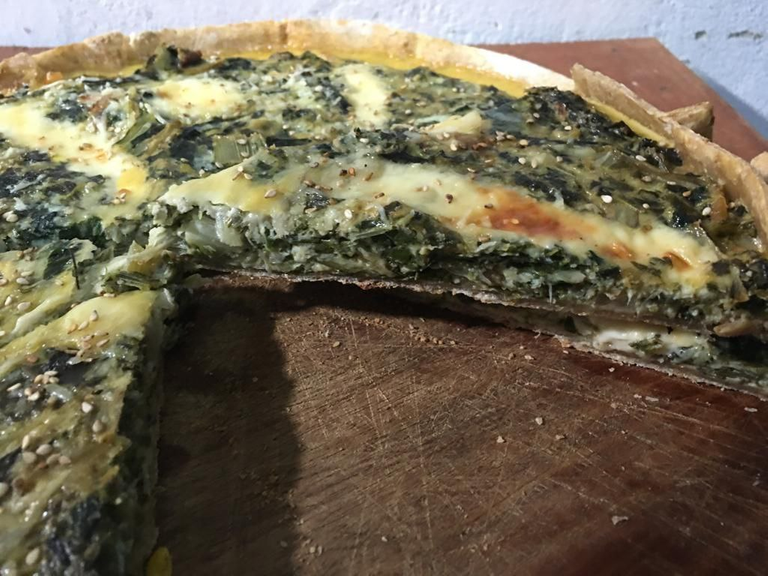 In this way, dear friends, we begin to enjoy with the family, a healthy lunch with many properties.
THANK YOU VERY MUCH FOR FOLLOWING ME AND READING ME, HAVE A GREAT START OF THE WEEKEND WITH YOUR FAMILY.