Hola a todos, que tengan un buen día, hay circunstancias en la vida, en donde el tema de la comida es primordial, mas cuando se trata del almuerzo, el cual es clave porque es la mistad del día, y con nuestros pasatiempos o que haceres, o sea por trabajo, diligencias y demás, necesitamos de tener mas tiempo para cocinar, entonces amigos que mejor, que prepararnos unas hamburguesas, las cuales son muy fáciles de hacerlas, compramos la carne molida, le agregamos sal, ají molido a gusto un poco de romero, huevo y un poco de pan rallado, lo amasamos bien, para luego ir dándole la forma redonda de una hamburguesa.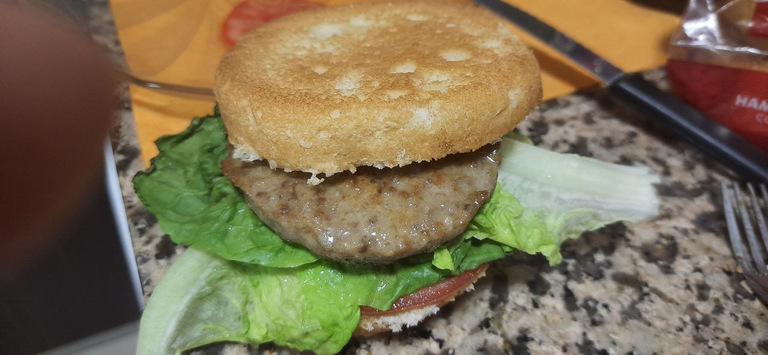 El ajo es a gusto de cada, cuando ya la tenemos redonda y bien formada, procedemos a cocinarlas, como se ve en la foto colocándolas en la plancha, como lo hago yo a fuego lento, de esa manera sale mucho mejor su cocción.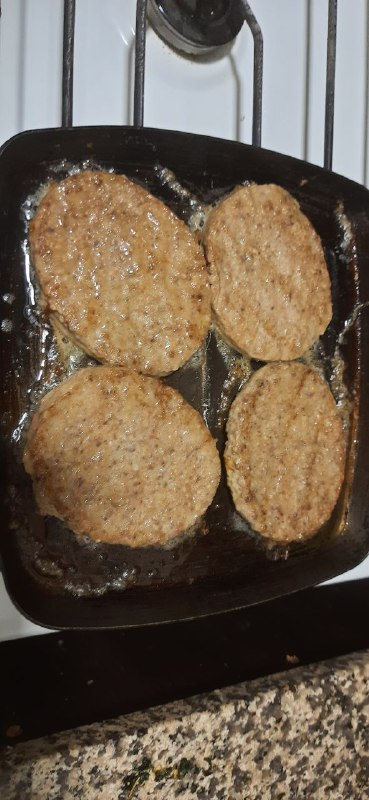 Luego tomamos los panes que son para armar dichas hamburguesas, los abrimos al medio, algunos lo ponen a tostar, como dije es a gusto de cada uno, de esta manera ya esta la mistad de dicha hamburguesa preparada.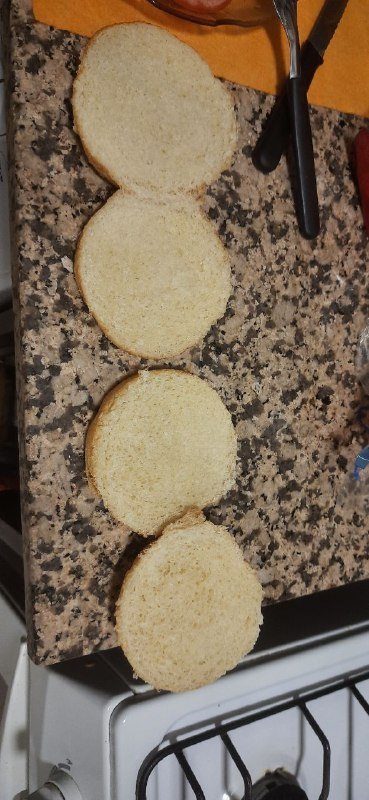 Lo siguiente es lavar muy bien las verduras a utilizar, como lo es el tomate y lechuga, esta ves no las hago con huevo revuelto y con panceta, las hago muy simple, la verdura de ves en cuando hace mucho bien.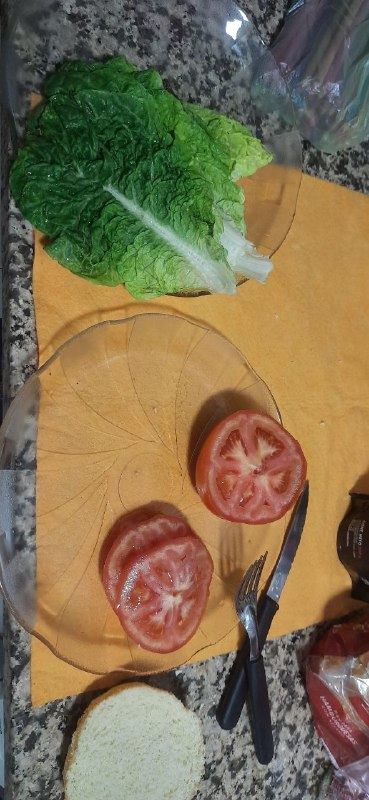 Luego sobre el pan que ya lo tenemos abierto le vamos agregando, el tomate cortado en juliana a gusto, luego la lechuga, le podemos agregar sal si lo deseamos, en mi caso, me agrada así natural, luego para lo ultimo le agregamos la hamburguesa, propiamente dicha, o sea la carne, para luego cerrar con el otro pan, quedando armada la misma, como la que esta en la foto, al principio del post.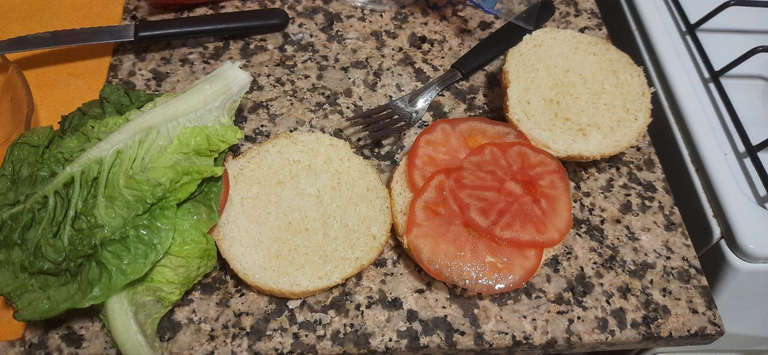 En este caso amigos ya tenia la hamburguesas armadas en el congelador, es por eso como bien dije, es una manera de cocinar rápida y también para degustar una comida tradicional y sabrosa.
MUCHAS GRACIAS POR SEGUIRME Y LEERME, QUE TENGAN Y PASEN UN EXCELENTE DIA.
TRADUCIDO AL INGLES.
Hello everyone, have a good day, there are circumstances in life, where the issue of food is paramount, but when it comes to lunch, which is key because it is the mistad of the day, and with our hobbies or what to do, either for work, errands and others, we need to have more time to cook, then friends what better, than to prepare some hamburgers, which are very easy to make, we buy the ground beef, add salt, ground chili to taste a little rosemary, egg and a little bread crumbs, knead it well, and then give it the round shape of a hamburger.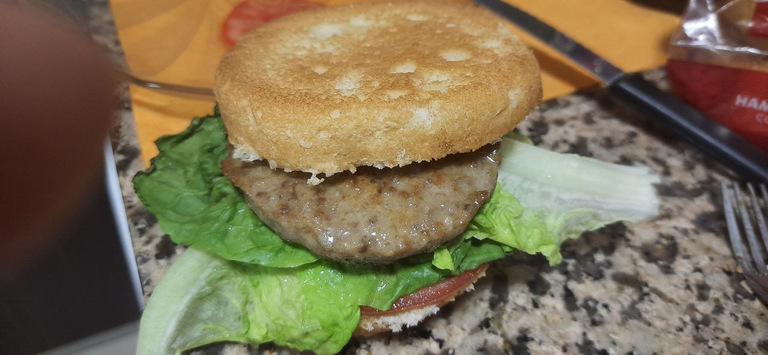 The garlic is to taste of each, when we already have it round and well formed, we proceed to cook them, as seen in the photo by placing them on the griddle, as I do on low heat, that way it comes out much better cooking.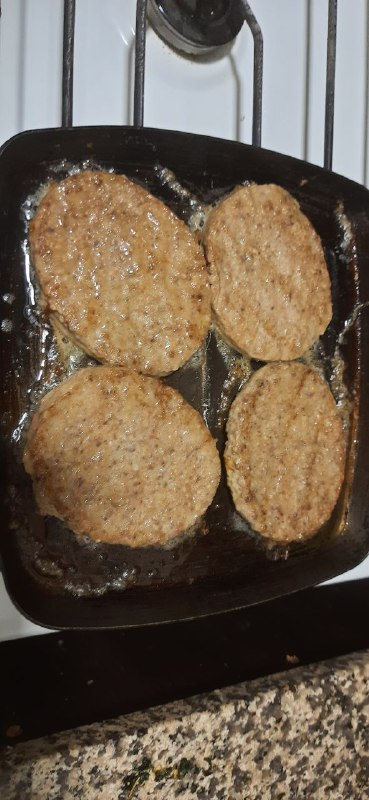 Then we take the buns that are to assemble these burgers, open them in the middle, some put it to toast, as I said is to taste of each one, in this way and this is the mistad of the burger prepared.
The next thing is to wash the vegetables to be used very well, such as tomato and lettuce, this time I do not make them with scrambled egg and bacon, I make them very simple, the vegetable from time to time does a lot of good.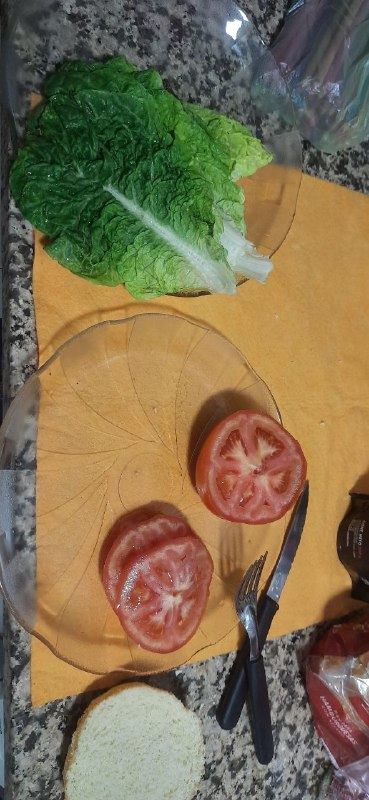 Then on the bread that we already have it open we add the tomato cut into julienne strips to taste, then the lettuce, we can add salt if we wish, in my case, I like it natural, then for the last thing we add the hamburger, itself, that is the meat, and then close with the other bread, being armed the same, like the one in the photo at the beginning of the post.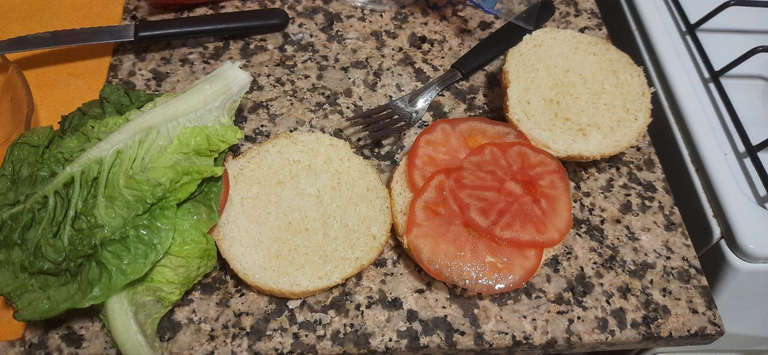 In this case, my friends, I already had the burgers in the freezer, that's why, as I said, it's a way to cook quickly and also to enjoy a traditional and tasty meal.
THANK YOU VERY MUCH FOR FOLLOWING AND READING ME, HAVE A GREAT DAY.