Hola a todos, que tengan buen comienzo de semana, como sabemos los fines de semana, siempre y cuando lo permita el tiempo y también la predisposición de cada uno de juntarse con la familia para disfrutar un buen momento, somos agasajados con un buen almuerzo, puede ser un buen asado o una buena pasta, pero el fin es estar todos juntos y unidos, así que cuando comienza la semana o sea día lunes, tenemos que cambiar el menú como en este caso, una pechuga de pollo al grille, la cual la acompaño con arroz blanco con un poco de queso y un tomate partido al medio con orégano y poca sal jajaajajaj, eso seria una buena opción, para desintoxicarse y comenzar bien la semana, hasta que nuevamente llegue el próximo fin de semana.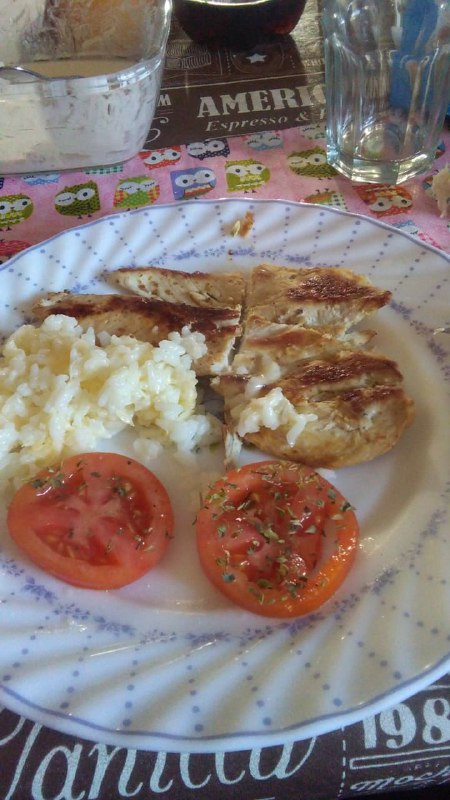 Todo esto acompañado con agua natural, bueno la verdad amigos si tomamos como costumbre y tenemos esa conducta de que solamente tenemos ese permitido los fines de semana es un gran logro, el tema seria si todos los días o de una manera muy seguida le damos con mucha abundancia, o sea nos pasamos de la raya, es poner en peligro, no sarmenté nuestro organismo si no nuestra salud y por cierto nuestro futuro, lo digo así porque se nos acortaría nuestra existencia, de tal manera que si tenemos conducta y prevención podemos lograr y tener una mejor vida, entonces a cuidarse con mucha prudencia como en este caso y a disfrutar o para seguir disfrutando.
Así que si les agrado este consejo y esta manera de comenzar la semana, por favor no dejen de volcar en pocas letras sus comentarios,
MUCHAS GRACIAS POR SEGUIRME Y LEERME, QUE TENGAN BUEN COMIENZO DE SEMANA.
TRANSLATE IN ENGLISH.
Hello everyone, have a good start to the week, as we know on weekends, as long as time allows and also the predisposition of each one to get together with the family to enjoy a good time, we are treated to a good lunch, It can be a good barbecue or a good pasta, but the aim is to be all together and united, so when the week begins or Monday, we have to change the menu, such as in this case, a grilled chicken breast, which I accompany it with white rice with a little cheese and a tomato cut in the middle with oregano and little salt hahahaha, that would be a good option, to detoxify and start the week well, until next weekend arrives again.
! [image.png] (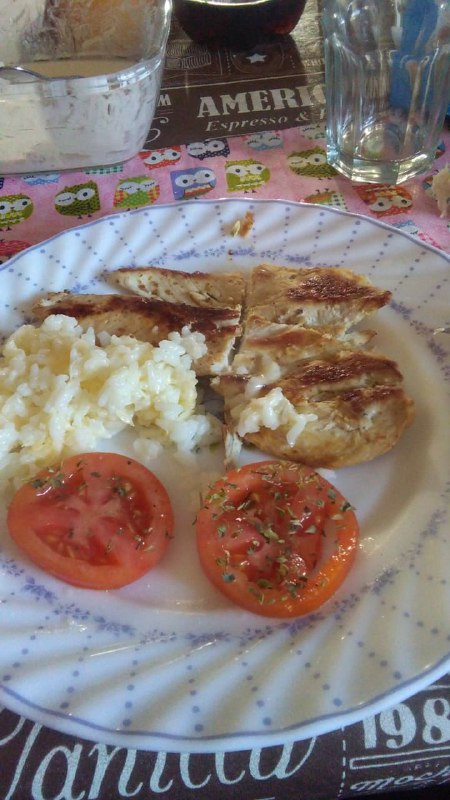 )
All this accompanied with natural water, well the truth friends if we take it as a habit and have that behavior that we only have that allowed on weekends is a great achievement, the issue would be if we give it with a lot of abundance, that is, we go overboard, it is to endanger, we did not damage our body but our health and by the way our future, I say it like this because our existence would be shortened, in such a way that if we have behavior and prevention we achieve and have a better life, then to take care of yourself with great prudence as in this case and to enjoy or to continue enjoying.
So if you like this advice and this way to start the week, please do not stop writing your comments in a few letters,
THANK YOU SO MUCH FOR FOLLOWING AND READING ME, HAVE A GOOD START TO THE WEEK.