Hola a todo por fin llego el domingo, me expreso de esa manera dado que un amigo me invito a compartir un asado en familia, es costillar a la estaca y también un cerdo a la parrilla, la verdad
que cuando llegamos a la casa de fin de semana de mi amigo, dicho asado ya estaba en proceso y por mi experiencia en lo que de asado se trate lo llevo muy bien, así que al observar en la manera que lo estaba cocinando no exprese ninguna opinión referente al mismo, porque la verdad dicho asado estaba saliendo de maravillas tal cual lo pueden ver en las fotos., pregunte referente al condimento me dijo lo siguiente, que el prepara una botella de gaseosa bien lavada con un poco de agua y vinagre blanco, le agrega sal y ajo bien molido o triturado, lo mescla bien un día antes dejando dicha botella bien tapada, al momento de hacer uso de la misma no saben amigos lo que deja esa mescla en la carne, wow, es extremadamente sabroso.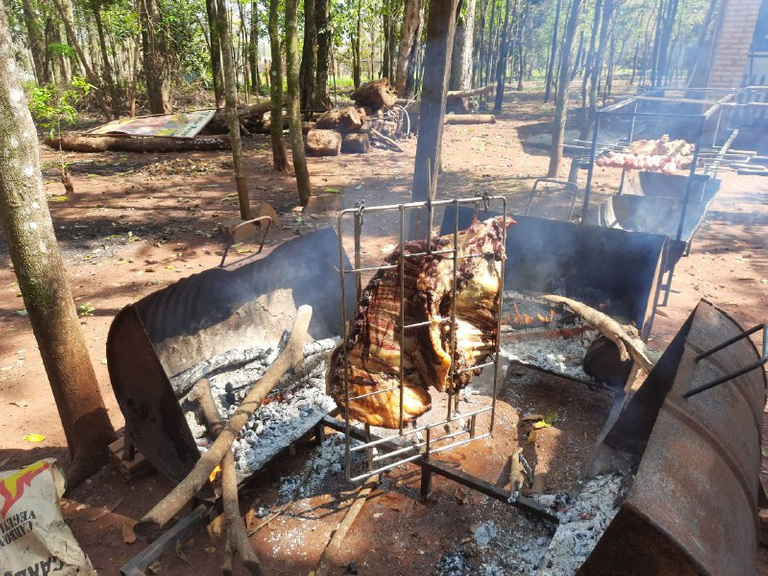 Bueno en este caso es el lechón a la parrilla con el mismo condimento o mescla, la cual a ambos asados les va agregando de poco a poco, de esa forme la carne va absorbiendo todo ese condimento, el cual como dije deja un sabor inigualable.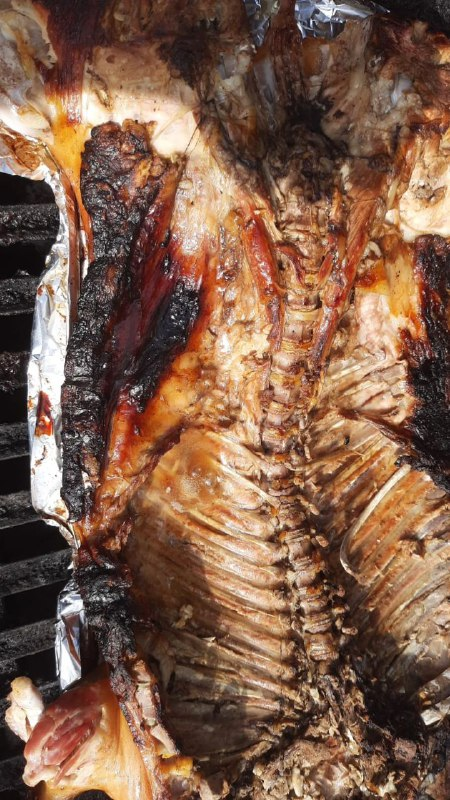 ,
Mas cuando por ejemplo dicho cerdo es de unos 8 kgs. limpio y cocinado a fuego lento, un total de 6 horas, imagínense que al tomar de la costilla del mismo esta casi sale totalmente limpia o sea sin carne, para que tengan una idea de lo bien que se cocino, así que de esta manera concluimos un domingo mas en nuestra existencia y disfrutando con amigos y familiares, si les agrado este post, no dejen de efectuar sus comentarios referente al mismo.
MUCHAS GRACIAS POR SEGUIRME Y LEERME, QUE TERMINEN BIEN EL DOMINGO.
TRANSLATED INTO ENGLISH.
Hello everyone, Sunday is finally here, I express myself in this way because a friend invited me to share a barbecue with my family, it is a barbecue with ribs and also a grilled pork, the truth is that when we arrived at my friend's weekend house, the barbecue was already in process and because of my experience in what it is about, I did it very well.
When we arrived at my friend's weekend house, the barbecue was already in process and for my experience with barbecue I was doing very well, so when I observed the way he was cooking it, I did not express any opinion about it, because the truth is that the barbecue was coming out wonderfully as you can see in the pictures, I asked about the seasoning, he told me the following, that he prepares a bottle of soda well washed with a little water and white vinegar, he adds salt and well ground or crushed garlic, he mixes it well a day before leaving the bottle well covered, at the time of using it, you do not know friends what that mixture leaves in the meat, wow, it is extremely tasty.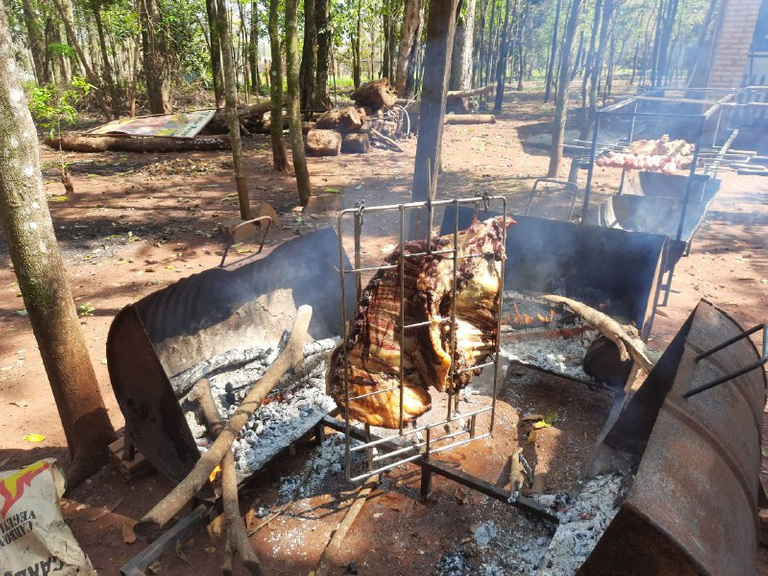 Well in this case it is the grilled suckling pig with the same seasoning or mixture, which is added to both roasts little by little, in this way the meat absorbs all the seasoning, which as I said leaves a unique flavor.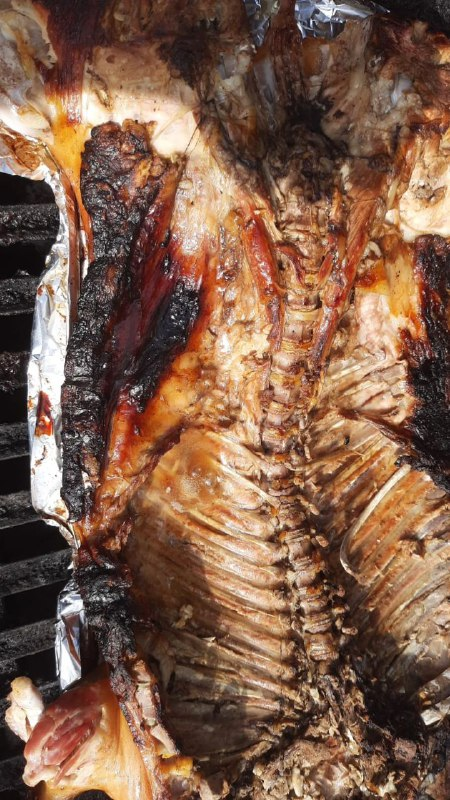 ,
More when for example this pork is about 8 kgs. clean and cooked over low heat, a total of 6 hours, imagine that when taking the rib of the same this comes out almost completely clean or without meat, so you have an idea of how well it was cooked, so in this way we conclude one more Sunday in our existence and enjoying with friends and family, if you liked this post, do not fail to make your comments regarding the same.
THANK YOU VERY MUCH FOR FOLLOWING ME AND READING ME, HAVE A GREAT SUNDAY.