Buenos días a todos los integrantes de esta gran comunidad, como en mi caso que soy amante y goloso por las cosas dulces como por ejemplo un flan casero, el cual es muy fácil de elaborarlo, utilizaremos los siguientes ingredientes para 4 porciones como es la cantidad de integrantes de mi familia, lleva.
Casi un litro de leche
18 gramos de azúcar
4 huevos
Esencia de vainilla
Esto seria los ingredientes para elaborar el flan.
12 cucharadas de azúcar
2 cucharadas y media de agua
Esto seria para elaborar el caramelo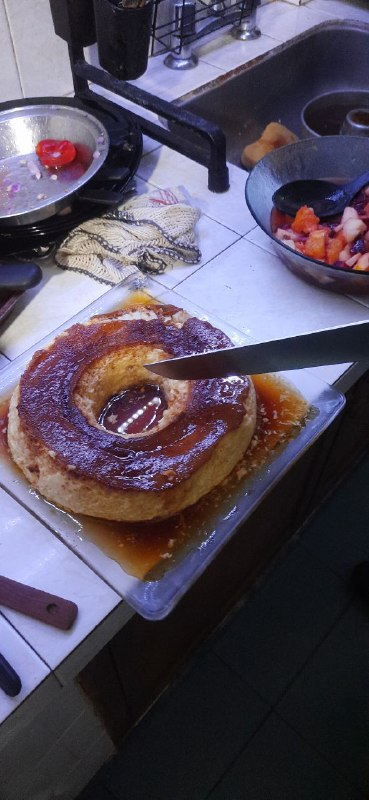 Los pasos para elaborar dicho flan son muy fácil.
1)Debemos preparar el caramelo, para lo cual utilizamos un molde de flan, lo colocamos en la hornalla de la cocina, vertemos el azúcar antes mencionada para el caramelo y también el agua, vamos removiendo muy despacio, una ves que esta el caramelo retiramos dicho molde del fuego.
2)Para elaborar el flan propiamente dicho, vertemos todo lo antes mencionado para el flan en una licuadora, cuando esta todo bien mesclado lo vertemos en dicho molde el cual esta con el caramelo.
3)En este paso que es el ultimo, llevamos dicho molde a baño maría por unos 35 minutos, luego lo retiramos del fuego y lo dejamos para que se enfrié, cuando notamos que dicho flan esta solido y frio, lo desmoldeamos en una fuente y de esa manera ya esta listo para ser degustado.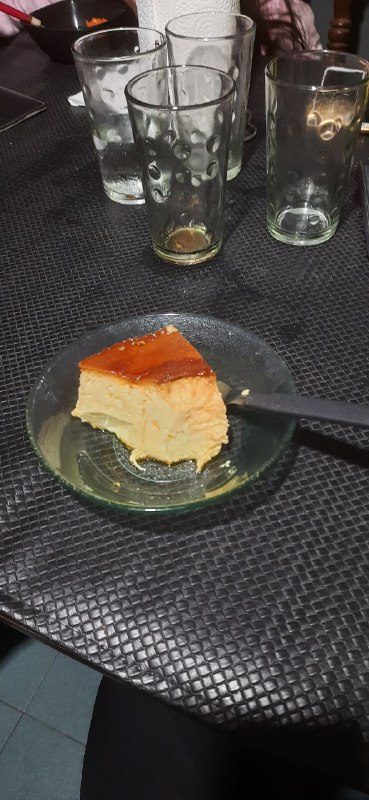 Como se ve en la foto lo podemos degustar solo o en su defecto con crema de leche, bueno eso va en gusto de cada uno, lo que le agregamos cuando nos servimos es con una cuchara el caramelo a gusto.
Asi que amigos esta es la manera de preparar un sabroso flan casero para el postre, el cual en la medida que se pueda nunca tiene que faltar en la mesa.
De tal manera que si dicha receta fue de sus agrados no dejen de enviar sus comentarios.
MUCHAS GRACIAS POR SEGUIRME Y LEERME, QUE TENGAN UN BENDECIDO DIA.
TRANSLATED INTO ENGLISH.
Good morning to all members of this great community, as in my case I am a lover and sweet tooth for sweet things such as a homemade flan, which is very easy to make, we will use the following ingredients for 4 servings as is the amount of members of my family, it takes.
Almost a liter of milk
18 grams of sugar
4 eggs
Vanilla essence
This would be the ingredients to make the flan.
12 spoonfuls of sugar
2 and a half tablespoons of water
This would be to make the caramel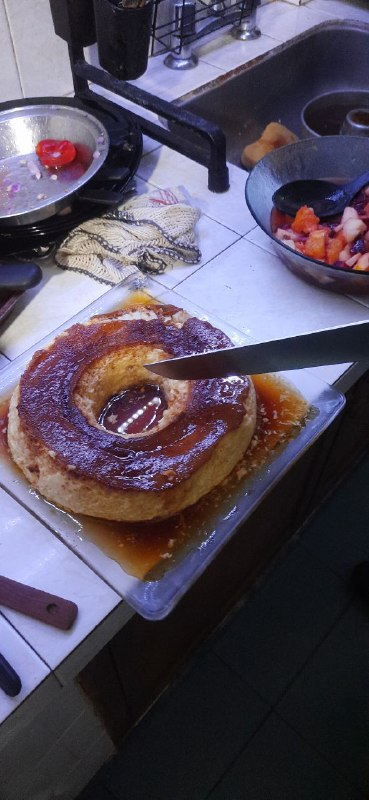 The steps to elaborate this flan are very easy.
1)We must prepare the caramel, for which we use a flan mold, we place it on the stove of the kitchen, pour the sugar mentioned before for the caramel and also the water, we are stirring very slowly, once the caramel is ready we remove the mold from the fire.
To elaborate the flan itself, we pour all the above mentioned for the flan in a blender, when everything is well mixed we pour it in the mold which is with the caramel.

In this step which is the last one, we take the mold to a bain-marie for about 35 minutes, then we remove it from the fire and let it cool, when we notice that the flan is solid and cold, we unmold it in a bowl and that way it is ready to be tasted.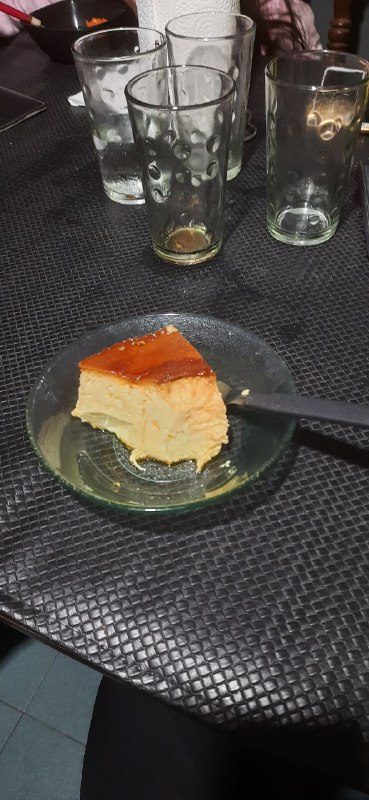 As you can see in the picture we can taste it alone or with cream, well that's up to each one's taste, what we add when we serve it is with a spoon the caramel to taste.
So friends, this is the way to prepare a tasty homemade flan for dessert, which as far as possible should never be missing at the table.
So if this recipe was to your liking, don't hesitate to send your comments.
THANK YOU VERY MUCH FOR FOLLOWING ME AND READING ME, HAVE A BLESSED DAY.