Buenos días amigos de HIVE, como todos los domingos este fue muy diferente, porque fuimos invitados a la casa de un amigo, el cual quería saber si realmente me sale bien los asado, es así que no dude en aceptar la propuesta, porque si existe algo que me agrada es el de cocinar un sabroso asado, por ejemplo este, el cual, contiene, asado en tira, chorizo relleno con queso, sencillo nomas,, cuando llegue puse manos a la obra el fuego ya estaba prendido, deje que se formen bien las brasas, corrí un poco las mismas, dejando solamente una pequeña sabana de brasas.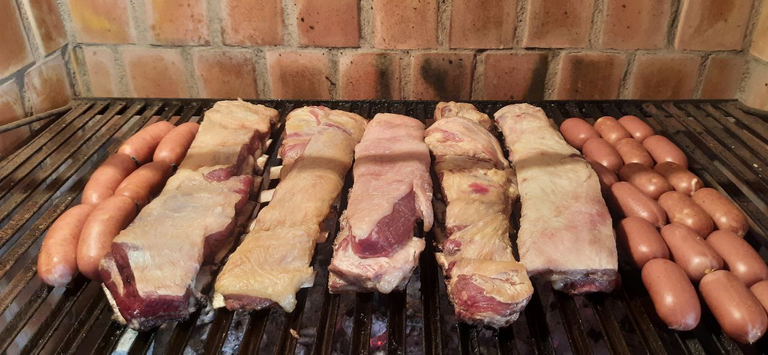 Acomode la parrilla, la baje bien abajo para de esa manera limpiarla bien, luego la deje a la altura deseada y fui agregando la carne y los chorizos. como es mi costumbre tiene que ser todo bien prolijo, además este amigo Hera la primera ves que me veía cocinar un asado, por supuesto le tenia que enseñar, como lo hago yo.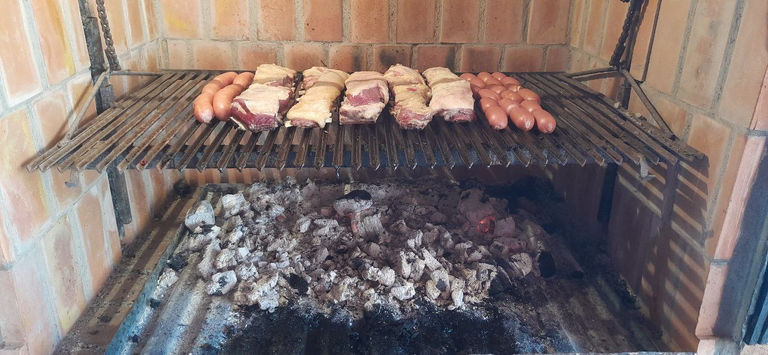 Estando toda la carne sobre la parrilla la regule a mis gusto, poca grasa y deje que se cocinara muy lentamente, esto fue por el lapso de 1 hora 25 minutos, luego di vuelta toda la carne como se ve en la foto, lo cual ese lado estaba muy bien cocinado.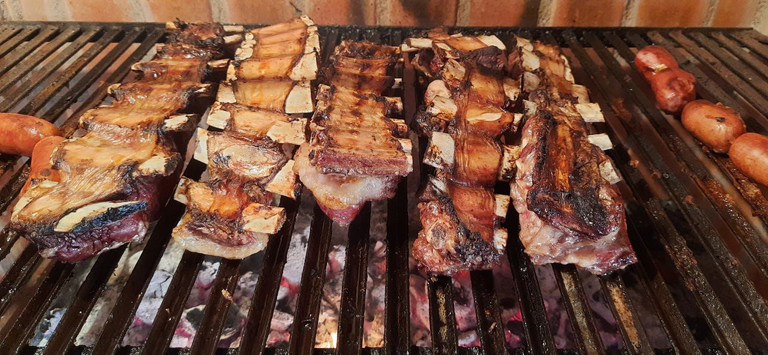 Otro tiempo mas, creo que se paso un poco mas porque las brasas ya eran mas suaves y al estar todo bien cocinado fui sacando de dicha parrilla las tiras de asado y cortándolas hueso por hueso, lo cual es una porción para mi gusto justa, porque de esa manera la carne no se enfría, y se come bien caliente, también el chorizo,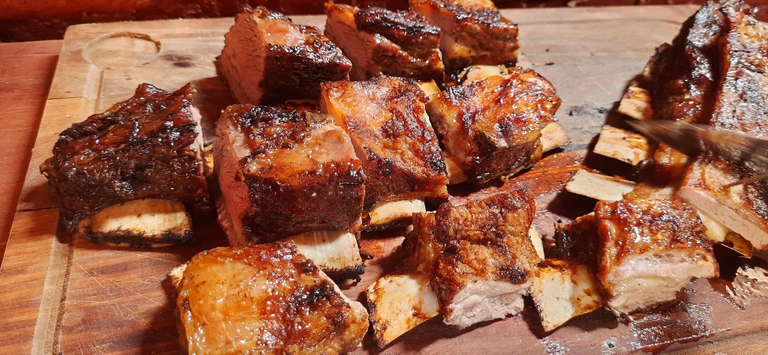 Amigos tanto les hable del asado, bueno así que en esta ultima parte me saque una foto, lo que pasa me fui a cambiar la camisa, por el calor que hace, porque ya estaba la mesa servida.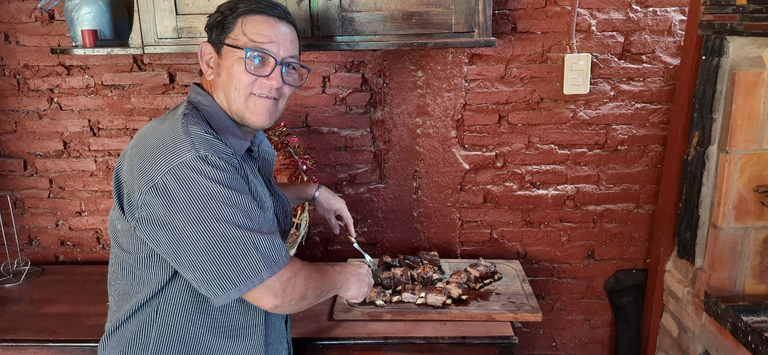 Para los que no tienen conocimiento de como cocinar un asado sencillo pero bien cocido, como este, puede seguir las instrucciones, es muy fácil, se debe tener paciencia y perseverancia como digo yo.
MUCHAS GRACIAS POR SEGUIRME Y LEERME, QUE PASEN UN EXCELENTE Y BENDECIDO DOMINGO EN FAMILIA.
TRANSLATED INTO ENGLISH.
Good morning friends of HIVE, as every Sunday this was very different, because we were invited to the house of a friend, who wanted to know if I really get well the roast, so I did not hesitate to accept the proposal, because if there is something that pleases me is to cook a tasty roast, for example this one, which contains, strip roast, chorizo stuffed with cheese, simple, when I arrived I put my hands to work, the fire was already lit, I let the embers form well, I ran them a little, leaving only a small sheet of embers.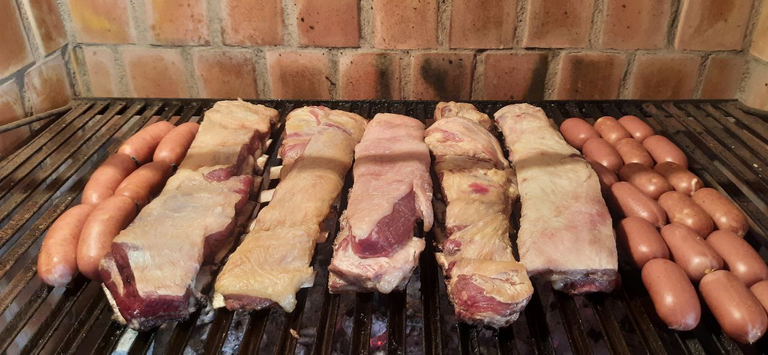 I placed the grill, lowered it well down to clean it well, then I left it at the desired height and added the meat and sausages. As is my habit, everything has to be very neat, besides this friend Hera was the first time he saw me cooking an asado, of course I had to teach him how I do it.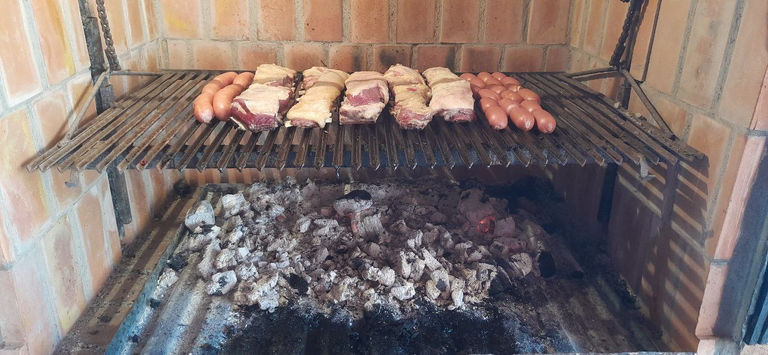 Being all the meat on the grill, I adjusted it to my taste, little fat and let it cook very slowly, this was for 1 hour 25 minutes, then I turned all the meat as seen in the picture, which that side was very well cooked.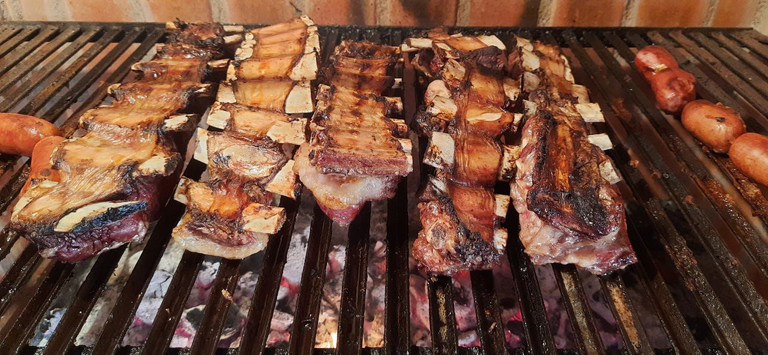 Another time, I think it took a little longer because the embers were already softer and when everything was well cooked I took the strips of roast from the grill and cut them bone by bone, which is a fair portion for my taste, because that way the meat does not get cold, and it is eaten very hot, also the chorizo,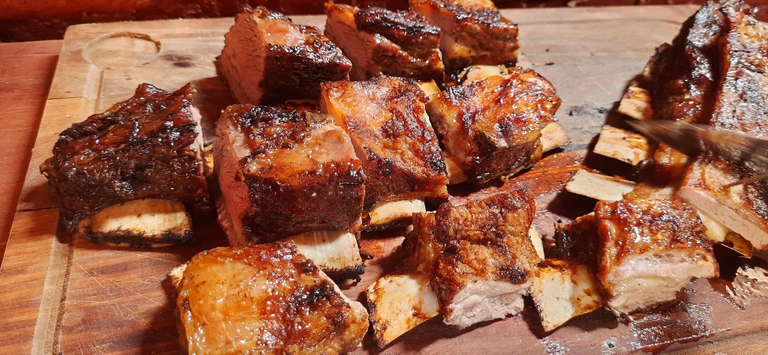 Friends, I told you so much about the asado, so in this last part I took a picture, what happened is that I went to change my shirt, because of the heat, because the table was already served.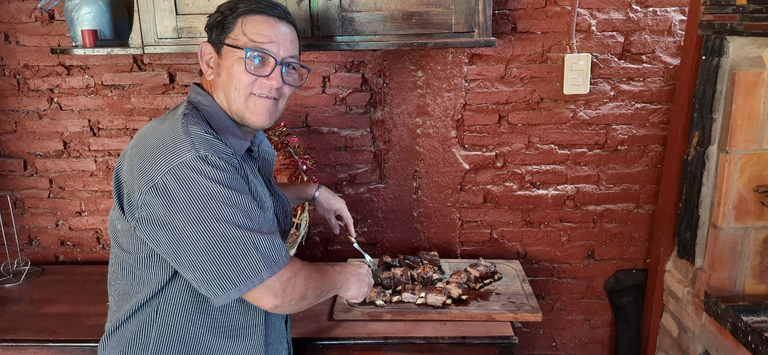 For those who do not know how to cook a simple but well cooked asado, like this one, you can follow the instructions, it is very easy, you must have patience and perseverance as I say.
THANK YOU VERY MUCH FOR FOLLOWING ME AND READING ME, HAVE A GREAT AND BLESSED SUNDAY WITH YOUR FAMILY.