TATACUA O HORNO DE BARRO, SEGUN EL PAIS DONDE HACEN USO DEL MISMO.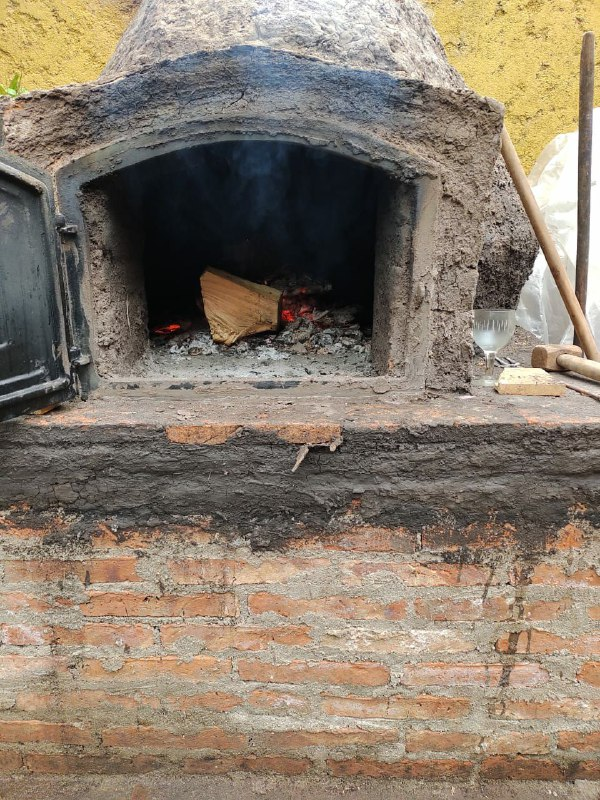 Hola a todos los que componen esta gran y hermosa comunidad de HIVE, como bien saben en el post anterior, les enseñe las fotos del campo el cual es de un tío y por cierto es un lugar muy tranquilo, recuerdo que había construido un horno de barro o sea con ladrillos y el barro al cual se le coloca maleza seca para de esa manera tome mas consistencia y se endurece mas rápido, lo mas difícil es darle la forma de bóveda o sea redondeada, a medida que se va levantando la pared también se le va amurando lo que seria su puerta de hierro fundido, con el reloj de temperatura, y el la parte de atrás se le ase como una pequeña chimenea, seria el tiraje, luego como lo demuestra la foto se le coloca leños gruesos y si es posible de madrea dura, como el quebracho, el cual irradia mas temperatura sus brasas.
Bueno en esta foto vemos el nivel de la temperatura que alcanzo, o sea en el reloj de la puerta de fundición, cuando observamos el termómetro a esta temperatura, abrimos el horno y quitamos los leños encendidos de su interior, dejamos la puerta unos minutos abierta luego al cerrarla, notamos que bajo un poco la temperatura, y ese es el momento donde introducimos las bandejas con el asado.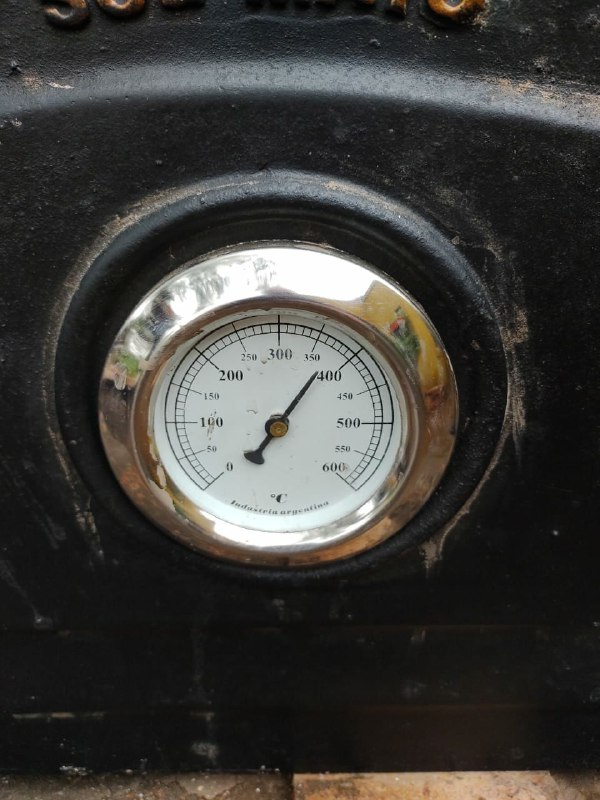 Por supuesto que cocción sale mucho mejor, la foto lo dice todo, esto es el pollo, chorizo casero y morcilla, todo ese producto es del campo, es todo casero sin nada de químicos y los alimentos de los animales es con maíz cosechado en dicho campo.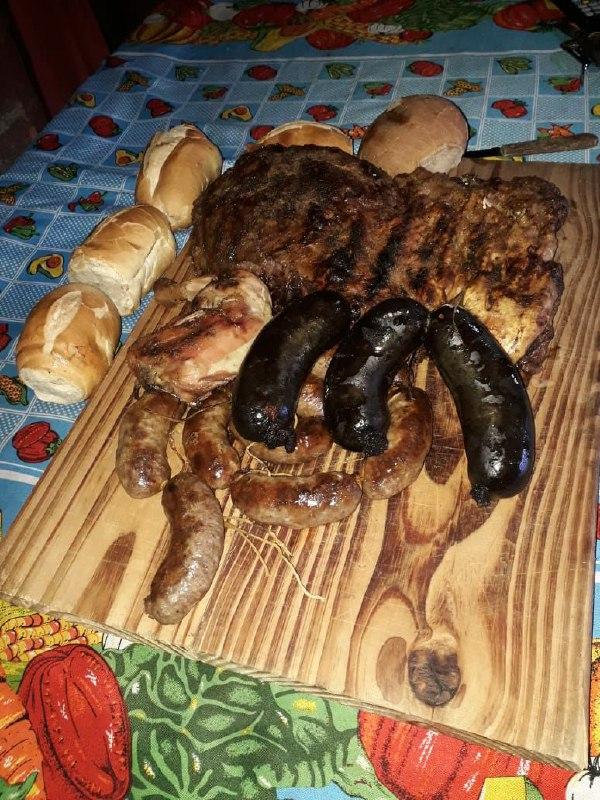 En esta foto vemos como salió el asado de ternera, les digo que muy bien cocido y jugoso como para no dejar nada sobre la mesa jaajajajajaj.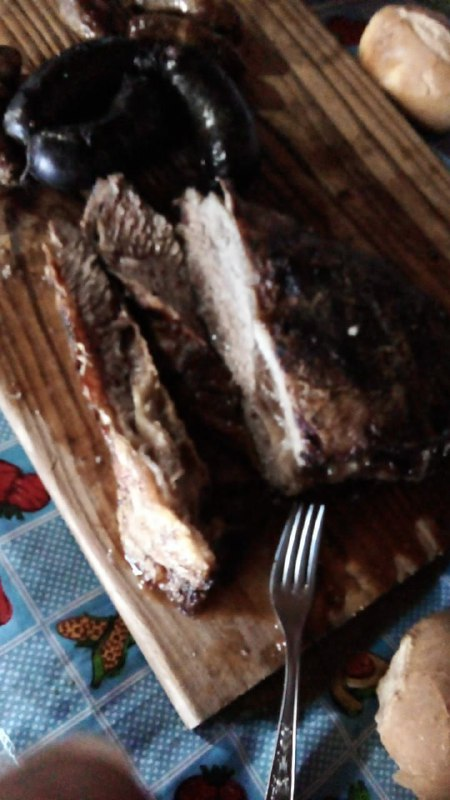 Otra cosa que les quiero hacer saber amigos, es que al cocinarse de esta manera o forma como quieran llamarlo, al ser muy lento todo lo que ingresa y es un poco duro, les digo que sale tan blando como un flan pero se asemeja al mismo y al mismo tiempo conserva todo su jugoso sabor.
Como siempre les comento en mis publicaciones, si todo lo que hacemos le damos amor y perseverancia sale mas que bien, mas cuando de cocinar un sabroso asado al horno de barro como este, así que les agradecería contar con su comentarios y sus votos.
MUCHAS GRACIAS POR SEGUIRME, LEERME Y DE ESA MANERA DARLE VALOR A LOS POST QUE EXPLAYAMOS EN ESTA GRAN COMUNIDAD AL INTERACTUAR, QUE TENGAN UN BENDECIDO DIA.
TRANSLATED IN ENGLISH.
TATACUA OR MUD OVEN, ACCORDING TO THE COUNTRY WHERE THEY USE IT.
! [image.png] (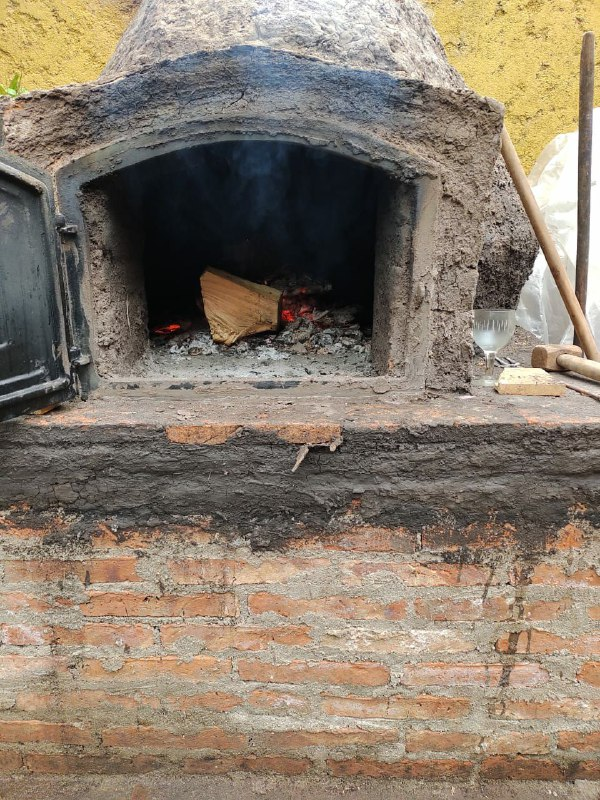 )
Hello to all who make up this great and beautiful community of HIVE, as you well know in the previous post, I showed you the photos of the field which is from an uncle and by the way it is a very quiet place, I remember that I had built a furnace of mud that is with bricks and the mud to which dry weeds are placed so that it takes more consistency and hardens faster, the most difficult thing is to give it the shape of a vault or is rounded, as the wall is also raised what would be its cast iron door, with the temperature clock, and the back part grips it like a small chimney, it would be the draft, then as the photo shows, thick logs are placed on it and if It is possible to have a hard mother, such as the quebracho, which radiates more temperature with its embers.
Well, in this photo we see the level of the temperature that I reach, that is, in the clock on the cast iron door, when we observe the thermometer at this temperature, we open the oven and remove the burning logs from its interior, we leave the door open for a few minutes then when closing it, we notice that the temperature drops a little, and that is the moment where we introduce the trays with the roast.
! [image.png] (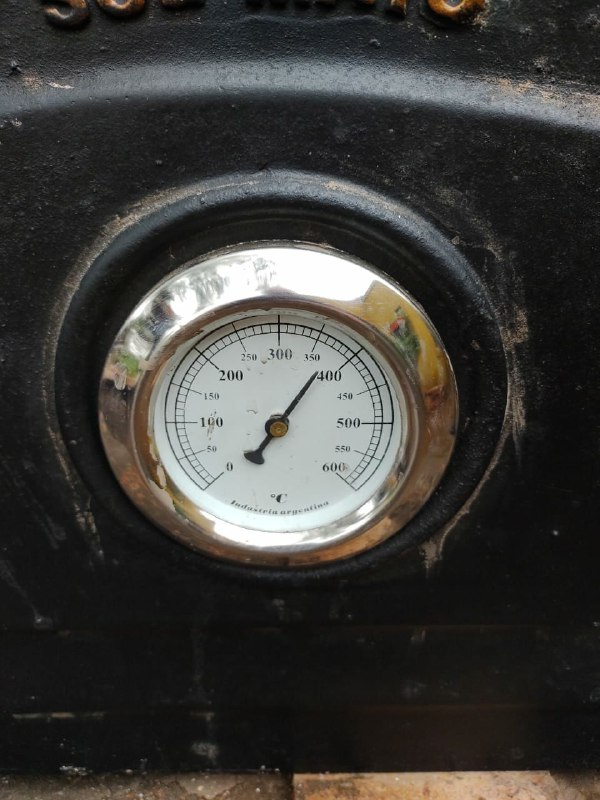 )
Of course, cooking comes out much better, the photo says it all, this is the chicken, homemade chorizo ​​and blood sausage, all that product is from the field, it is all homemade without any chemicals and the animal food is with corn harvested in said countryside.
! [image.png] (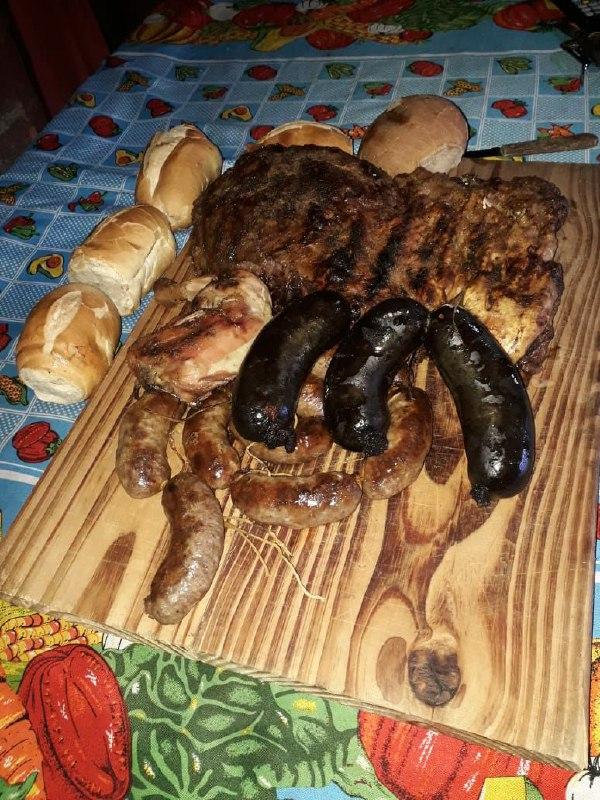 )
In this photo we see how the roast beef came out, I tell you that it is very well cooked and juicy so as not to leave anything on the table haahahahaha.
! [image.png] (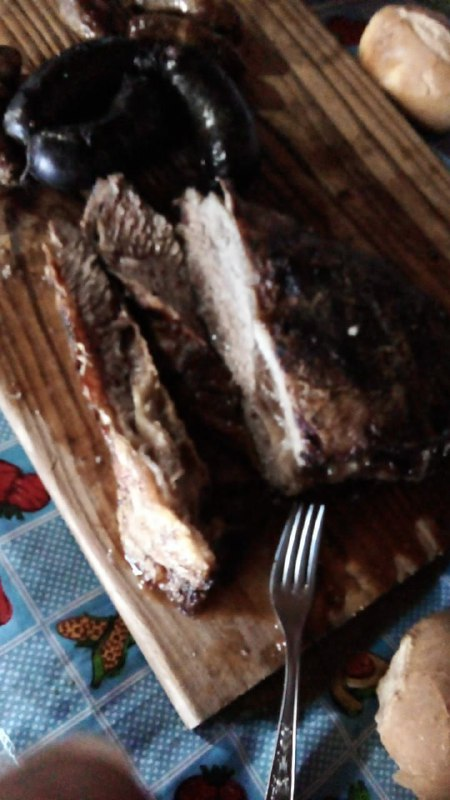 )
Another thing that I want to let you know, friends, is that when it is cooked in this way or whatever you want to call it, since everything that enters is very slow and is a bit hard, I tell you that it comes out as soft as a flan but it resembles the same and at the same time preserves all its juicy flavor.
As I always tell you in my publications, if everything we do we give love and perseverance comes out more than good, but when cooking a tasty roast in the clay oven like this, so I would appreciate your comments and your votes.
THANK YOU VERY MUCH FOR FOLLOWING ME, READ ME AND IN THAT WAY GIVE VALUE TO THE POST WE EXPLAIN IN THIS GREAT COMMUNITY WHEN INTERACTING, HAVE A BLESSED DAY.