Hola a todos, como llegamos a la mitad de semana, y se me antojo almorzar algo diferente, sin esperar que llegara el día domingo, en donde como siempre comento en mis publicaciones que es el día especial para la Reunión de la familia toda, en la medida que se pueda, lo digo por el solo hecho de que todavía rige los protocolos del COVID 19, de tal manera que prepara a la parrilla la cabeza de un cerdo y una parte del costillar con la manta, pero luego de colocar la carne sobre dicha parrilla, se preparo unas ensaladas, una de tomate brócoli y brote de soja, sal y ajo, otra ensalada rusa, papa, cebolla, zanahoria, mayonesa, sal y huevo, pero las mas sabrosa choclo, arveja, cebolla, ajo, sal y zanahoria.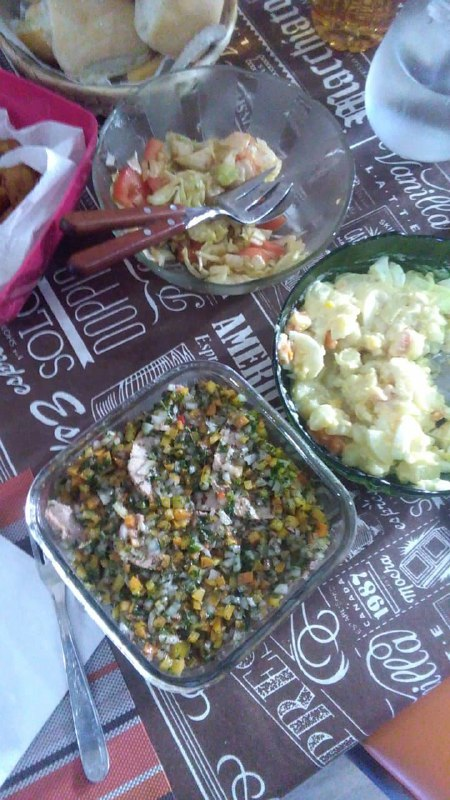 Estando preparadas las ensaladas, solamente me resta terminar de cocinar lo que tengo sobre la parrilla, lo cual como ya lo di vuelta, la verdad amigos para que la carne salgas jugosa, la coloque sobre papel de aluminio, de esa manera se conserva bien el jugo, además ya hace aproximadamente 3 horas y media que se esta cocinando, a medida que el fuego o las brasas son mas lentas mejo se cocina la carne, así es amigos, luego de 5 horas de cocinar, comenzamos a degustar este sabroso asado, pero la verdad mejor salió las ensaladas que no quedo nada.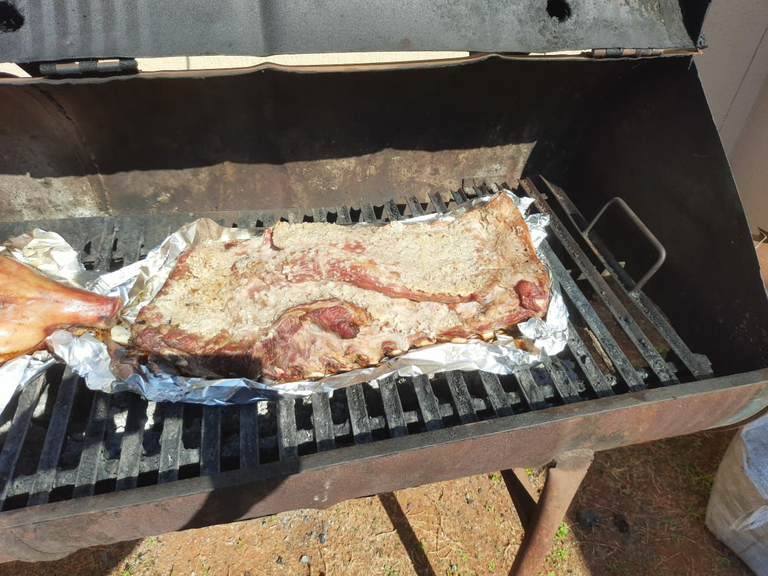 De todas maneras la verdad estuvo todo muy exquisito, para ser un día mitad de semana, es algo que pocas veces se da, pero en la medida que se puede hay que aprovechar o sea vivir el ahora, el presente, porque nadie sabe lo que le depara su destino, asimismo de haberles agradado lo explayado y esta rica comida, no dejen de efectuar sus comentarios.
MUCHAS GRACIAS POR SEGUIRME Y LEERME, QUE TENGAN UN EXCELENTE DIA.
TRANSLATED TO ENGLISH.
Hello everyone, as we arrived in the middle of the week, and I wanted to have something different for lunch, without waiting for Sunday to arrive, where as always I comment in my publications that it is the special day for the whole family reunion, in As far as possible, I say this for the sole fact that it still governs the protocols of COVID 19, in such a way that it prepares the head of a pig and part of the ribs with the blanket on the grill, but after placing the meat On said grill, he prepared some salads, one of tomato, broccoli and soybean sprout, salt and garlic, another Russian salad, potato, onion, carrot, mayonnaise, salt and egg, but the most tasty corn, pea, onion, garlic, salt and carrot.
! [image.png] (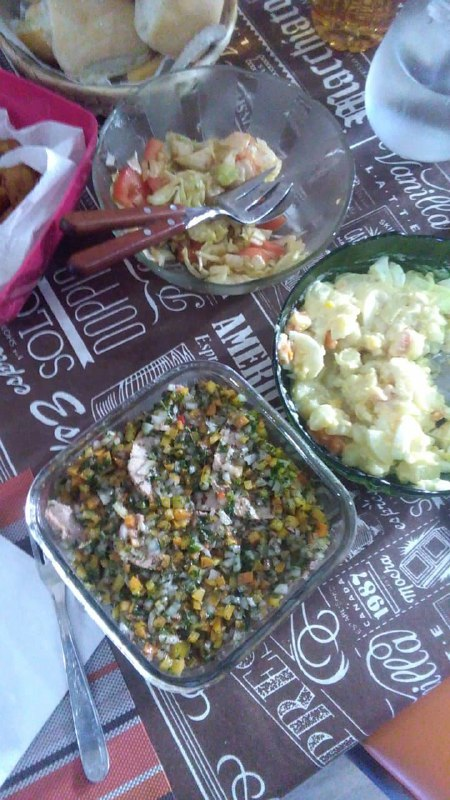 )
With the salads prepared, I only have to finish cooking what I have on the grill, which as I have already turned it over, the truth friends so that the meat comes out juicy, place it on aluminum foil, that way the juice, also it has been cooking for about 3 and a half hours, as the fire or the embers are slower, the meat is better cooked, that's right friends, after 5 hours of cooking, we started to taste this tasty roast, but the truth is that the salads came out better, since there was nothing left.
! [image.png] (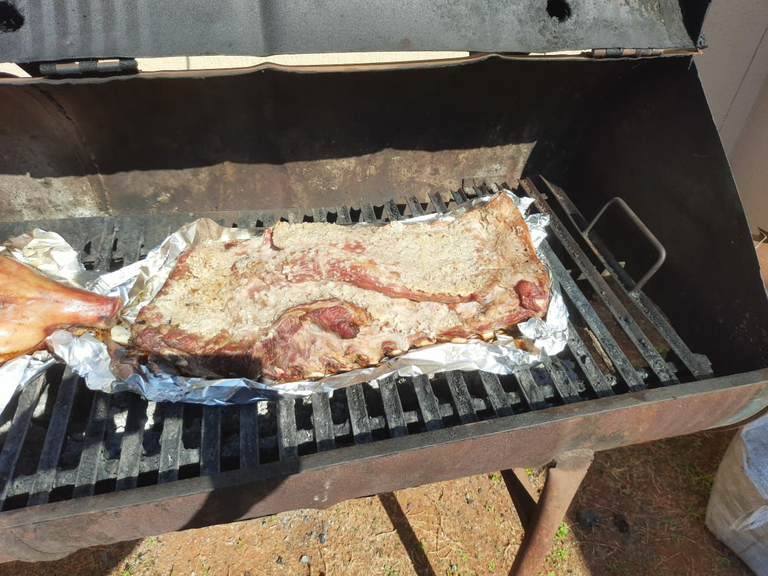 )
In any case, the truth was everything was very exquisite, to be a mid-week day, it is something that rarely occurs, but to the extent that it is possible, it is necessary to take advantage of it, that is to live the now, the present, because nobody knows what Your destiny holds for you, as well as having liked the expounding and this delicious food, do not stop making your comments.
THANK YOU SO MUCH FOR FOLLOWING AND READING ME, HAVE AN EXCELLENT DAY.