Hola como bien considerando un domingo mas, el cual nos juntamos en familia, con el propósito de degustar un sabroso asado, sabemos que en los días de la semana, debemos de cuidarnos en la medida que se pueda, para luego tener el permitido del día domingo, el cual en esta caso se trata de un sabroso asado, compuesto por riñones, chorizos caseros, costilla de carne de res y picaña, que también es carne de res.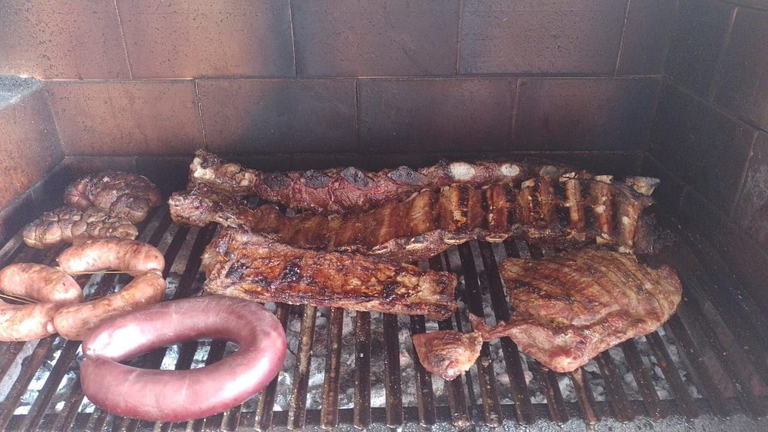 Como se puede ver en esta foto, la parte del carbón, el cual esta bien encendido, o sea sus brasas al rojo vivo,, es de esta manera que me agrada cuando cocino un asado, luego voy agregando con una palita muy despacio dichas brasas, en la parte de donde se encuentra la parrilla con la carne antes mencionada.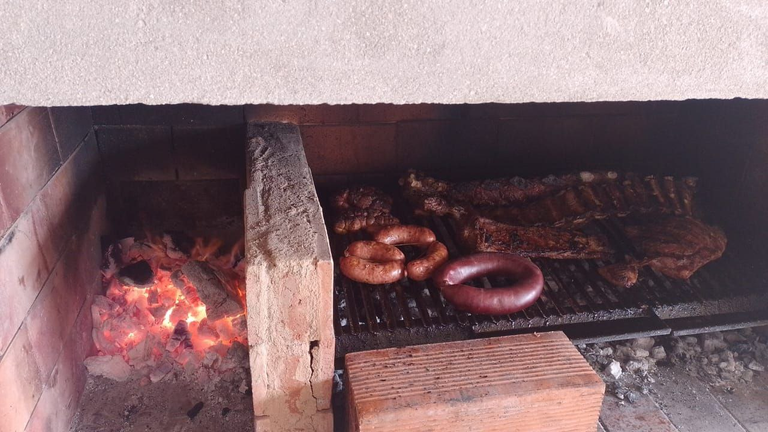 Sabiendo que para dar la vuelta a dicha carne, es cuando notamos que la parte que apoya sobre la parrilla, se encuentra de un color amarronado, ese es el momento ideal para dar vuelta a toda la carne que se encuentra sobre la parrilla, luego dejamos con muy poca brasa, para que se termine de cocinar y es ahí a fuego lento, cuando sale bien jugosa y cocinada, al notar que dicho asado esta ya listo para degustar, es cuando.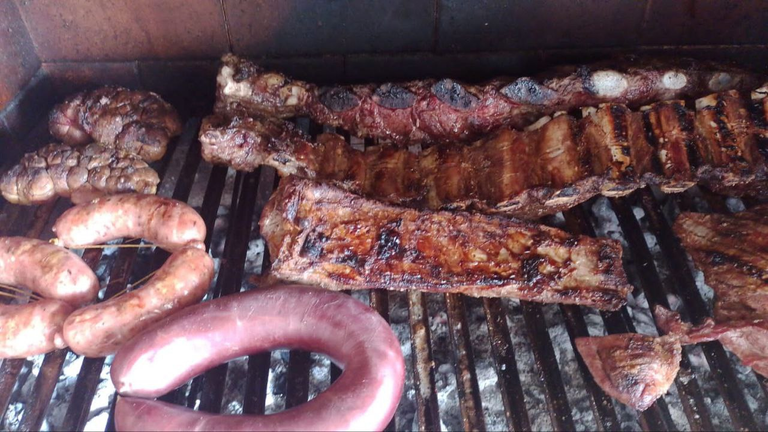 Comenzamos a preparar la ensalada, una de ellas es de pepino, repollo cortado bien fino y huevo y la otra contiene tomates cherry, bastones de papa fritas, quesos mar del plata y rodajas de rabanitos, el condimento de las mismas es a gusto de cada comensal.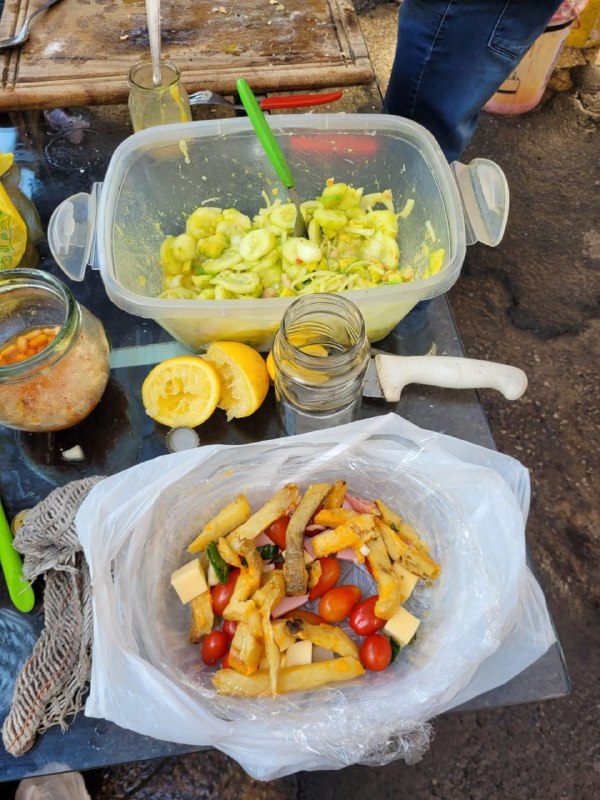 Teniendo todo listo, es el momento ideal para comenzar a degustar este sabroso asado, como bien dije en familia.
MUCHAS GRACIAS POR SEGUIRME Y LEERME, QUE TERMINEN BIEN ESTE BELLO DIA DOMINGO.
TRADUCIDO AL INGLES.
Hello as well considering that this is one more Sunday, in which we get together as a family, with the purpose of tasting a tasty asado, we know that in the days of the week, we must take care of ourselves as much as possible, to then have the permitted Sunday, which in this case is a tasty asado, composed of kidneys, homemade sausages, beef ribs and picaña, which is also beef.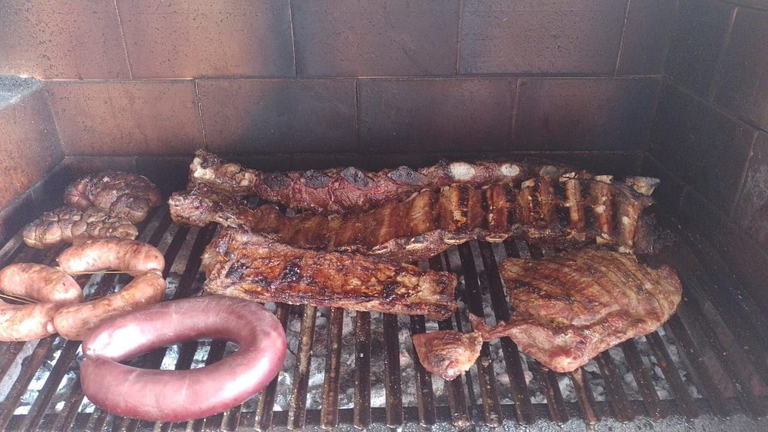 As you can see in this photo, the part of the charcoal, which is well lit, that is to say its red hot embers, is this way that I like when I cook an asado, then I am adding with a shovel very slowly these embers, in the part of where the grill is located with the meat mentioned above.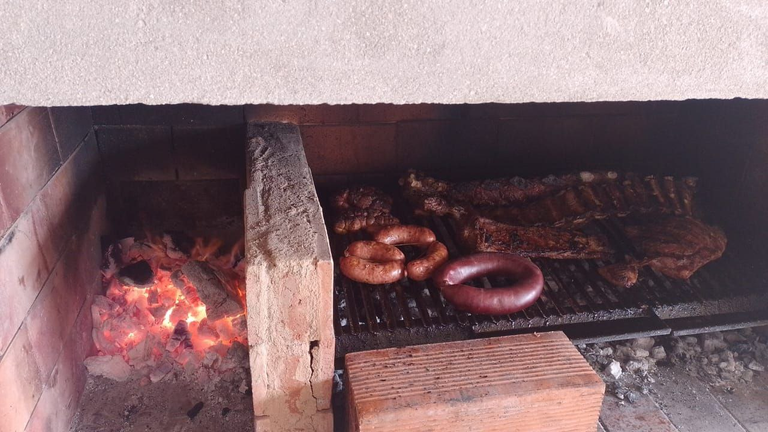 Knowing that to turn the meat, is when we notice that the part that rests on the grill, is of a brownish color, that is the ideal moment to turn all the meat that is on the grill, then we leave with very little ember, so that it finishes cooking and it is there to slow fire, when it comes out well juicy and cooked, when we notice that the roast is ready to taste, is when.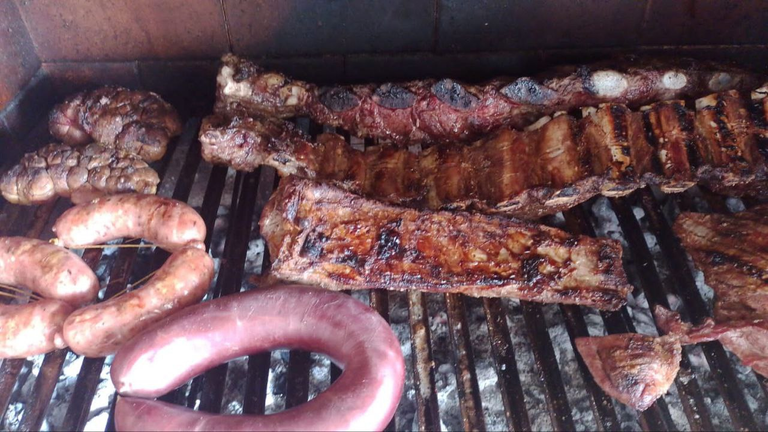 We begin to prepare the salad, one of them is cucumber, finely chopped cabbage and egg and the other contains cherry tomatoes, fried potato sticks, Mar del Plata cheese and slices of radishes, the seasoning of the same is to taste of each diner.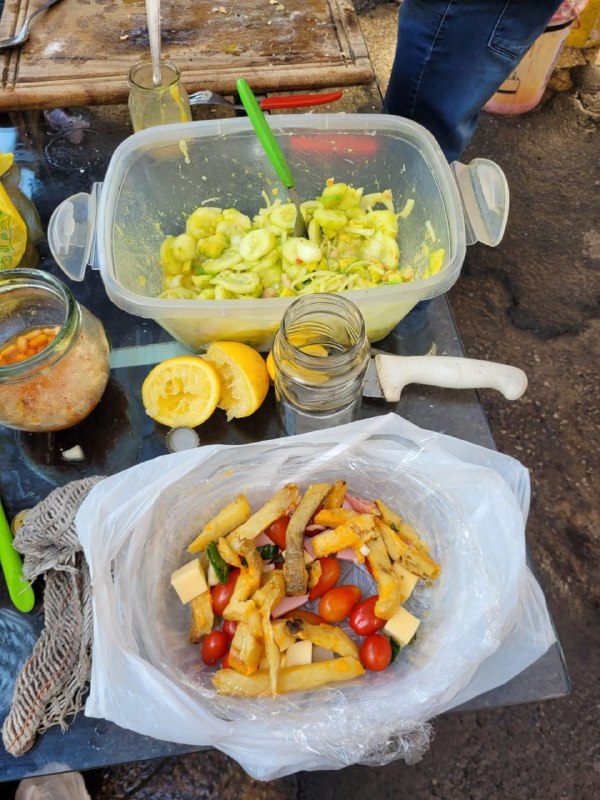 Having everything ready, it is the ideal moment to start tasting this tasty asado, as I said with the family.
THANK YOU VERY MUCH FOR FOLLOWING ME AND READING ME, MAY THIS BEAUTIFUL SUNDAY END WELL.