Hola a todos, la verdad que en lo personal admiro mucho a la MADRE NATURALEZA, por todos su regalos, como en este caso, donde vive existen plantas de aguacate o palta en la veredas, por ende en la temporada de la misma, los hay en abundancia, tanto así que aprovecho de las que se caen del árbol cuando pasa alguna brisa, la voy juntando y colocándolas en mi heladera, por eso cada ves que deseo degustar la misma ya las tengo a mano, no solamente la consumo yo si no que también comparto con mi familia, en varias de las comidas, una de las mas sabrosas es cuando cocinamos asado y se prepara ensaladas con aguacate y a veces cuando no se trata de acompañar alguna comida, lo hacemos para una picada la cual consiste en preparar guacamole, con los siguientes ingredientes, el principal es la palta o aguacate, la lavamos muy bien luego la partimos en el medio, quitamos la semilla y con una cuchara quitamos lo que seria la pulpa, la vamos colocando en un plato playo.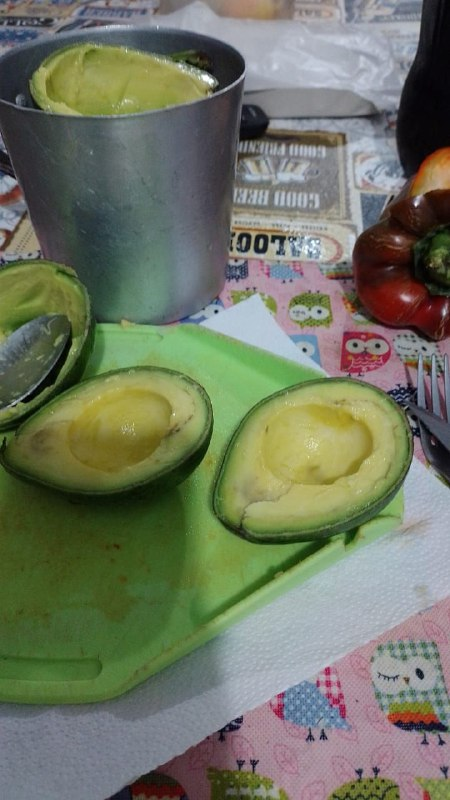 Cuando ya tenemos colocada la pulpa del aguacate en dicho plato, le agregamos, tomate cortado en daditos muy pequeño, cebollita la parte mas tierna, sal, unas hojas de cilantro y unos ajís picante, bueno todo va en gusto de cada uno, si todos coincidimos, la porción de cada cosa agregamos mas, por supuesto depende de la cantidad de comensales, luego con un tenedor vamos aplastando o pisando hasta que quede como se ve en este plato, casi parecido a una crema y para degustarlos lo tradicional es hacerlo con nachos de maíz, lo cual sale muy sabroso.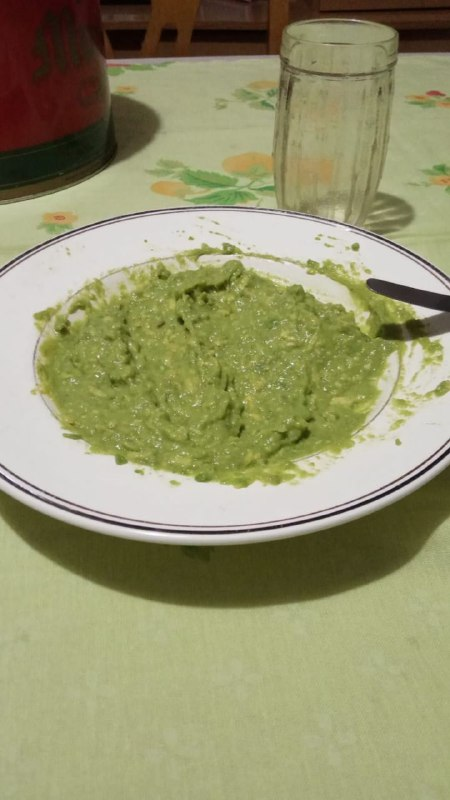 Como comente al principio de lo grande que es nuestra MADRE NATURALEZA, de la cual sacamos provecho como en mi caso, que cuando camino por la vereda de mi barrio, junto varios aguacates y la verdad se ven muy sanos, de lo contrario algunos vecinos los juntan y los depositan en un pozo, luego los tapan, es para que no se junten incestos varios.
MUCHAS GRACIAS POR SEGUIRME Y LEERME, QUE PASEN UN EXCELENTE DIA.
TRANSLATED INTO ENGLISH.
Hello everyone, the truth is that I personally admire MOTHER NATURE a lot, for all her gifts, as in this case, where she lives there are avocado plants or avocado on the sidewalks, therefore in the season of the same, there are in abundance, so much so that I take advantage of those that fall from the tree when a breeze happens, I'm gathering and placing them in my refrigerator, so every time I want to taste the same already have them on hand, not only I consume it but I also share it with my family, in several meals, one of the tastiest is when we cook roast and prepare salads with avocado and sometimes when it is not to accompany a meal, we do it for a picada which is to prepare guacamole, with the following ingredients, the main one is the avocado or avocado, we wash it very well then we split it in the middle, remove the seed and with a spoon we remove what would be the pulp, we are placing it in a shallow dish.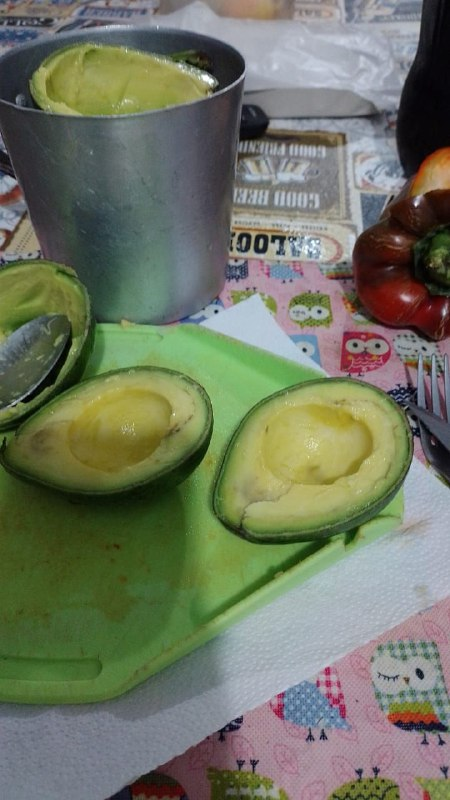 When we have already placed the avocado pulp on the plate, we add, tomato cut into very small cubes, onion the most tender part, salt, a few leaves of cilantro and some hot peppers, well everything goes in taste of each one, if we all agree, the portion of each thing we add more, Of course it depends on the amount of diners, then with a fork we crush or stomp until it is as seen in this dish, almost like a cream and to taste them the traditional thing is to do it with corn nachos, which is very tasty.
image.png](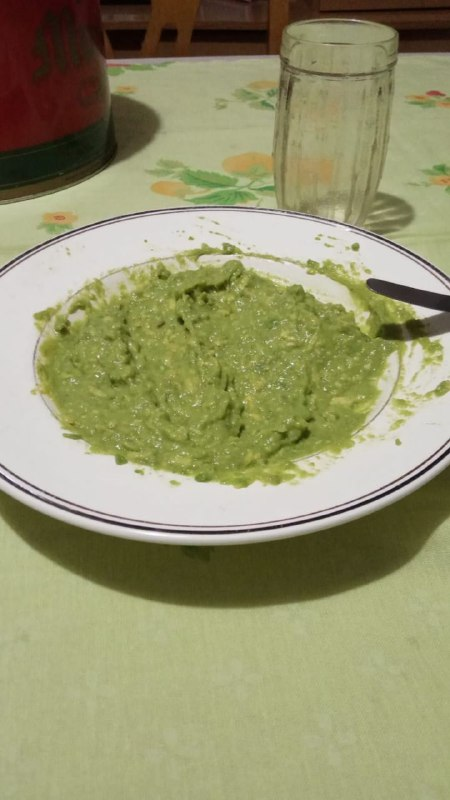 )
As I commented at the beginning of how great is our MOTHER NATURE, of which we take advantage as in my case, that when I walk along the sidewalk of my neighborhood, I put together several avocados and the truth is that they look very healthy, otherwise some neighbors gather them and deposit them in a well, then cover them, it is so that they do not gather several incests.
THANK YOU VERY MUCH FOR FOLLOWING ME AND READING ME, HAVE A GREAT DAY.