Hola estimados amigos de esta inmensa y agradable plataforma social, como bien sabemos al comenzar el calor, tenemos que cambiar nuestro habito en la comida, como lo es en este caso, donde compartiré con ustedes esta receta de tomate relleno, como plato principal, sus componentes son:
Tomate redondos
Atún
Arroz
Huevo
Aceituna
Albahaca
Sal
Condimentos varios
Lo primero es poner agua en una olla, cuando esta comienza su hervor, le colocamos un poquito de aceite, luego el arroz, mesclamos o revolvemos con la cuchara, para que no se pegue, tomamos una lata de atún, en este caso al natural para que salga mas sabroso el relleno, luego tomamos los tomates, según la cantidad que vamos a preparar, le efectuamos un corte en la parte de arriba y quitamos lo del interior, dejándolo vacío, luego cuando el arroz esta cocido, lo colamos, dejamos que se enfrié y lo mesclamos con el atún, mayonesa y le agregamos sal y lo condimentos a gusto, luego con una cuchara vamos rellenando el tomate, cuando este esta lleno, le agregamos en la parte de arriba una aceituna sin carozo, tomamos el huevo el cual se erbio junto con el arroz, lo pelamos lo cortamos al medio, le agregamos un poco de sal, luego lo dejamos junto al tomate y a una hoja de albahaca, esto para que resalte el tomate en el plato, asimismo para acompañar dicha comida, como en este caso con un vino tinto.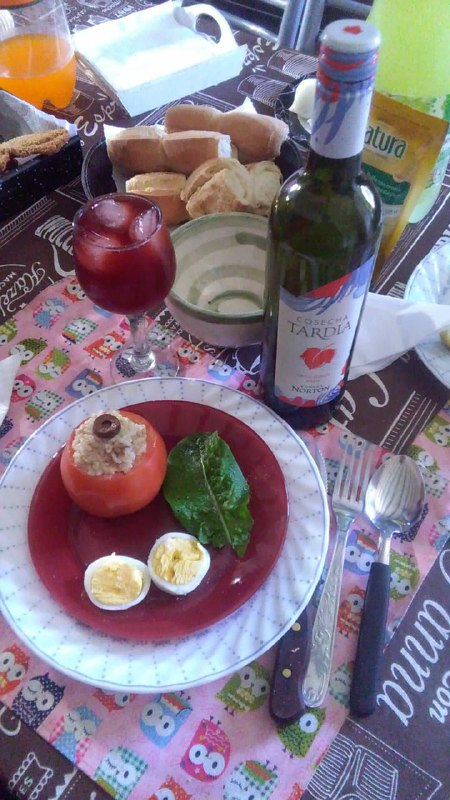 Como se ve en la foto este plato es uno de mis favoritos para los días de calor, además es muy nutritivo, económico y fácil de prepararlo, les comento que sale muy bien y exquisito, así que de haberles agradado no dejen de efectuar sus comentarios referente al mismo.
GRACIAS LES DOY POR LEERME Y SEGUIRME, QUE TENGAN UN BENDECIDO DIA.
TRANSLATED TO ENGLISH.
Hello dear friends of this immense and pleasant social platform, as we well know when the heat begins, we have to change our habit in food, as it is in this case, where I will share with you this stuffed tomato recipe, as a main course, its components are:
Round tomatoes
Tuna
Rice
Egg
Olive
Basil
Salt
Various seasonings
The first thing is to put water in a pot, when it begins to boil, we put a little oil, then the rice, mix or stir with the spoon, so that it does not stick, we take a can of tuna, in this case natural so that the filling comes out more tasty, then we take the tomatoes, according to the amount we are going to prepare, we make a cut on the top and remove the inside, leaving it empty, then when the rice is cooked, we strain it, we leave It cooled and we mix it with the tuna, mayonnaise and add salt and seasonings to taste, then with a spoon we fill the tomato, when it is full, we add an olive without stone on top, we take the egg which is erbium along with the rice, we peel it, cut it in the middle, add a little salt, then leave it next to the tomato and a basil leaf, this to make the tomato stand out on the plate, also to accompany said food , as in this case with a wine red.
! [image.png] (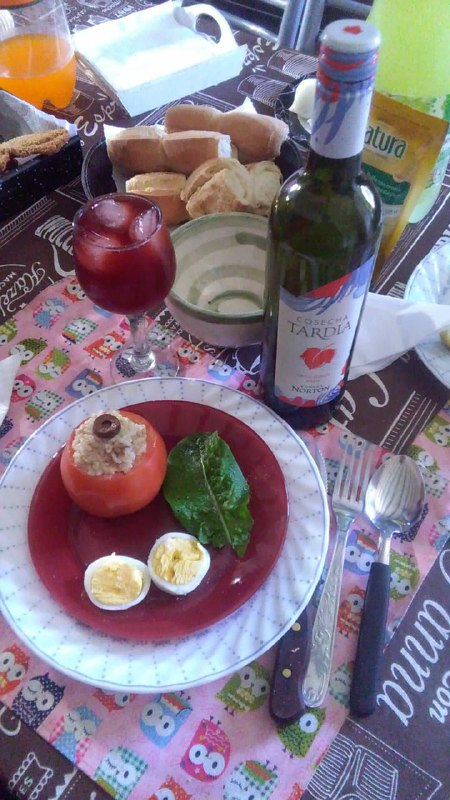 )
As seen in the photo, this dish is one of my favorites for hot days, it is also very nutritious, inexpensive and easy to prepare, I tell you that it comes out very well and exquisite, so if you liked it, do not stop making your comments. referring to it.
THANK YOU FOR READING AND FOLLOWING ME, HAVE A BLESSED DAY.