Hola a todos, buen comienzo de semana, lo cual lo hago con mucha alegría , después de haber disfrutado un hermoso domingo con la familia, que es lo que mas valoro en esta vida, la cual luego de haber subsistido a esta gran pandemia, que fue y es como un filtro en nuestra existencia, lo comparo de esta manera, porque la verdad de mis amistades, amigos son varios los que dejaron este mundo, quizás fue su tiempo pero bueno esa es la vida que nos dios nuestro señor DIOS, el tiempo es de el, como dice en el libro de escleciates 3-1, el tiempo es del SEÑOR, por tal motivo soy un agradecido a el por la familia, por la salud y lo importante que es por existir, siempre teniendo en cuenta el presente, mirando hacia el futuro, el cual es incierto, pero si nos cuidamos y valoramos lo que somos en este planeta, seguiremos adelante, como lo es de contar con un almuerzo tan sabroso, el cual consiste en preparar un alcaucil relleno que se prepara de la siguiente manera.
Compramos un alcaucil o alcachofa, no tan grande, tampoco pequeño, o sea mediano, le cortamos la parte de arriba, emparejándolo,, dejamos unos 10 centímetros del tallo el cual pelamos con mucho cuidado, quitando los pétalos mas grande de la parte de abajo ( sabemos que esta verdura tiene su forma en escamas o pétalos terminando en un cono ), luego de lavarlos bien lo colocamos en una olla a presión, cuando notamos que esta blando, lo quitamos con una pinza y lo dejamos que se enfrié un poco.
Comenzamos a preparar lo que le vamos a agregar que seria los siguientes ingredientes, ajo, cúrcuma, savora, pimienta y sal a gusto, tomate pelado, aceite de oliva, orégano, cebolla y los pétalos que habíamos quitado, llevamos todo esto en una licuadora, le damos unos minutos en la misma hasta que quede como una salsa, luego tomamos la verdura o sea el alcaucil, le quitamos una hojas tiernas del medio las cuales vamos untando con la salsa y de esa manera degustar esto que es muy exquisito, le agregamos en la parte del medio que quedo libre y al estar todo tierno lo consumimos con cuchillo y tenedor, siempre agregándole dicha salsa que es lo fundamental para compartir este plato.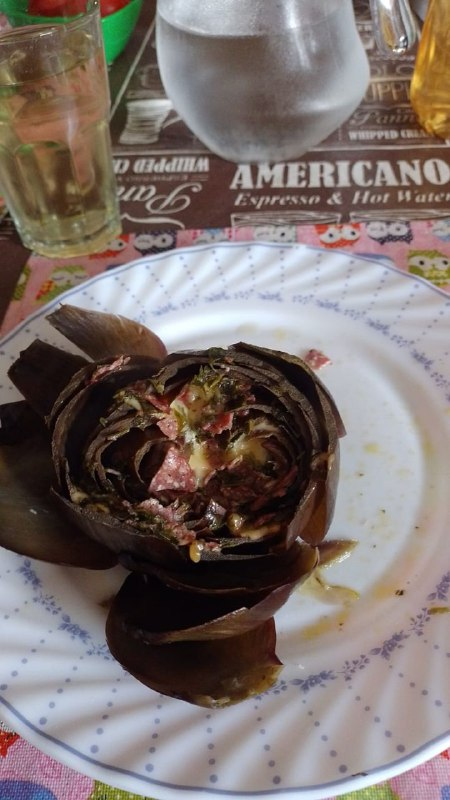 Esta es una comida muy rica en proteínas y muy saludable, especial para la dieta, después de haber pasado un fin de semana comiendo o degustando mucha carne. pero rescatando lo vivido en familia.
Así que amigos, si fue de sus agrados esta experiencia de vida, o sea pasando un día mas, tanto en familia y al almuerzo degustado, no dejen de enviar sus comentarios referente al mismo.
MUCHAS GRACIAS A TODOS POR SEGUIRME Y LEERME, QUE TENGAN UN BENDECIDO DIA.
TRANSLATED INTO ENGLISH.
Hello everyone, good start of the week, which I do with great joy, after having enjoyed a beautiful Sunday with the family, which is what I value most in this life, which after having survived this great pandemic, which was and is like a filter in our existence, I compare it in this way, because the truth of my friendships, friends are several who left this world, perhaps it was their time but well that's the life that our Lord God gave us, time is his, as it says in the book of scleciates 3-1, the time is of the LORD, for this reason I am grateful to him for the family, for health and how important it is to exist, always taking into account the present, looking to the future, which is uncertain, but if we take care and value what we are on this planet, we will move forward, as it is to have such a tasty lunch, which is to prepare a stuffed artichoke which is prepared as follows.
We buy an artichoke or artichoke, not so big, not so small, that is medium, we cut the top, evenly, leaving about 10 centimeters of the stem which we peel very carefully, removing the largest petals from the bottom (we know that this vegetable has its shape in scales or petals ending in a cone), after washing them well we place it in a pressure cooker, when we notice that it is soft, we remove it with tongs and let it cool a little.
We begin to prepare what we are going to add which would be the following ingredients, garlic, turmeric, savora, pepper and salt to taste, peeled tomato, olive oil, oregano, onion and the petals that we had removed, we take all this in a blender, we give a few minutes in the same until it is like a sauce, Then we take the vegetable or artichoke, we remove a tender leaves in the middle which we are spreading with the sauce and thus taste this is very delicious, we add in the middle part that was free and being all tender we eat it with knife and fork, always adding the sauce that is essential to share this dish.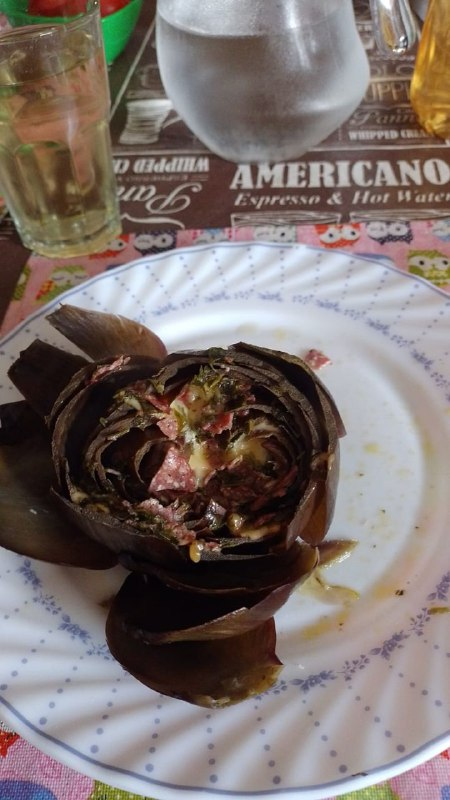 This is a meal very rich in proteins and very healthy, special for the diet, after having spent a weekend eating or tasting a lot of meat, but rescuing what was lived in family.
So friends, if you liked this life experience, that is, spending another day with your family and tasting lunch, please send your comments about it.
THANK YOU VERY MUCH TO ALL OF YOU FOR FOLLOWING AND READING ME, HAVE A BLESSED DAY.