Hola a todos mis amigos de HIVE, como sabemos los días lunes son el primer día de la semana, donde al comenzar después de haber de haber disfrutado y compartido con la familia de un día domingo, el cual es primordial, porque nos une, nos junta, hace que la integración familiar sea cada vez mas solida, mas en estos tiempos que estamos viviendo y subsistiendo para seguir adelante, en la medida que podemos, cuidándonos y respetando los protocolos dispuestos por el hombre, pero sabemos que para el SEÑOR DIOS, nada es imposible y el todo lo puede, así que queridos amigos confiemos en el, que toda pronto acabara, pero nos quedara la tristeza de los seres queridos que estamos perdiendo.
De tal manera que viviendo todo esto, hoy comienzo la semana, cocinando un rico y exquisito puchero, el cual contiene:
Carne de red-garron-
Choclo
Zapallo
Papa
Zanahoria
Chorizo colorado
Cebolla
Aceite
Sal
Condimentos varios
Garbanzos
Ajo
La manera de cocinar el mismo es la siguiente, el garbanzo lo dejamos un día antes en remojo, para que de esa manera salga blando, para empezar entonces colocamos la olla, le vertemos un poco de aceite, la cebolla, el ajo, lo dejamos que se dore un poco, luego la sal, condimentos varios, le agregamos agua y ponemos la carne de red, el chorizo colorado, el garbanzo, la papa, el zapallo y el choclo, tapamos la olla y lo dejamos que se cocine, cuando notamos que la carne y el choclo están blandos, es cuando sabemos que ya esta todo cocinado, apagamos el fuego y dejamos tapada la olla, para que de esa manera se asiente bien todo y se termine de cocinar, para quedar a punto.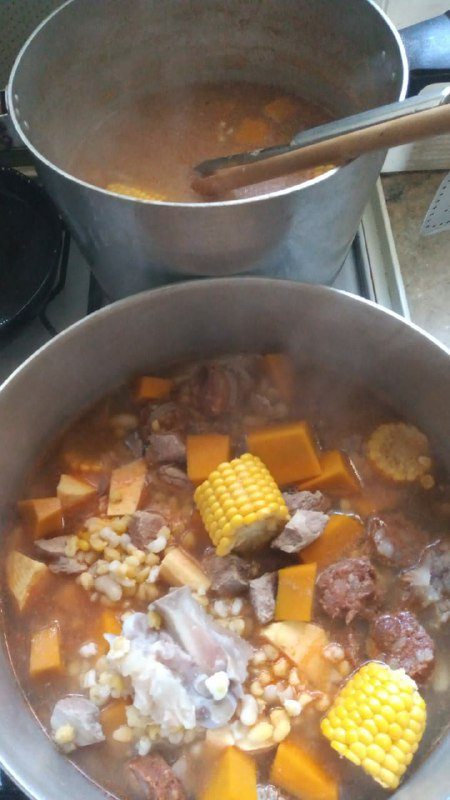 Bueno amigos de esta manera comenzamos la sema, degustando un sabroso puchero, además el mismo es especial para los días de mucho frio, así que si les gusto esta manera de cocinar y esta receta no dejen de efectuar sus comentarios.
MUCHAS GRACIAS POR SEGUIRME Y LEERME, BUEN COMIENZO DE SEMANA.
TRANSLATED IN ENGLISH.
Hello to all my friends at HIVE, as we know, Mondays are the first day of the week, where at the beginning after having enjoyed and shared with the family a Sunday, which is essential, because it unites us, we Together, it makes family integration more and more solid, but in these times that we are living and subsisting to move forward, as far as we can, taking care of ourselves and respecting the protocols established by man, but we know that for the LORD GOD, Nothing is impossible and he can do everything, so dear friends, let's trust him, that everything will soon end, but we will be left with the sadness of the loved ones that we are losing.
In such a way that living all this, today I start the week, cooking a rich and exquisite pot, which contains:
Red meat-garron-
Corn
Squash
Dad
Carrot
Red chorizo
Onion
Oil
Salt
Various seasonings
Garbanzo beans
Garlic
The way to cook it is as follows, we leave the chickpea soak a day before, so that that way it comes out soft, to start then we place the pot, pour a little oil, the onion, the garlic, we leave it let it brown a little, then the salt, various seasonings, we add water and put the red meat, the red chorizo, the chickpea, the potato, the pumpkin and the corn, cover the pot and let it cook, when We notice that the meat and corn are soft, it is when we know that everything is cooked, we turn off the heat and leave the pot covered, so that that way everything settles well and is finished cooking, to be ready.
! [image.png] (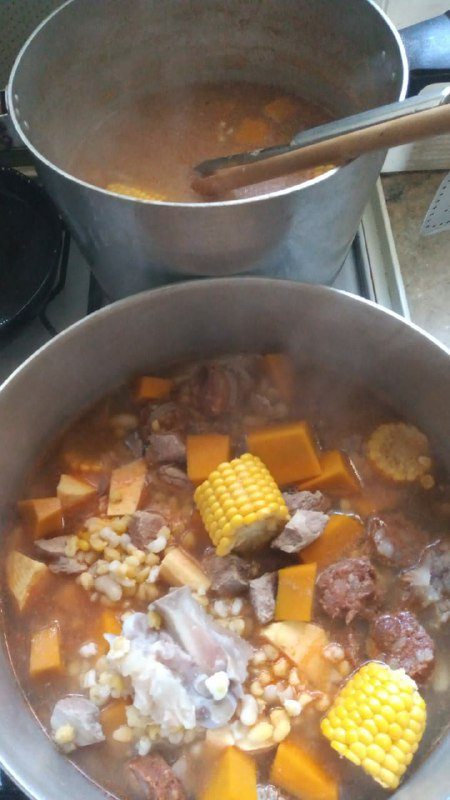 )
Well friends, in this way we start the week, tasting a tasty stew, it is also special for very cold days, so if you like this way of cooking and this recipe, do not stop making your comments.
THANK YOU VERY MUCH FOR FOLLOWING AND READING ME, GOOD START OF THE WEEK.