Buenos días a todos los seguidores de HIVE, siendo hoy un día espectacular, buen sol, buen clima, que mejor que cocinar a leña, como se ve en la foto todo es improvisado para esta tarea, acumule las leñas, las prendí fuego y coloque las mismas esta reja que cumple la función de hornalla como de la cocina, lo único que modifica acá es que a la olla, le paso por fuera buena cantidad de aceite, la función de esto es para cuando se termine de cocinar que la misma queda negra por fuera, se hace mucho mas fácil cuando la lavamos, sale todo mas fácil y queda dicha olla reluciente, una ves que la misma ya esta sobre la reja, le vierto un poco de aceite adentro, y coloco lo que seria la carne de puchero, la misma todavía esta congelada, al colocarla en la olla y tapar la misma dicha carne con el vapor y cocción se descongela mas rápido.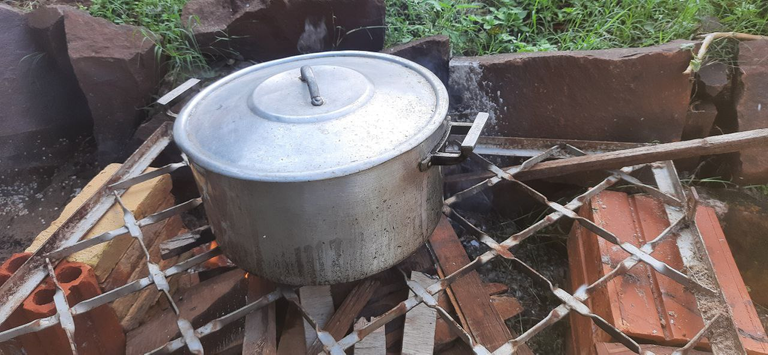 Movemos un poco los leños para que se prenda mas los mismos, así calienta mas el interior de la olla, a la cual ahora le agregamos un poco de agua caliente, y la carne de puchero que se encuentra en su interior la cual ya esta cortada pero congelada, se va separando lentamente y al mismo tiempo se va cocinando.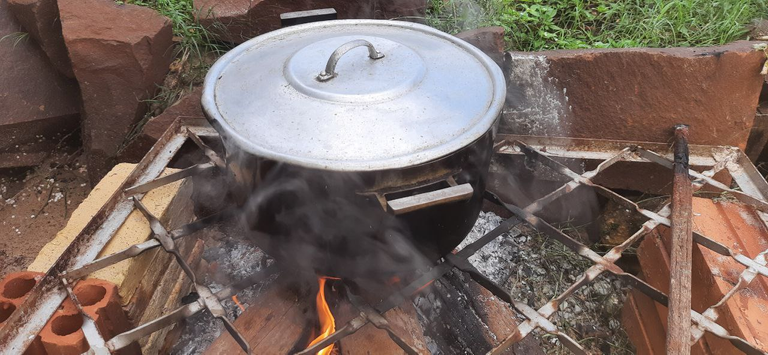 Al destapar la olla se puede ver el vapor que sale de la misma, es porque el agua se consume mas rápido por la temperatura que ejerce el fuego de los leños.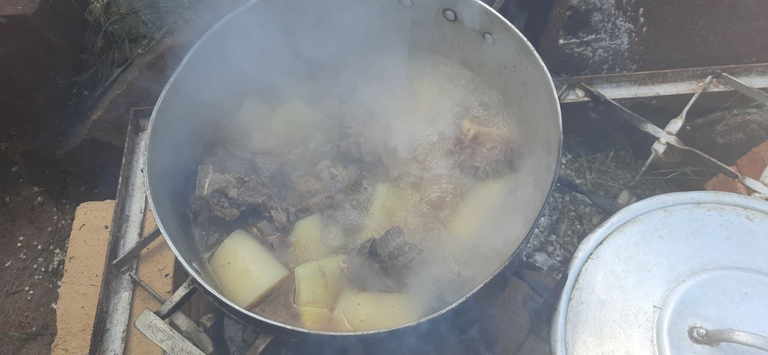 Ahora se puede ver que el fuego se encuentra encendido por completo, y la carne del interior de la olla ya esta toda separada y casi cocinada, le agregamos agua y le colocamos esto que se ve que es lo siguiente, cebolla, cebolla de verdeo, choclo desgranado, zapallito tronco, perejil, todo lo vertemos dentro de la olla.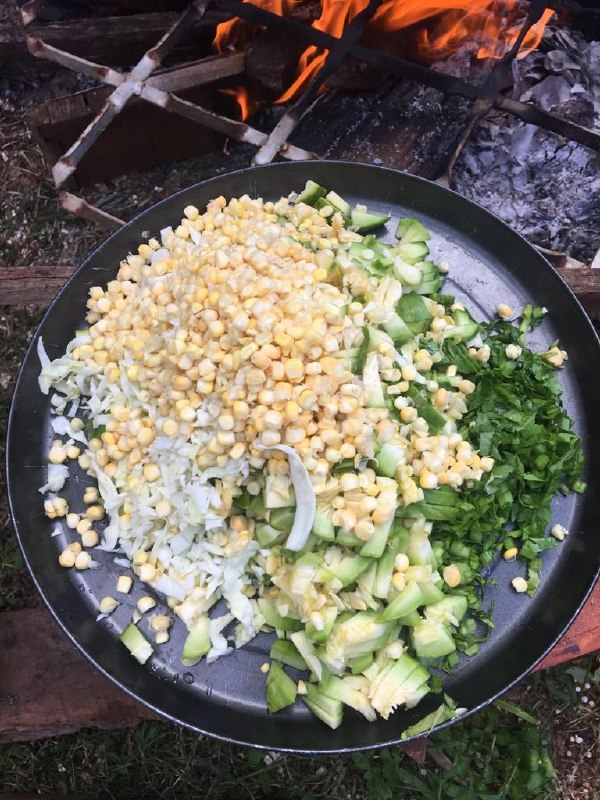 Pero antes le agregamos mas agua, sal, ají molido, ajo bien picado, es para que vaya tomando sabor toda la carne y parte de lo que seria la sopa.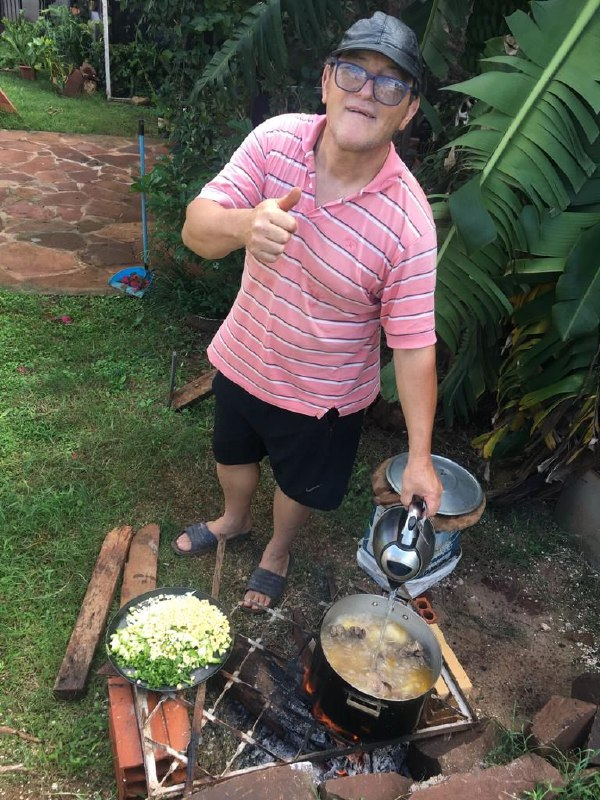 Luego de dejar unos minutos que hierva bien todo, le agregamos el zapallo, batata, papa, mandioca, en porciones grandes, así después de degustar la sopa, lo haremos con el puchero de carne de res y estas verduras, por eso se coloca de este tamaño.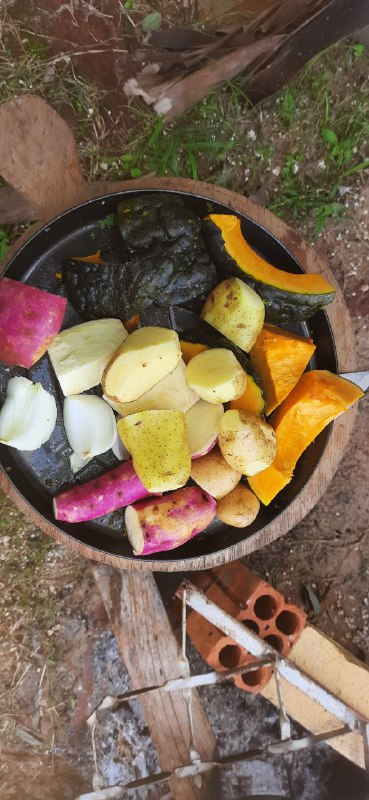 Lo importante es controlar el agua porque la misma se evapora muy rápido, el tema es que el fuego a leños es muy diferente al de la cocina a gas, aparte estamos en el exterior.
GRACIAS POR LEERME Y SEGUIRME, QUE TENGAN UN EXCELENTE DIA.
TRANSLATED INTO ENGLISH.
Good morning to all the followers of HIVE, being today a spectacular day, good sun, good weather, what better than to cook to firewood, as seen in the photo everything is improvised for this task, accumulate the firewood, I set fire and place the same this grid that fulfills the function of stove as the kitchen, the only thing that changes here is that the pot, I spend a good amount of oil on the outside, the function of this is for when it is finished cooking that it is black on the outside, it becomes much easier when we wash it, everything comes out easier and the pot is shiny, once the same is already on the grill, I pour a little oil inside, and I put what would be the stew meat, the same is still frozen, by placing it in the pot and cover the same meat with the steam and cooking thaws faster.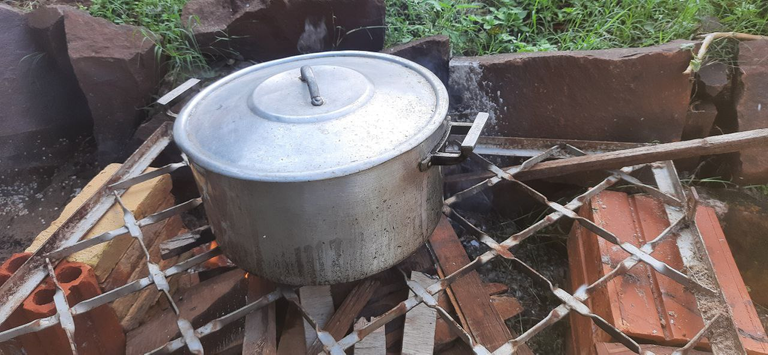 We move a little the logs so that it ignites but the same ones, this way it heats but the interior of the pot, to which now we add a little hot water, and the meat of puchero that is in its interior which already this cut but frozen, is separated slowly and at the same time it is cooked.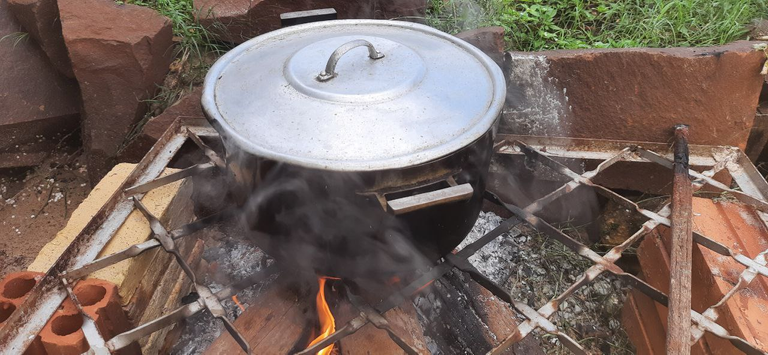 When uncovering the pot you can see the steam coming out of it, it is because the water is consumed faster by the temperature exerted by the fire of the logs.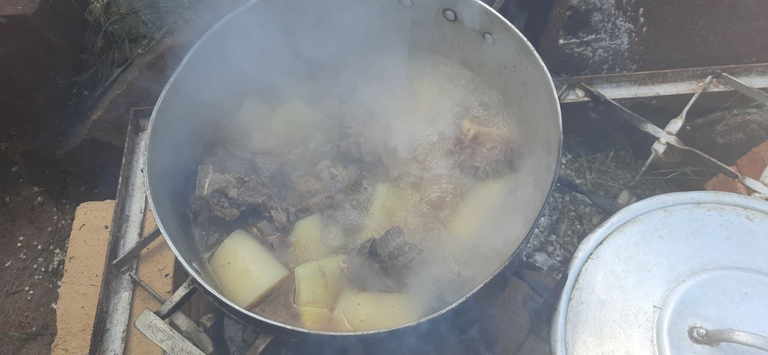 Now you can see that the fire is completely lit, and the meat inside the pot is already separated and almost cooked, we add water and we put the following: onion, green onion, shelled corn, zucchini, parsley, and we put it all inside the pot.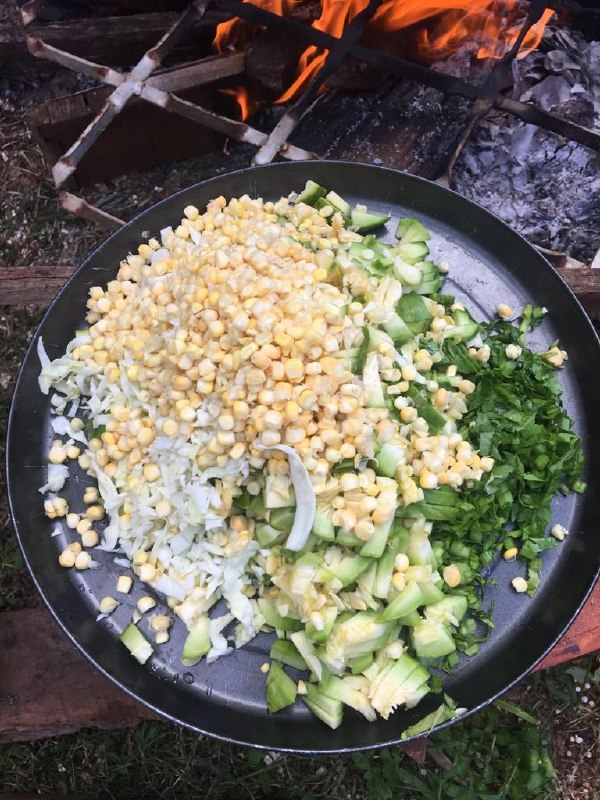 But before we add more water, salt, ground chili bell pepper, finely chopped garlic, it is so that all the meat and part of what would be the soup will take flavor.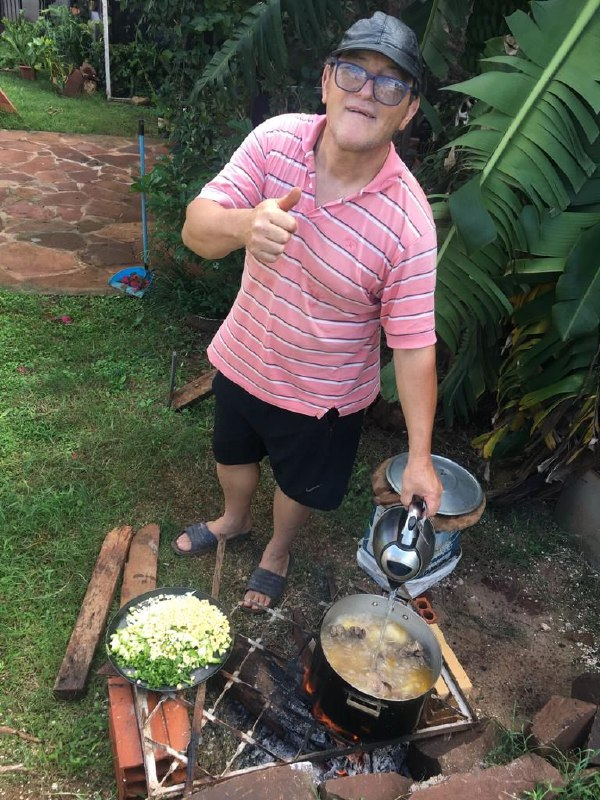 After leaving a few minutes to boil everything well, add the pumpkin, sweet potato, potato, cassava, in large portions, so after tasting the soup, we will do it with the beef stew and these vegetables, that is why it is placed in this size.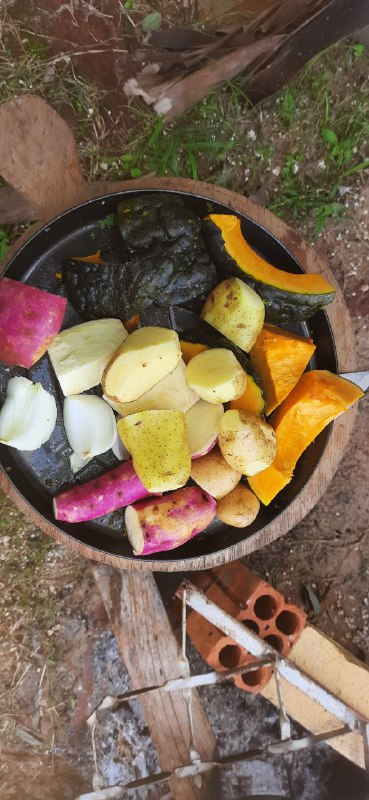 The important thing is to control the water because it evaporates very fast, the thing is that the fire with wood is very different from the gas stove, besides we are outdoors.
THANKS FOR READING AND FOLLOWING ME, HAVE A GREAT DAY.