Buenos días a todos, considerando que en estos días de mucho frio , es bueno recurrir a comidas que sean ideales para equilibrar dicho frio, una de las que mas me gusta es el chorizo a la pomarola, pero cocinado con leños, para empezar a preparar dicho chorizo, es ideal que por mas que el mismo sea casero, debe ser hervido, luego lo tomamos la paellera, le vertemos un poco de aceite, luego le agregamos cebolla cortada bien fina, morrones varios, sal, especies varias, repollo cortado bien fino, zanahoria rallada y ajo cortado bien pequeños, revolvemos un poco para que se cocine todo, y le agregamos los chorizos.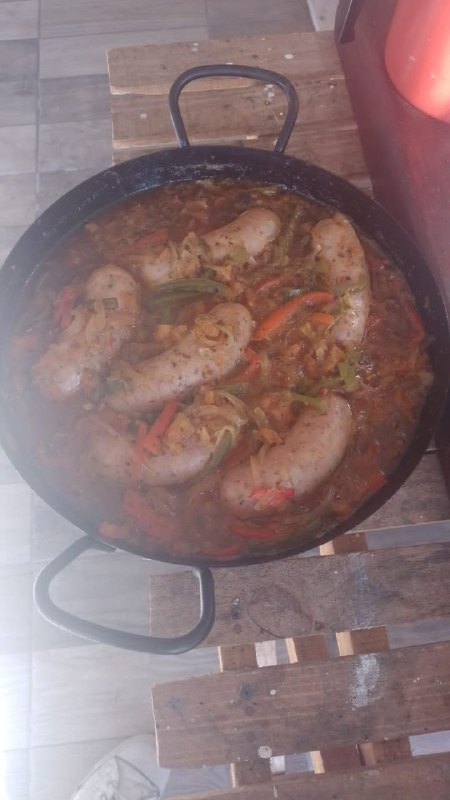 Esos serian los pasos a seguir para cocinar dichos chorizos a la pomarola, en este caso en la parte uno de la publicación se vio el procedimiento del fuego preparado y de como se cocinaba todo, como verán ya esta todo listo con un sabor ideal para comenzar a degustarlos.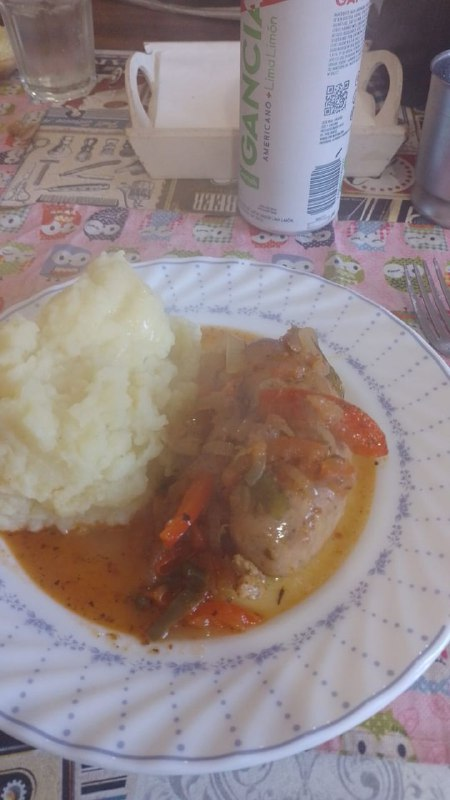 Para acompañar el chorizo como bien dije a la pomarola, nada mejor en este caso que con puré de papa, que se prepara de la siguiente manera,
pelamos la papa la ponemos a hervir en una olla con agua, cuando esta blanda quitamos la olla del fuego, colamos dicha papa, luego le agregamos mantequilla y un poco de leche, comenzamos a pisar bien con los elementos adecuados el pisa papa, hasta que quede como se ve en la foto o sea para acompañar el chorizo, el cual también se lo puede cortar por la mitad para de esa manera agregarles los aderezos a gusto de cada uno.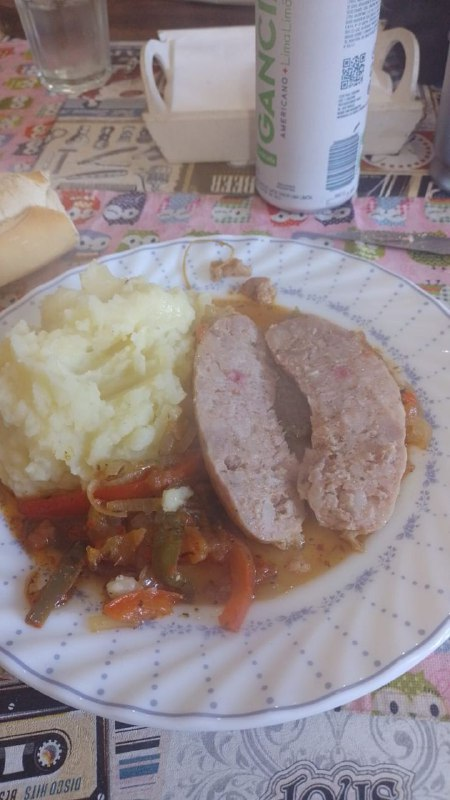 Así que para dicho almuerzo una comida de esta clase es ideal, porque tenemos el resto del día, para seguir sintiendo en el paladar lo sabrosa que estuvo.
MUCHAS GRACIAS POR SEGUIRME Y LEERME, QUE TENGAN UN BELLO DIA EN FAMILIA.
TRANSLATED INTO ENGLISH.
Good morning everyone, considering that in these very cold days, it is good to resort to foods that are ideal to balance the cold, one of the ones I like the most is the pomarola sausage, but cooked with firewood, to start preparing the sausage, it is ideal that even if it is homemade, It should be boiled, then we take it to the paella pan, pour a little oil, then add finely chopped onion, several peppers, salt, various spices, finely chopped cabbage, grated carrot and garlic cut very small, stir a little to cook everything, and add the sausages.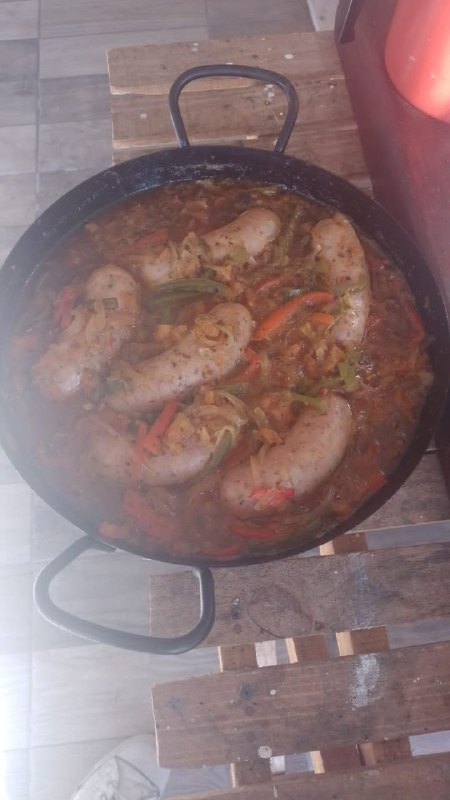 Those would be the steps to follow to cook these sausages to the pomarola, in this case in the part one of the publication was seen the procedure of the prepared fire and how everything was cooked, as you will see everything is ready with an ideal flavor to begin to taste them.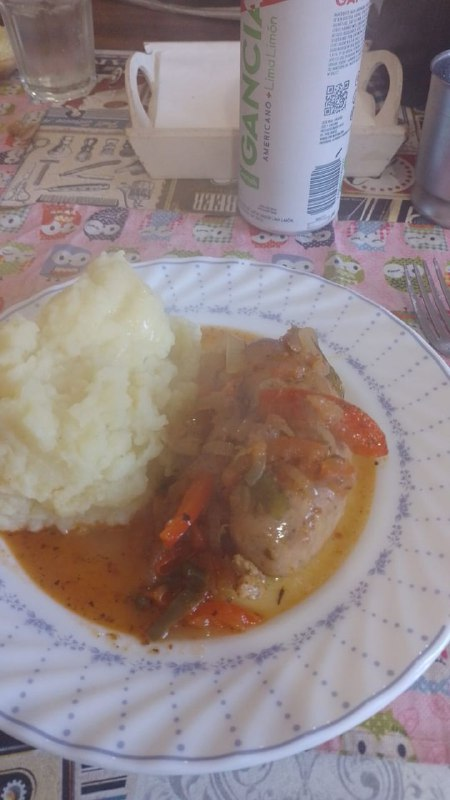 To accompany the chorizo as I said to the pomarola, nothing better in this case that with mashed potatoes, which is prepared as follows,
We peel the potato, put it to boil in a pot with water, when it is soft we remove the pot from the fire, we strain the potato, then we add butter and a little milk, we start to mash well with the right elements the potato masher, until it is as shown in the picture or to accompany the chorizo, which can also be cut in half for that way add the toppings to taste of each one.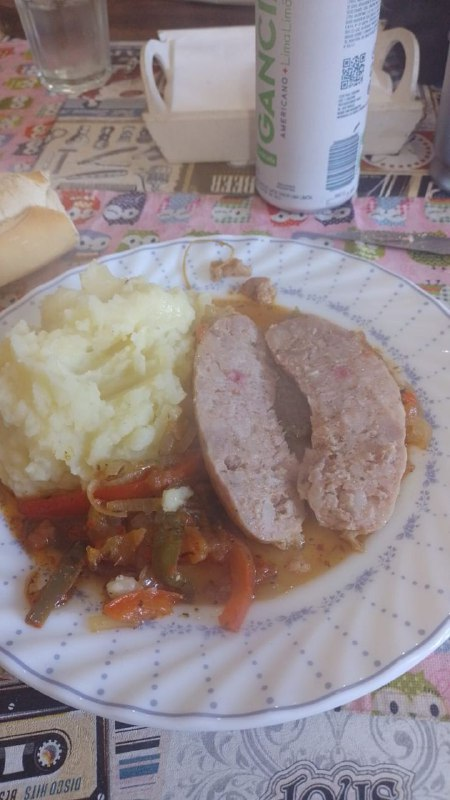 So for this lunch a meal of this kind is ideal, because we have the rest of the day to continue feeling in our palate how tasty it was.
THANK YOU VERY MUCH FOR FOLLOWING AND READING ME, HAVE A NICE DAY WITH YOUR FAMILY.