Buenos días a todos, la verdad hoy por ser un día muy especial,-viernes santo, en el cual según la tradición de mi familia es prohibido consumir carne roja o sea de res, pero el detalle amigos es hacerlo al aire libre, en una olla grande y con fuego de leños, de esa manera le da un gusto mas exquisito, como verán improvise un fogón, sencillo pero de gran ayuda para estos casos, como se ve en la foto.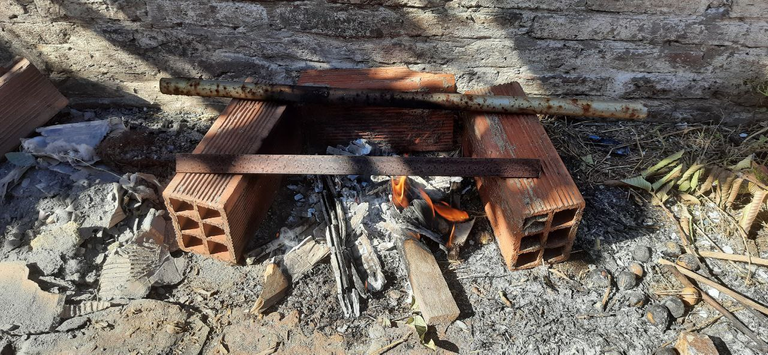 Coloco en la olla agua caliente, le voy agregando la carne de cerdo, luego le agrego, dientes de ajo pisados, cebolla de verdeo, morrón, sal, pimienta a gusto y un poco de ají picante, al comenzar a hervir se concentra todos esos ingredientes a la carne dejándola especialmente sabrosa.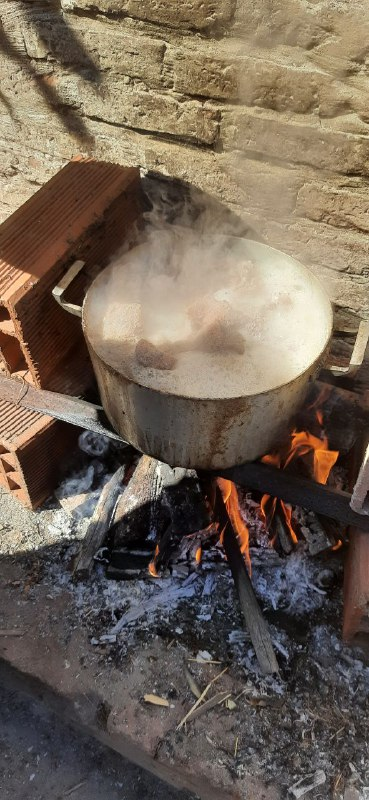 Como vemos en esta foto el agua comienza su hervor, dejando en la parte de arriba una espuma, esta es porque se va consumiendo la parte grasa de la carne, dejándola magra, bueno es una manera de decir, así que después de esto cuando comenzamos a degustar le agregamos limón a gusto.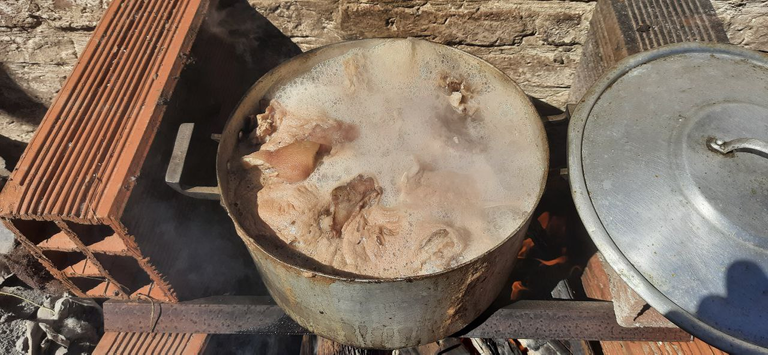 Asi es amigos y como siempre efectuó el comentario en mis publicaciones, si todo lo que hacemos lo hacemos con mucho amor y perseverancia, sale muy bien, como en este caso.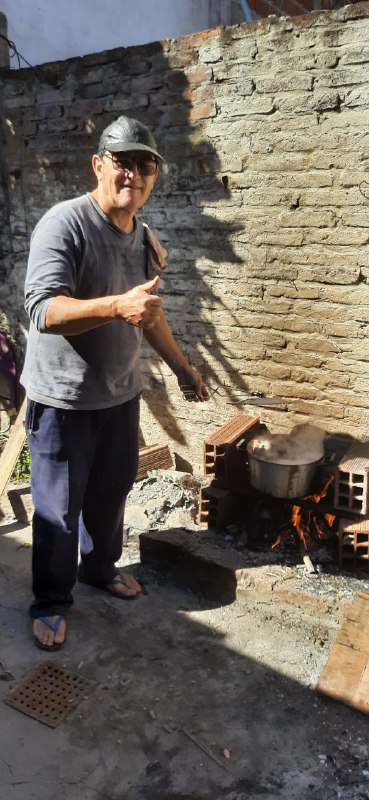 Cuando noto que la carne se hablando, con un tenedor la voy quitando las porciones, y las voy colocando en una bandeja, en lo personal y para mi gusto la dejo que se enfrié un poco, el tema es que si consumimos esta carne caliente, es poco probable que nos haga mal, por el hecho de que consumimos la bebida y esta si esta fría y la carne de cerdo caliente nos puede embromar.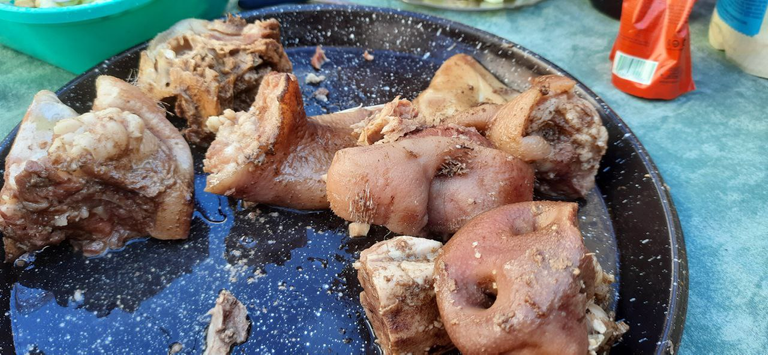 Para acompañar dicha carne, lo hago con ensalada de garbanzo, papa, cebolla, huevo y mayonesa, mandioca o yuca hervida, sobre todo esto aparte de limón le agrego también, perejil, ajo bien picado, mesclado con aceite, sal y pimienta.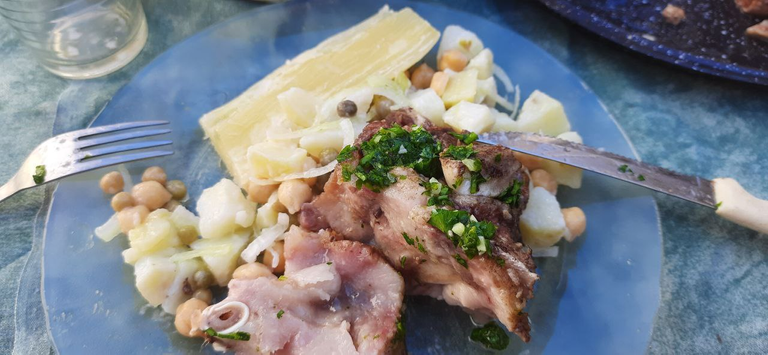 La verdad que al degustar este almuerzo en un día como hoy es especial, bueno en la medida que se pueda por supuesto.
MUCHAS GRACIAS POR LEERME Y SEGUIRME, QUE PASEN UN BENDECIDO DIA EN FAMILIA Y UN BELLO FIN DE SEMANA.
TRANSLATED INTO ENGLISH.
Good morning everyone, the truth today for being a very special day, -holy Friday, in which according to the tradition of my family is forbidden to consume red meat or beef, but the detail friends is to do it outdoors, in a large pot and fire logs, that way gives a more exquisite taste, as you will see improvise a fire, simple but very helpful for these cases, as seen in the photo.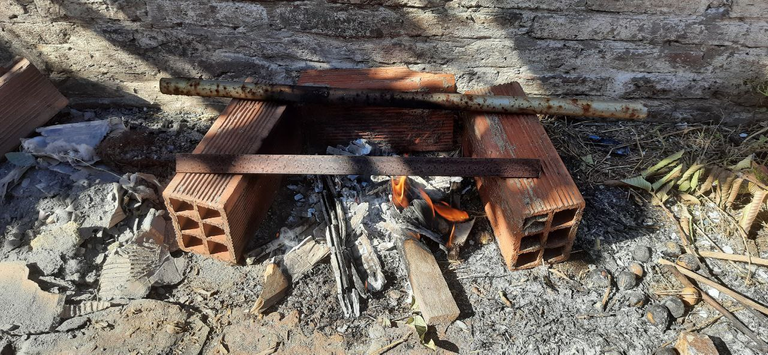 I put hot water in the pot, I add the pork meat, then I add crushed garlic cloves, green onion, red bell pepper, salt, pepper to taste and a little hot bell pepper, when it starts to boil all these ingredients are concentrated in the meat leaving it especially tasty.
As we see in this picture the water begins to boil, leaving a foam on the top, this is because the fatty part of the meat is consumed, leaving it lean, well it is a way of saying, so after this when we begin to taste we add lemon to taste.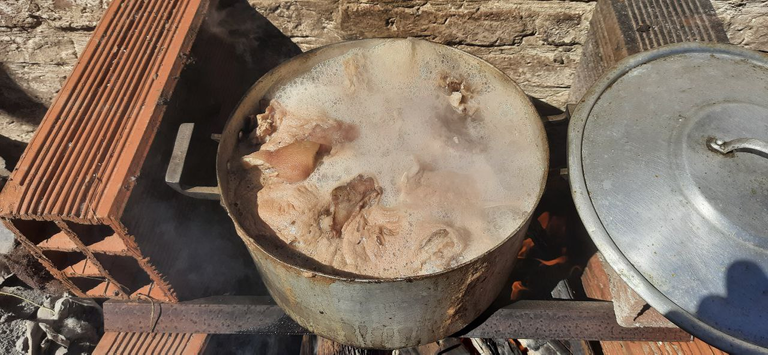 This is how it is friends and as always made the comment in my publications, if everything we do we do it with love and perseverance, it comes out very well, as in this case.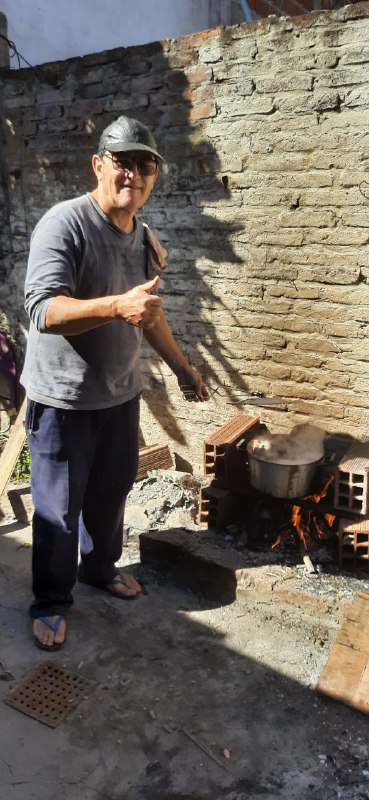 When I notice that the meat is talking, with a fork I am removing the portions, and I am placing them in a tray, personally and for my taste I let it cool down a little, the issue is that if we consume this hot meat, it is unlikely to make us bad, by the fact that we consume the drink and this if it is cold and the hot pork can tease us.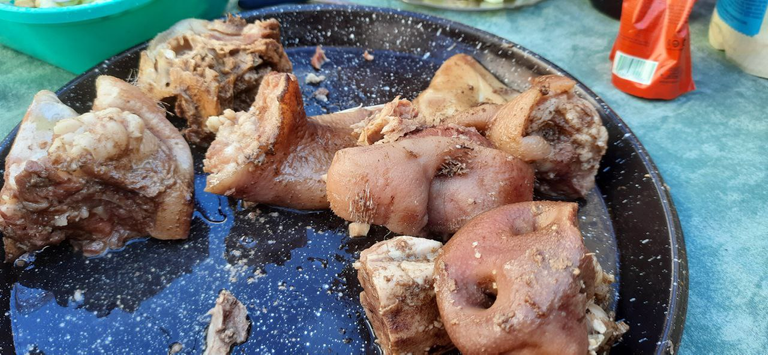 To accompany this meat, I make it with chickpea salad, potato, onion, egg and mayonnaise, boiled cassava or manioc, on all this besides lemon I also add parsley, chopped garlic, mixed with oil, salt and pepper.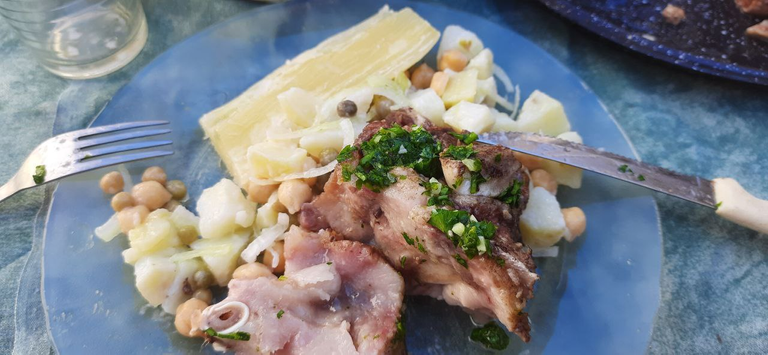 The truth is that tasting this lunch on a day like today is special, as much as possible of course.
THANK YOU VERY MUCH FOR READING AND FOLLOWING ME, HAVE A BLESSED FAMILY DAY AND A BEAUTIFUL WEEKEND.