Hola a todos mis amigos de esta hermosa comunidad, la cual es de nombre HIVE, a la cual estoy muy agradecido de pertenecer y en la medida que puedo dejo todo de mi cada día, sin incurrir a plagio, como verán, mis publicaciones son el día a día en mi vida, la cual cuido mucho siempre respetando los protocolos que exigen referente a la pandemia que es el enemigo actual y global, pero dicho enemigo no podrá contra la naturaleza de nuestro SEÑOR DIOS, el cual es poderoso y el todo lo puede, solamente no resta creer y confiar en el.
De tal manera amigos que hoy en mi post, les enseñare una receta muy peculiar, la cual consiste en como se prepara una bondiola, la cual se le puede dar y utilizar en varias comidas, bueno lo mas utilizado seria para las picadas como en este caso, ajajajajaj, sus ingredientes son:
Bondiola mediana, no muy grande
Sal marina
Pimentón
Papel de envoltorio de mercadería
Hilo choricero
Su preparación es la siguiente, tomamos la bondiola, la abrimos y le quitamos un poco de grasa, para que de esa manera no salga muy pesada, tomamos un caja de madera según el tamaño de la bondiola, le agregamos sal en la parte de abajo, una cantidad de un centímetro, tomamos la bondiola le pasamos bien en todo su parte exterior el pimentón hasta dejarla bien empapada en el mismo, la colocamos sobre la sal, luego en los costados le agregamos sal formando una pared, cuando la tenemos con sal abajo y en los costados, le agregamos en la parte de arriba, como si fuera una capa de la misma medida que en la parte de abajo, luego le colocamos la tapa de madera, bien clavada, para que quede todo compactado, de esa manera dejamos dicha caja en un lugar oscuro y seco, aproximadamente un mes, luego de ese tiempo le quitamos la madera, la sal y la envolvemos con el papel, dejando el pimentón o sea no se lo quitamos, lo atamos bien con el hilo y la dejamos colgada en un lugar seco, luego de unos 4 días podemos comenzar a degustarla, quedaría como se ve en la foto, seca y bien compactada, por cierto muy sabrosa, como les dije sal marina, la otra no porque se humedece toda la carne y la madera utilizada puede ser como las cajas en que se venden los vinos finos.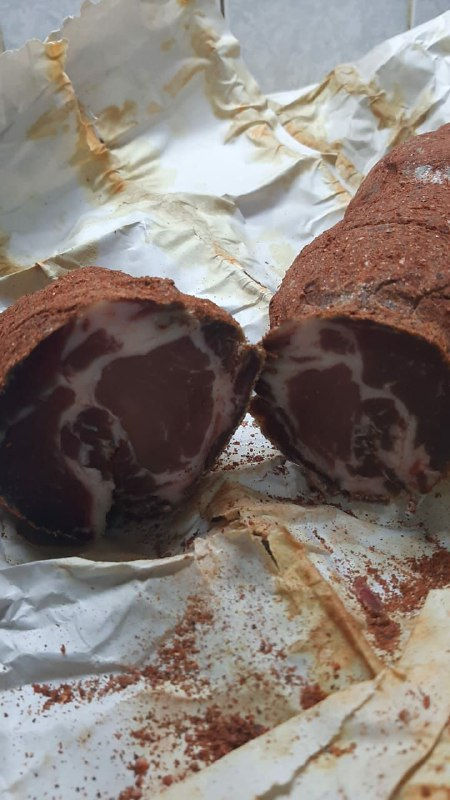 Como se puede ver amigos en lo mas utilizada esta bondiola es en las picadas como en este caso, para mi en lo personal comparo la misma o sea la bondiola con el charque, carne cocinada con humo, pero solo que este es mas duro, lo digo por su sabor, mas cuando acompañamos dicha bondiola con otros fiambre, como se ve en la foto.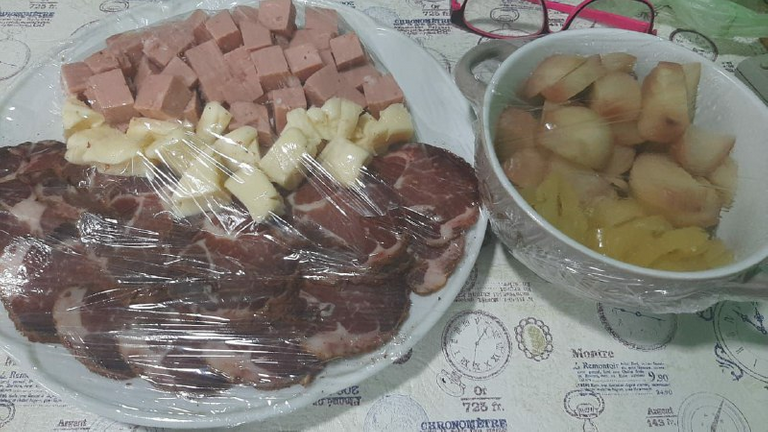 Así que en este post, una nueva manera de elaborar una receta diferente y fuera de lo común, la cual es utilizada en variedades de comidas, dicha bondiola sobresale cuando preparamos una entrada antes de los asados, así que de haberles agradado lo explayado, quedo a la espera de sus valiosos comentarios.
MUCHAS GRACIAS POR LEERME Y SEGUIRME, QUE TENGAN UN BENDECIDO DIA.
TRANSLATED IN ENGLISH.
Hello to all my friends of this beautiful community, which is called HIVE, to which I am very grateful to belong and to the extent that I can, I leave everything of myself every day, without incurring plagiarism, as you will see, my publications are the day by day in my life, which I take care of a lot, always respecting the protocols that they require regarding the pandemic that is the current and global enemy, but said enemy will not be able to fight the nature of our LORD GOD, which is powerful and everything. can, it only remains to believe and trust him.
In such a way friends that today in my post, I will show you a very peculiar recipe, which consists of how to prepare a bondiola, which can be given and used in various meals, well the most used would be for snacks like in this case, ahahahaha, its ingredients are:
Medium bondiola, not very large
Sea salt
Peppers
Merchandise wrapping paper
Chorizo ​​thread
Its preparation is as follows, we take the bondiola, open it and remove a little fat, so that that way it does not come out too heavy, we take a wooden box according to the size of the bondiola, we add salt at the bottom , an amount of one centimeter, we take the bondiola, we pass the paprika on all its outer part until it is well soaked in it, we place it on the salt, then on the sides we add salt to form a wall, when we have it with salt below and on the sides, we add it to the top, as if it were a layer of the same size as the bottom, then we put the wooden lid, well nailed, so that everything is compacted, in that way We leave said box in a dark and dry place for about a month, after that time we remove the wood, the salt and wrap it with the paper, leaving the paprika, that is, we do not remove it, we tie it well with the thread and the we leave hanging in a dry place, after about 4 days Now we can start to taste it, it would be as seen in the photo, dry and well compacted, by the way very tasty, as I said sea salt, the other not because all the meat is moistened and the wood used can be like the boxes in which fine wines are sold.
! [image.png] (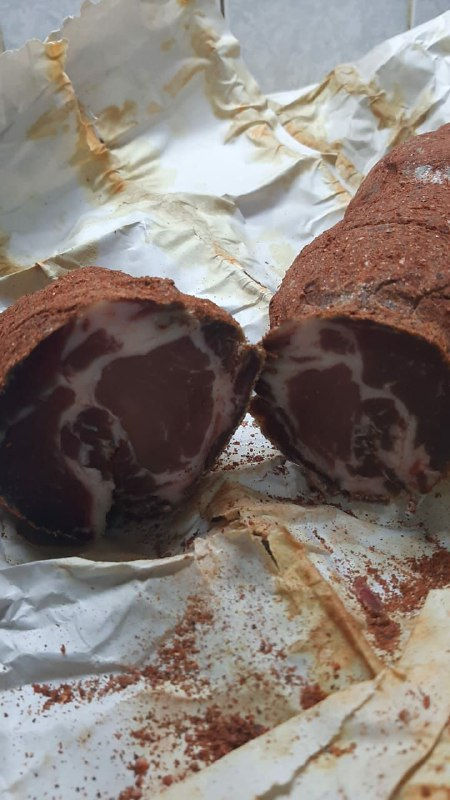 )
As you can see, friends, in the most used this bondiola is in the bites as in this case, for me personally I compare the same or the bondiola with the jerky, meat cooked with smoke, but only that this is harder, it I say for its flavor, but when we accompany said bondiola with other cold cuts, as seen in the photo.
! [image.png] (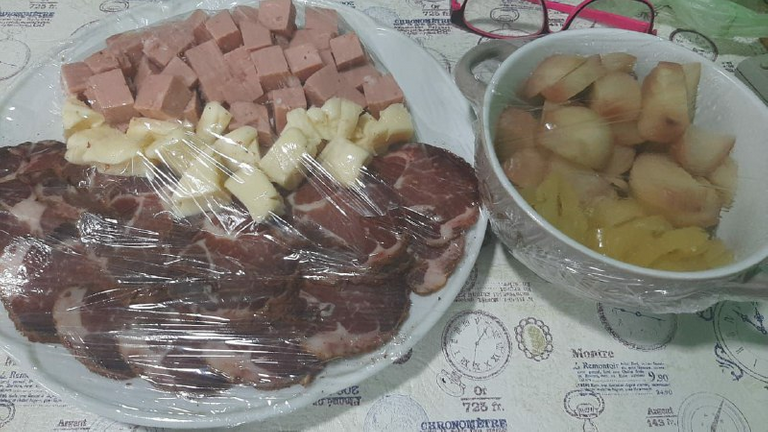 )
So in this post, a new way to prepare a different and unusual recipe, which is used in a variety of foods, said bondiola stands out when we prepare an entry before the roasts, so if you have liked the elaboration, it remains waiting for your valuable comments.
THANK YOU SO MUCH FOR READING AND FOLLOWING ME, HAVE A BLESSED DAY.