Buenos días a toda la comunidad, espero se encuentren todos muy bien de salud, teniendo en cuenta que ya casi se da por terminado el tema de la pandemia o sea del covid 19, pero de todas maneras, en lo personal sigo siendo muy precavido no solamente por el covd 19 o pandemia si no en todo los sentidos de la vida, porque bien sabemos que estamos expuestos a todo, pero si somos coherentes en ser precavidos y cuidarnos en la medida que podemos, nada nos pasara, no solamente ser precavidos si no que también en lo que comemos, porque si lo hacemos de manera sana y no siendo gula, podremos seguir subsistiendo en esta vida, es por eso que el almuerzo de hoy se trata de una comida muy especial, lo digo especial por el hecho de que la berenjena es de mi jardín, no dio mucho pero si para realizar esta comida, o sea a la escabeche, que es fácil de preparar, las tomamos, las lavamos bien luego las pelamos, y las cortamos en julianas no muy finas, las vamos colocando de manera que a cada una se le agregue sal, amigos la sal es para que despida el acido y agua de la misma, que luego de unas dos horas, las colocamos en una olla con agua y le damos un hervor, como un baño maria, luego las quitamos y nuevamente las colocamos en una fuente, si es de vidrio es mejor, luego le agregamos un preparado con ajo, perejil. ají molido, aceite, sal, bien mesclado, revolvemos las muy despacio para que quede bien impregnado y las llevamos a la heladera,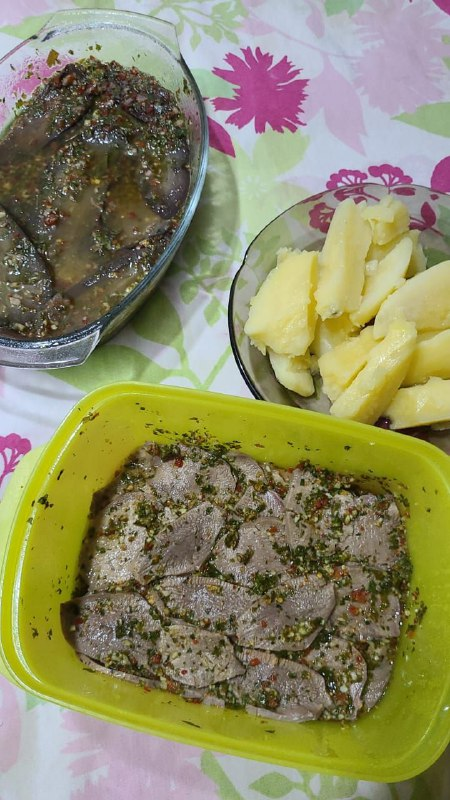 Referente a la lengua el mismo preparado, solamente cambia la manera de preparar la lengua de res, la cual la hervimos hasta notar que la misma queda blanda, luego la quitamos del agua y la pelamos bien, una ves pelada la fileteamos no muy fina, y le vamos agregando en un volts, con el preparado, como se ve en la foto, una ves bien revuelto todo ya esta.
En una olla hervimos la mandioca o yuca, la cual la cortamos en trozos no muy pequeños, la cual una ves hervida las quitamos del agua con mucho cuidado, porque al estar blanda se desarma toda, quedando las mismas como se ven en la foto.
De esa manera amigos degustamos estas delicias, siendo la misma como una picada, pero la verdad ya lo tomo como una comida o sea el almuerzo, que por cierto es exquisito.
MUCHAS GRACIAS POR SEGUIRME Y LEERME, QUE PASEN UN BELLO DIA EN FAMILIA.
TRANSLATED INTO ENGLISH.
Good morning to all the community, I hope you are all in good health, taking into account that the pandemic or covid 19 is almost over, but anyway, personally I am still very cautious not only for the covd 19 or pandemic but in every sense of life, because we know that we are exposed to everything, but if we are consistent in being cautious and take care of ourselves as much as we can, nothing will happen to us, not only being cautious but also in what we eat, because if we do it in a healthy way and not being gluttonous, we can continue to subsist in this life, that is why today's lunch is about a very special meal, I say special because the eggplant is from my garden, it did not give much but to make this meal, that is to pickled, which is easy to prepare, we take them, wash them well then peel them, and cut them into julienne strips not very thin, We place them in such a way that salt is added to each one, friends the salt is to release the acid and water of the same, after about two hours, we place them in a pot with water and give it a boil, like a bain-marie, then we remove them and place them again in a dish, if it is glass is better, then we add a preparation with garlic, parsley. Then we add a preparation with garlic, parsley, ground chili, oil, salt, well mixed, we stir them very slowly so that it is well impregnated and we take them to the refrigerator,
Referring to the tongue the same preparation, only changes the way to prepare the beef tongue, which we boil it until we notice that it is soft, then we remove it from the water and peel it well, once peeled we fillet it not very thin, and we are adding it in a volts, with the preparation, as seen in the photo, once well stirred everything is ready.
In a pot we boil the cassava or manioc, which we cut it in not very small pieces, which once boiled we take them out of the water very carefully, because being soft it disarms everything, being the same as seen in the photo.
In this way friends we taste these delicacies, being the same as a snack, but the truth is that I take it as a meal or lunch, which by the way is exquisite.
THANK YOU VERY MUCH FOR FOLLOWING ME AND READING ME, HAVE A NICE DAY WITH YOUR FAMILY.