Con nuestras manos vacías podemos ir al Señor, y él las llenará de su poder, con nuestro corazón quebrantado y el podrá restaurarlo.
Reflexionando sobre las necesidades de la iglesia para este tiempo, en la lectura de un libro llamado, "Manos de Fuego" leí: "Si de algo está necesitando la iglesia de Cristo es del fuego del Espíritu Santo, tenemos de todo en abundancia menos fuego. Somos un pueblo lleno de planes, métodos y cursos bíblicos. Pero carecemos de fuego divino. Parecemos hoy, una máquina religiosa llena de expertos en todo: en psicología, teología, artes, música y oratoria, pero no tenemos fuego del cielo. Jesús prometió a su iglesia bautizarla con espíritu santo y fuego. Eso fue vivido por los creyentes de los primeros siglos de la era cristiana, peo pareciera alejado de las vivencias cotidianas de nuestros días.
Estoy totalmente de acuerdo con él, se ha reducido la predicación a muchísimas actividades que agotan, y al final la gente sale de los templos con las mismas cargas con las que entran decepcionados al no encontrar respuesta a sus preguntas y necesidades espirituales, realmente sin el fuego de Dios estamos desnudos.
Juan 15:5 Yo soy la vid, vosotros los pámpanos; el que permanece en mi, y yo en él, éste lleva muchos fruto; porque separados de mi nada podéis hacer.
Estoy convencida que Dios está levantando hombre temerosos de ÉL, genuinamente anhelantes de recibir y operar en el mover glorioso del Espíritu Santo y es para este temporada que lo veremos , ya el Señor nos está puliendo en pleno campo de acción, el Señor no permitirá que su obra se detenga. Pronto empezaremos a oír como su fuego nos marca y nos identifica como siervos de Dios.
Hechos 4:16 Diciendo: ¿Que haremos con estos hombres? Porque de cierto, señal manifiesta ha sido hecha por ellos, notoria a todos los que moran en Jerusalén, y no lo podemos negar.
---
ENGLISH VERSION
With our empty hands we can go to the Lord, and he will fill them with his power, with our broken heart and he will be able to restore it.
Reflecting on the needs of the church for this time, in reading a book called, "Hands of Fire" I read: "If the church of Christ is in need of anything, it is the fire of the Holy Spirit, we have everything in abundance except fire. We are a people full of plans, methods and Bible courses. But we lack divine fire. We seem today, a religious machine full of experts in everything: psychology, theology, arts, music and oratory, but we do not have fire from heaven. Jesus promised his church to baptize it with holy spirit and fire. This was lived by the believers of the first centuries of the Christian era, but it seems far from the daily experiences of our days.
I totally agree with him, preaching has been reduced to many activities that exhaust, and in the end people leave the temples with the same burdens with which they enter disappointed by not finding answers to their questions and spiritual needs, really without the fire of God we are naked.
I am the vine, you are the branches: He that abideth in me, and I in him, the same bringeth forth much fruit: for without me ye can do nothing.
John 15:5
I am convinced that God is raising up men in fear of HIM, genuinely longing to receive and operate in the glorious move of the Holy Spirit and it is for this season that we will see it, the Lord is already polishing us in the field, the Lord will not allow His work to stop. Soon we will begin to hear how his fire marks us and identifies us as servants of God.
Saying, What shall we do to these men? for that indeed a notable miracle hath been done by them is manifest to all them that dwell in Jerusalem; and we cannot deny it.
Acts 4:16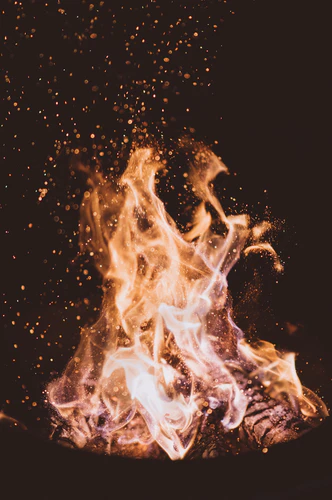 Unsplash, @joshuanewton