Muy buenos días a todos los que integran y participan de enorme y fantástica plataforma social, que hace posible por el medio de interactuar, nos explayemos en publicaciones, dejando toda nuestra iniciativa de escribir post que sea muy instructivo y agradable para los que las leen.
Como el que quiero compartir con ustedes, el cual es referente a esta preciosa mariposa, la cual se hallaba sobrevolando por las flores del jardín y en un momento determinado se poso muy cerca de donde me hallaba, así que no dude en sacarles unas fotos, la misma ni siquiera se inmuto cuando me acerqué, se ve que le agradan las fotos jajaajajaj.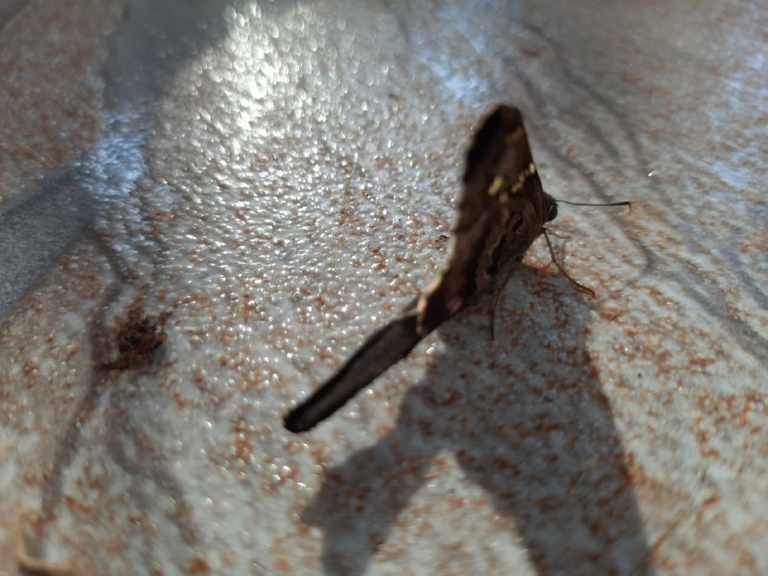 Como se ve en la foto las cuales las tome de varios ángulos, para que de esa manera se vea mas fotogénica, me agrado sus colores, totalmente de fondo negro, con lunares blancos, sus patitas desplegadas hacia los costados, con las antenas de su cabeza hacia adelante y la forma de la cola, me hacia imaginar una nave de guerra, o sea como el famoso avión invisible de la aviación de EE.UU., bueno en lo personal la vi así, también en la parte final de su cola salían dos antenitas que daban la forma del timón, el cual es utilizado para anivelar el avión.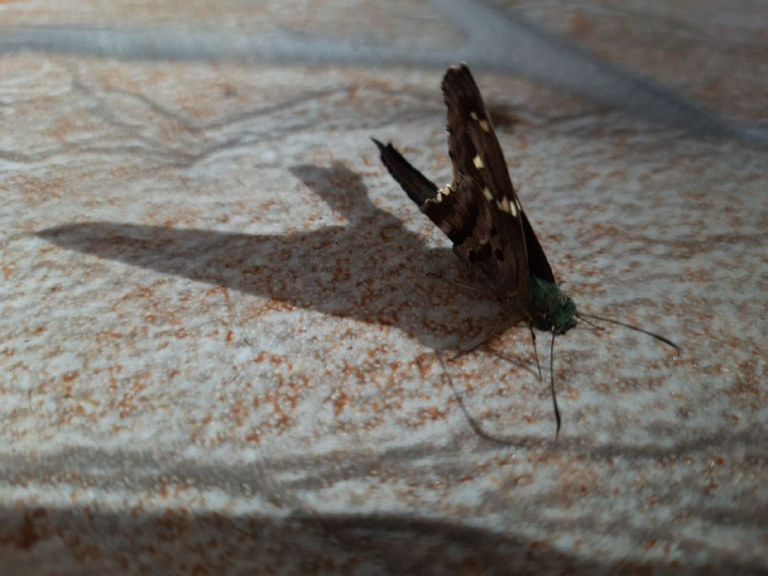 Esta foto de perfil de dicha mariposa y con la sombra que emana su cuerpo en esta posición, indica como si fuera que aterrizo luego de un largo vuelo y como comente amigos es asombroso su perfil, tan perfecto, este logro de la MADRE NATURALEZA, que cada día que pasa nos sorprende mas, por eso como dije al interactuar vamos aprendiendo muchas cosas, como lo es esta mariposa y sus formas.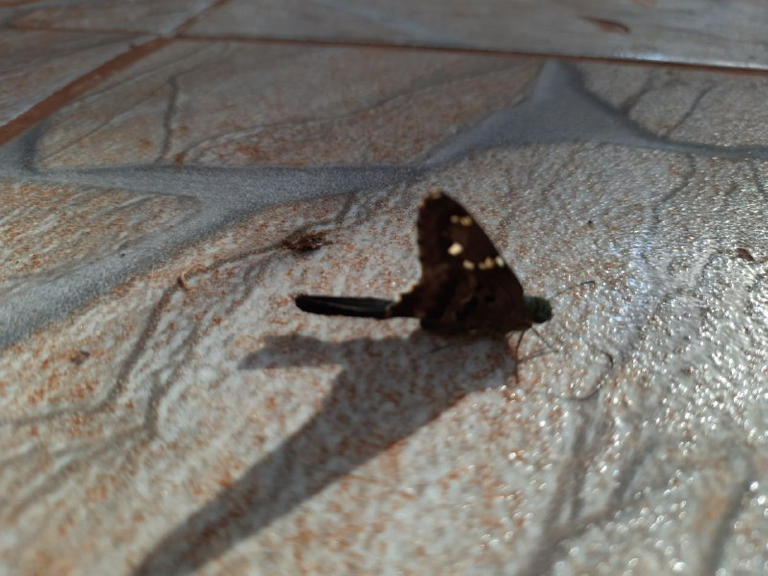 En este caso se trato de una mariposa, pero es insignificante porque en nuestra existencia, todas las cosas que fueron creadas por nuestro SEÑOR DIOS, son innumerables, haciendo de esa manera la convivencia de todos los seres vivos que pululan en toda la extensión del planeta TIERRA.
De tal manera que siendo nosotros seres razonables, tenemos que hacer de todo esto un mundo mejor para todos, por lo tanto amigos si todo esto fue de sus agrados no dejen de explayarse con sus comentarios.
MUCHAS GRACIAS POR LEERME Y SEGUIRME, TAMBIEN AMANDO SIEMPRE A NUESTRA MADRE NATURALEZA.
TRANSLATED IN ENGLISH.
Good morning to all those who are part of and participate in the huge and fantastic social platform, which makes it possible through interaction, we expand on publications, leaving all our initiative to write a post that is very instructive and pleasant for those who read them.
Like the one I want to share with you, which is related to this beautiful butterfly, which was flying over the flowers in the garden and at a certain moment it landed very close to where I was, so do not hesitate to take some photos, She did not even flinch when I approached, you can see that she likes the photos hahahaha.
! [image.png] (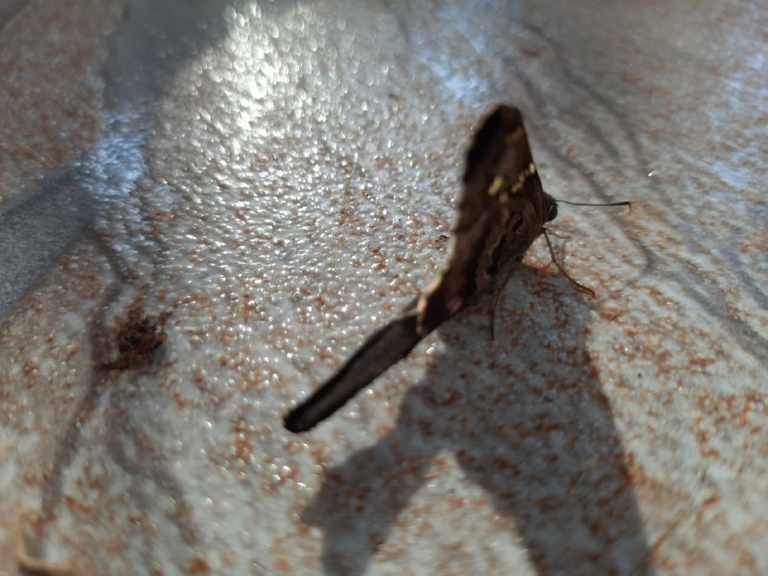 )
As you can see in the photo which I took from various angles, so that it looks more photogenic in that way, I like its colors, totally black background, with white polka dots, its legs spread out to the sides, with the antennas of its head forward and the shape of the tail, made me imagine a warship, that is, like the famous invisible plane of the US aviation, well personally I saw it like this, also at the end of its tail There were two antennas that gave the shape of the rudder, which is used to level the plane.
! [image.png] (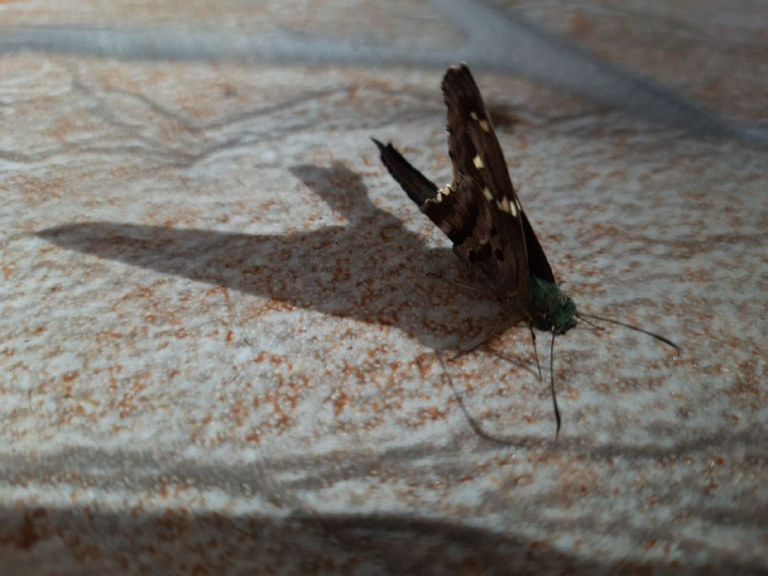 )
This profile photo of said butterfly and with the shadow emanating from its body in this position, indicates as if it were landing after a long flight and as friends comment, its profile is amazing, so perfect, this achievement of MOTHER NATURE, that Each day that passes surprises us more, that is why, as I said, when we interact, we learn many things, such as this butterfly and its forms.
! [image.png] (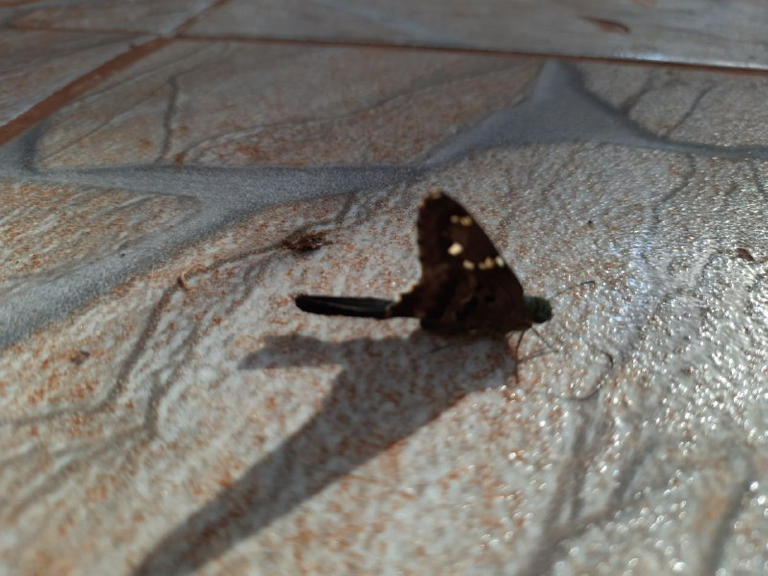 )
In this case it was a butterfly, but it is insignificant because in our existence, all the things that were created by our LORD GOD are innumerable, thus making the coexistence of all living beings that swarm throughout the planet. LAND.
In such a way that being reasonable beings, we have to make all this a better world for everyone, therefore friends, if all this was to your liking, do not stop elaborating with your comments.
THANK YOU SO MUCH FOR READING AND FOLLOWING ME, ALSO ALWAYS LOVING OUR MOTHER NATURE.