Hemos llegamos a el sábado pero no únicamente es sábado es el final del mes de noviembre, les deseo a todos ustedes tengan un muy buen fin de semana y que lo aprovechen al máximo para pasar tiempo con su familia y para los que les toca trabajar para que tengan una positiva jornada laboral, quienes no pudieron pasar Thanksgiving en familia justamente aprovechen este fin de semana para reunirse.

El día de hoy mercado no deseo continuar la misma secuencia y hoy quizo volver a bajar donde se pierde "5.67%" al final del dia gran parte del avance se pierde en un solo dia.


Graph
El gráfico del día de hoy mercado no decidió estar de nuestro lado debido a que durante todo el día se fueron generando largos periodos donde iba disminuyendo de a poco el mercado, siendo el golpe mas fuerte durante el inicio de la noche porque desde la mañana hasta la tarde no había sido mucho la perdida, esta bien fue un mal día hoy pero aun la semana no termina podría dar un giro mercado sin problemas el día de mañana que se inicia el ultimo mes del año "uno nunca sabe", en términos generales noviembre ha sido mal mes debido a que perdió 18.69% de valor, iniciara diciembre en breves donde yo tengo la fe que sea el mes que se empiece a generar los primeros cambios en el mercado debido a que para mi el verdadero bull sera entre febrero a marzo cuando se espera ya sea el inicio de la moneda de facebook "LIBRA" no significa que mercado estaría bajo o a estos niveles sino que iría incrementando de a poco los próximos meses mientras explota la bomba y se superan niveles históricos.

Hoy es un día negativo 👎 en este día son muy pocas las monedas que obtienen incrementos, la gran mayoria ha cerrado en perdidas.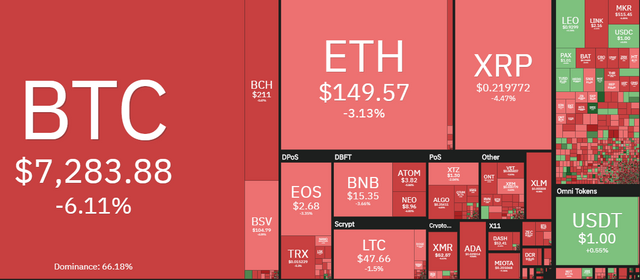 Colors of the Market

Puedes ser joven sin dinero, pero no puedes ser viejo sin el. Tennessee Williams.


Design Made to: sevillaespino