Hola, espero todos mis actuales lectores así como los nuevos que llegan y apoyan mis publicaciones se encuentren bien, iniciamos otra semana mas de vida y de trabajo en este mundo tan volátil como son las criptomonedas les deseo a todos logren exito y prosperidad total en la semana.

El día de hoy mercado inicia la semana con una pequeña caída de "0.82%" esperemos sea una de las correcciones que vienen acompañadas de aumentos.


Graph
El gráfico del día de hoy mercado se genero una caida durante las primeras 3 horas del dia de la que a pesar que se logra un pequeño incremento en la noche no fue lo suficiente para recuperarse pero si para amortiguar caida porque sino hubiese sido superior a 1% lo perdido, recordemos a veces no es malo que se generen correcciones lo unico que no siempre vienen acompañados de aumentos, el dia de hoy BAKKT logra un volumen de (1966) nada mal, a pesar de que los ultimos dias fueron muchos mayores los volumen considero es un muy buen volumen el de este dia.

Hoy es un día negativo 👎 no quiero decir todo el mercado cierra en perdidas porque han sido pocas las que han cerrado en positivo puede ser que aproximadamente un 96 a 97% no le fue bien en este dia.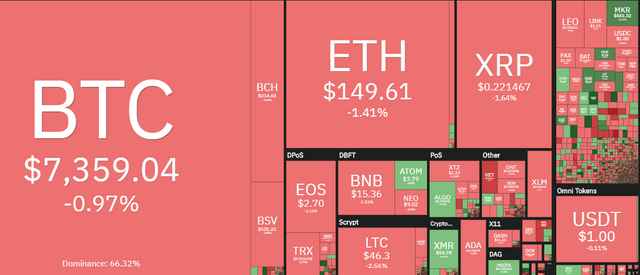 Colors of the Market

En la inversión, lo que es cómodo es raramente rentable. Robert Arnott.


Design Made to: sevillaespino