Hola Buenas Noches hemos finalizado una semana gracias a Dios, espero todos hallan obtenido beneficios en este día, también espero hallan logrado pasar el tiempo necesario con la familia que es lo mas importante que tenemos, algo que no debo olvidar es que iniciamos el ultimo mes del año que espero sea el mas positivo que lleguemos a tener ya que lo necesita el mundo de las criptomonedas. A continuación les compartiré el cierre de mercado para este día.

El día de hoy mercado cierra la semana de manera positiva lográndose como resultados en la semana de 5 positivos y 2 negativos, en este día se logra incrementar "1.35%" nada mal para terminar la semana.


Graph
El gráfico del día de hoy mercado presenta un día de loco debido a que se lograron 2 caídas y 2 aumentos fuertes desde el inicio del día donde lo mejor ha sido que luego de eso se logra un aumento que dilato resto de la tarde y noche, yo en la tarde que vi el mercado lo primero que pensé se viene otro duro golpe para el mercado por suerte no fue así, por otro lado BAKKT esta recién iniciando por lo que volumen en este momento es bajo logrando (167) los verdaderos resultados se visualizaran mañana. En términos generales la semana fue muy buena porque se logra un incremento de 5.91% en comparación al cierre domingo pasado lo cual es bueno porque se recupera mercado luego de la gran perdida de las semana pasada.

Hoy es un día positivo 👍 aproximadamente un 90% del mercado cierra con resultados positivos al finalizar el dia.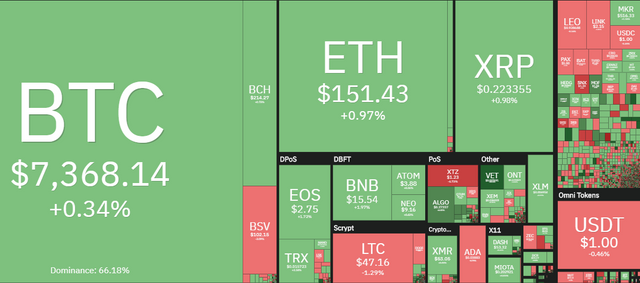 Colors of the Market

Nunca abandones un sueño por el tiempo que te puede tomar. De igual forma, el tiempo pasará. Earl Nightingale.


Design Made to: sevillaespino