Antes de comenzar con mi post quiero dar las gracias a todos mis seguidores y usuarios nuevos que me apoyan con su voto en mis post todos los días, llegamos a la mitad de la semana donde por el momento ha sido un poco negativa para mercado de criptomonedas pero esperemos la segunda mitad de semana sea mejor, paso a compartirles cual es el cierre de mercado para este día.

El día de hoy mercado por tercer día consecutivo presenta una reducción de "0.97%" y una reducción acumulada de 1.28% donde para un mercado esta perdida no es mucho lo puede recuperar hasta en un día bueno.


Graph
El gráfico del día de hoy mercado durante las primeras horas del día hasta el desayuno presento un descenso que dilato unas 6 horas aproximadamente después de esto transcurso mañana, tarde y noche mercado se ha mantenido muy estable sin ninguna variación fuera de lo normal, lo importante también es que BAKKT sigue manteniendo muy buen volumen, hoy se genero un volumen de (688)no esta mal, lo que si pienso del mercado que la perdida de estas ultimas 72 horas no es tan peligroso que digamos debido a que 2% se puede recuperar muy fácil, lo que seria malo es que el resto de la semana sea de caídas.

Hoy es un día negativo 👎 se ha generado pequeñas reducciones en la mayoria de monedas del mercado.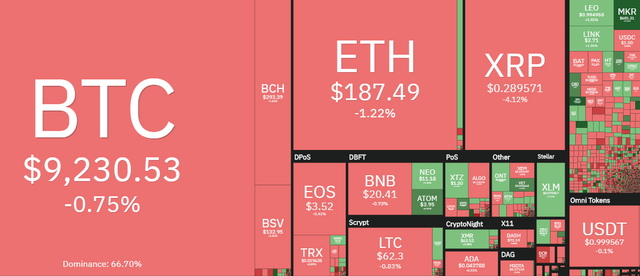 Colors of the Market

Toma 20 años crear una reputación y cinco minutos arruinarla. Si piensas de esa manera, harás las cosas diferente. Warren Buffet.


Design Made to: sevillaespino