Tarja (Tarja Soile Susanna Turunen Cabuli) acaba de lanzar hoy, 29 de junio de 2019, el videoclip "Railroads", un adelanto del que será su próximo álbum de estudio "In The Raw", cuyo lanzamiento está previsto para el próximo 30 de agosto y hará el número 6 de su repertorio en solitario. El videoclip, presentado en el canal earMUSIC, alcanzó más de 11.000 visualizaciones en las primeras horas.
Fuente: YouTube
Apenas aparece en el video, tan solo algunos medios planos de la parte inferior de su rostro mientras cantan. La práctica totalidad del videoclip está ocupada con las imágenes de multitud de personas que parece cantar el tema. En la descripción que acompaña el clip se lanza un agradecimiento a una larga lista de gente que, textualmente, "han hecho esto posible", por lo que da a entender que son todas esas personas que van apareciendo en la grabación.
Breve biografía
Tarja, cantante soprano finlandesa de metal sinfónico nacida en agosto de 1977, inició su formación musical a la muy temprana edad de 9 años, pero fue con la banda Nightwish, con la que grabó 5 álbumes, con la que alcanzó la fama, pese al amargo fin de relación con dicha banda al ser despedida en el año 2005 creando una fuerte polémica entre los aficionados al género.
Desde entonces continuó su trabajo en solitario desde su residencia en Argentina.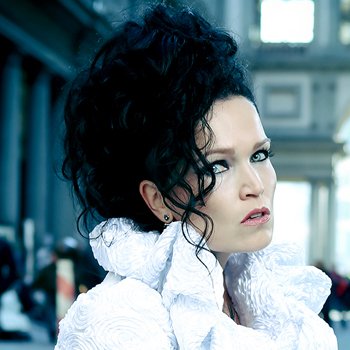 Fuente
Discografía
Los álbumes de estudio publicados en solitario son:
My Winter Storm (2007)
What Lies Beneath (2010)
Colours in The Dark (2013)
The Brightest Void (2016)
The Shadow Self (2016)
Entre sus múltiples colaboraciones con otros artistas cabe destacar "Never Too Far", con Mike Oldfield e "Hydra", con Within Temptation.
Curiosidades
Mencionando la colaboración de Tarja con Mike Oldfield en el tema "Never Too Far" no puedo evitar determe un momento para compartir una acertada combinación de música y video creada por un fan que se hace llamar Tara en su canal de YouTube.
Tara presenta un video musical con este tema sobre las imágenes del mega spot publicitario que la compañía Guerlain grabó para presentar su perfume "Shalimar". La top model rusa Natalia Vodianova interpreta a Mumtaz, la mujer que enamoró al emperador de la india Shah Jahan, interpretado por el actor francés Willy Cartier, y por cuya pérdida mandó construir el famoso Taj Mahal. Una delicia audiovisual que recomiendo sin temor a defraudar.