Chainlink es una red descentralizada de nodos cuyo objetivo principal es unir las cadenas de bloques con el mundo exterior mediante dos funciones principales: En cadena y Fuera de cadena.
Esta red fue desarrollada por SmartContract en septiembre de 2014, que aparece como una potencial respuesta a una de las inquietudes principales de los usuarios de las redes en relación a la exatitud y veracidad de los datos que se manejan en ellas.
Chainlink is a decentralized network of nodes whose main objective is to unite block chains with the outside world through two main functions: In Chain and Out of Chain.
This network was developed by SmartContract in September 2014, which appears as a potential answer to one of the main concerns of network users in relation to the accuracy and veracity of the data handled in them.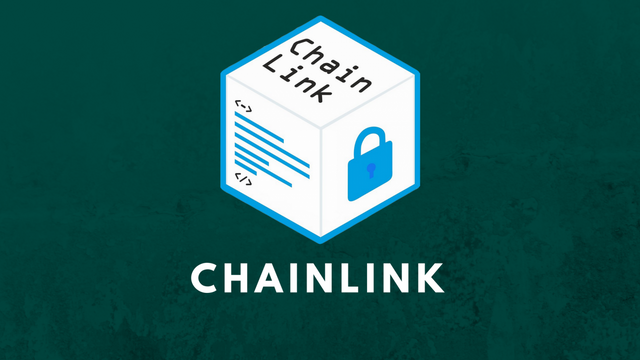 En relación a las dos funciones principales de la red Chainlink, es importante destacar que la función en Cadena, esta conformada por contratos desplegados en la cadena de bloques de Ethereum, siendo procesados las solicitudes de los usuarios a través de los servicios de Oracle, los cuales a su vez si requieren de datos ajenos a la cadena, lo solicitan a Chainlink.
Es entonces, que se utiliza la función fuera de la cadena, donde Chainlink a través de una red de nodos de oráculos, se conecta a Ethereum; en un futuro próximo, la red se conectará a todas las redes de smart contracts líderes, hasta ahora solo lo hace a través de Ethereum.
Siguiendo asi el proceso cuyos detalles pueden consultar:
In relation to the two main functions of the Chainlink network, it is important to point out that the Chain function is made up of contracts deployed in the chain of Ethereum blocks, with user requests being processed through Oracle services, which in turn, if they require data from outside the chain, they request it from Chainlink.
It is then that the function outside the chain is used, where Chainlink through a network of oracle nodes connects to Ethereum; in the near future, the network will connect to all the networks of leading smart contracts, until now it only does so through Ethereum.
Following the process whose details can be consulted:
Fuente

Capitalización en el Mercado/Market Capitalization
En la información previa, se presenta aspectos importantes de la Red, no obstante, es inevitable dejar de lado el análisis de la capitalización en el mercado de los criptoactivos de este token.
Desde el 2017 cuando fue lanzada LINK el token de ChainLink, hasta el pasado mes de abril del presente año, los movimientos de la misma oscilaron entre 0,5 USD-1,0 USD sufriendo en los últimos dos meses un incremento respetable, llegando a alcanzar hasta USD 4,0
A continuación se muestran una estadística del mercado según Coinmarketcap.com (Ver Gráfico 1), hasta el momento de la realización de esta publicación 03/07/2019 hora 6:38am de Venezuela:
In the previous information, important aspects of the Network are presented, nevertheless, it is inevitable to leave aside the analysis of the capitalization in the market of the cryptoactives of this token.
Since 2017 when LINK was launched the ChainLink token, until last April of this year, its movements oscillated between 0.5 USD-1.0 USD suffering in the last two months a respectable increase, reaching up to USD 4,0
Below is a market statistics according to Coinmarketcap.com (See Chart 1), until the moment of the accomplishment of this publication 03/07/2019 time 6:38am from Venezuela: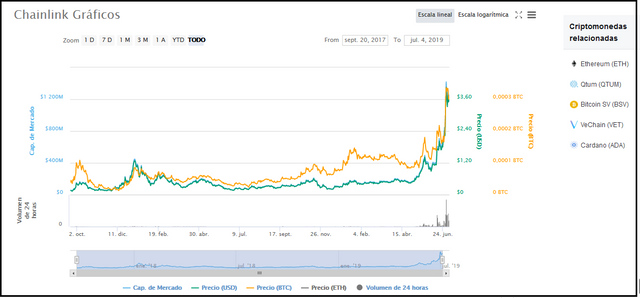 Gráfico 1/Chart 1. Fuente

Como se evidencia en el gráfico anterior el comportamiento del crecimiento en el mercado de LINK ha sido exponencial desde mediados del mes de Abril 2019 y para finales de Junio 2019, se ha visualizando un incremento en el precio de mercado de 3,50 USD a 4,32 USD, lo que representa un 23,42% en menos de 24 horas.
Como dato curioso, se debe señalar que LINK alcanzó en un mismo día el valor de 4,74 USD, que representa un incremento de 9.72%, logrando superar el máximo histórico actual alcanzado por este token; sufriendo asi mismo dos días después una baja del 38,8%
No obstante, LINK en el último mes ha alcanzado un incremento de un 200% de 4,54 USD (Ver Figura 1), superior al obtenido por Bitcoin, algo que debe llamar la atención de los especilistas del mercado de las criptos.
As can be seen in the graph above, LINK's market growth has been exponential since mid-April 2019 and by the end of June 2019, the market price has increased from 3.50 USD to 4.32 USD, which represents 23.42% in less than 24 hours.
As a curious fact, it should be pointed out that LINK reached in the same day the value of 4.74 USD (See Figure 1), which represents an increase of 9.72%, surpassing the current historical maximum reached by this token; suffering also two days later a decrease of 38.8%
However, LINK in the last month has reached an increase of 200% of 4,54USD, higher than that obtained by Bitcoin, something that should attract the attention of specialists in the crypt market.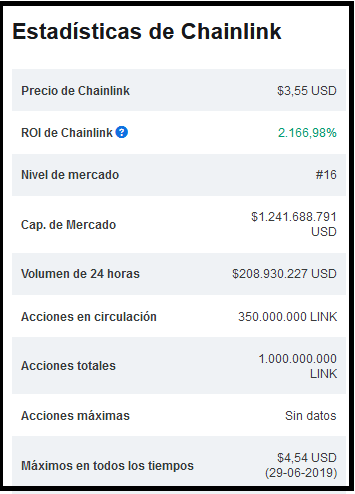 Figura 1/ Figure 1.Fuente

Finalmente, siempre atentos a la actualidad del mercado de capitales de los criptoactivos, proximamente se mostraran mayor información sobre este token y otros más.
Finally, always attentive to the current state of the cryptoactive capital market, more information about this token and others will soon be shown.

Información Adicional


Referencias Consultadas
https://www.xataka.com
https://www.criptonoticias.com
https://blog.forocoin.net
https://coinmarketcap.com
https://www.cryptonewsz.com